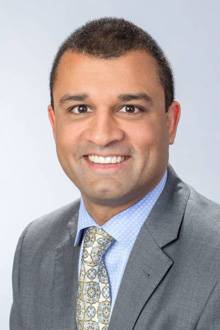 If the smells wafting through your open windows have been tinged with burning embers more than tangy barbecue sauce Tuesday, they're likely coming from wildfires raging through eastern Canada, and a rheumatology expert has five words of advice to keep in mind.
Don't panic and use caution, says Dr. Shahzad Mustafa of Rochester Regional Health's Immunology and Rheumatology Department.
"It would have a modest impact on respiratory conditions, and there's absolutely no reason for panic," Mustafa said during a Zoom call with journalists Tuesday afternoon. "You don't want to overreact … but you want to be thoughtful about it. The analogy would be if you're around (someone smoking tobacco). Certainly, it can be irritating, and it can affect how you feel, but I wouldn't expect certain respiratory effects in the short term. By short-term, I mean hours, days, not lifelong."
One journalist had said the state Department of Environmental Conservation had graded air quality at a level of 152, which Mustafa said was not an unhealthy stage, but one that should be heeded. 
If people are exercising outdoors and begin to feel the effects of the smoke — considered to be pollutants and not allergens, he said — then they may want to take it indoors.
Some school districts, including Batavia City Schools, canceled outdoor activities for the day due to the air quality warnings that have been issued this past week and with a special emphasis on Tuesday via news reports.
The eastern section of the United States was literally facing some unhealthy air conditions as winds carried in the hazy effects of wildfires from Ohio Valley to as far south as the Carolinas, according to NBC News.
Journalists from various counties in the region remarked just how palpable these fires have become locally — in sight, smell and taste of a dirty sky, sooty air and ashy flavor.
There can be a degree of impairment to anyone, Mustafa said; however, that's more a statement of caution than fact, and to use common sense about going and remaining outside. As for those school districts, such as Batavia canceling its Color Run for the day, they were being prudent, he said.
"I think it's a reasonable approach to cancel outdoor physical education for today due to allergic conditions, and if asthma affects a couple of kids, that's a reasonable approach out of an abundance of caution," he said. "And if it's short-lived, I think it's okay.  We're kind of blessed. We don't get impacted by outdoor air quality that often, as major metropolitan areas with population are affected more often."
What about pet lovers? Should they continue to take Max for his walks?
"It's hard to know; there may be impacts. Maybe shorten your walks," Mustafa said. "Most people can do outdoor activities, but if you're not feeling well, get inside."
Keep in mind to:
Use common sense and monitor how you, your pet and others around you are feeling.
Consider wearing a mask if you are very sensitive to the current air quality.
Do what you feel is best for you in the absence of significant health concerns.
Understand that short-term exposure may be okay versus long-term, which "can have a tremendous impact on health."
Later on Tuesday, the state DEC issued an air quality advisory for Genesee and several other Western New York counties through midnight Wednesday.