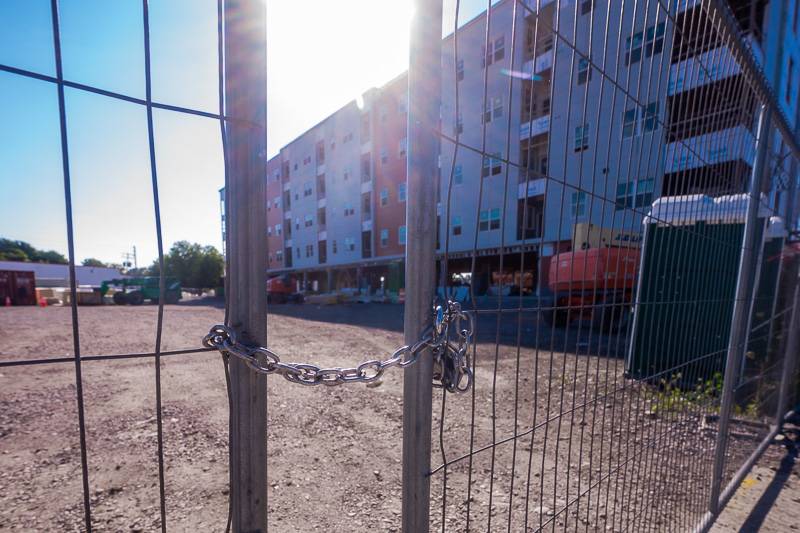 An email was sent out from Savarino Companies to those 55 tenants selected this past May for one of the Ellicott Station homes that had been in progress until a month or so ago. 
And, no, it was no longer congratulatory in nature about the tenants' good luck in being chosen for one of the safe, quality, affordable rentals on the city's Southside.
It was one of regret.
"You are receiving this email because you were chosen to be considered for an apartment in Ellicott Station Residential Apartments," it began. 
"We are writing to inform you of the status of Ellicott Station Residential Apartments. Regrettably, we must convey that, as of today, there is no clear answer for when the Ellicott Station Residential Apartments may be ready for occupancy," it stated. "Due to this unforeseen circumstance, we highly recommend that you begin exploring alternative housing solutions. We understand the uncertainty and inconvenience this situation may cause. We apologize for any inconvenience to you. 
"We will continue to monitor the situation and provide updates as they become available," the company said. "Thank you for your understanding and your cooperation."
Up to now, there have been few if any answers as to the plight of those tenants and the fate of the four-story apartment complex that now sits idle at 50 Ellicott St. 
City Manager Rachael Tabelski has said that developers have expressed interest in the property, but the city doesn't own the property and has no say in how it proceeds from here.
The Batavian reached out to her Friday about this latest development and with additional questions. She said that "this week there has been multiple conversations with Savarino Companies, investors and lenders about how best to move forward."
There are two main options, she said, one is to find a general contractor to complete the work and a new property manager, or pause the project completely and reboot with a new developer/operator.    
For any observant spectators passing by the apartment site this past week, you may have seen some people there — city inspectors — who will be issuing notices to the owners, construction lenders, and investors "to provide better site security, remove any grass, weeds and debris, and winterize the building," Tabelski said.
"The construction lenders and investors have been extremely responsive to our requests and I look forward to working with them through this process," she said.
Tabelski was aware that the letter went out to tenants but had no further information or comment about it. One of the tenants who has been communicating with The Batavian will remain in her current apartment and is hopeful that one of those new apartments will be hers one day.
For those looking for an apartment with similar income qualifications of Ellicott Station, Genesee County has a website with subsidized housing.
Pathstones also has resources for housing assistance and education, Tabelski said. 
The Batavian asked Tabelski if obtaining a new developer would mean starting all over with selecting new tenants, but since it was not a local lottery under Batavia's control, "I cannot say how this will work," she said. She referred The Batavian to Savarino and the state Office of Community Renewal for those answers.
HCR has stated that promised tax credits are tied to the project's completion and that it will continue to oversee the project to ensure it reaches that end, similar to Genesee County Economic Development Center's financial incentives. 
A bulk of the money promised to Savarino has a contingency that the project and/or stipulations within the project must be met in order to receive funding. This includes the $500,000 state grant from the Downtown Revitalization Initiative fund, which is attached to completion of rehabilitation of the electric building on the Ellicott Street property. 
Tabelski said that "the building was not completed and there has been no grant funds issues from New York State to Savarino Companies for the project that I am aware of." It's a similar scenario for a $250,000 National Grid grant for work to be done on Ellicott Trail.
"There are multiple grants supporting the project and they are all reimbursable upon completion. There was some Ellicott Trail work completed, however, the enhancements of lighting and benches have not been installed yet. The majority of the brownfield work has been completed, and more than 50 to 75 percent of the residential building work is complete," she said.  "The work to the electric building, that was to become a brewery, was not as far along, and significant rehabilitation and restoration need to be completed."