February 18, 2023 - 8:00am
Apartment application reveals for first time, Section 8 vouchers accepted at Ellicott Station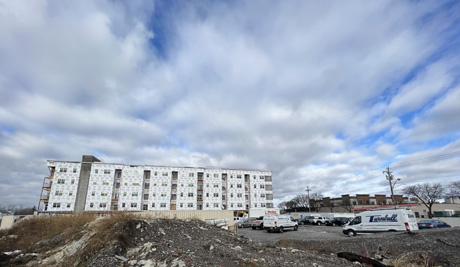 Finally, the two-word answer has been provided, via a flyer and related state information posted online.
Ellicott Station is open only to "low-income" eligible tenants.
Last month The Batavian asked the city's Batavia Development Corporation director, and a staff member at Savarino Companies, who referred us to Assets Manager Wanda Wilson, about the new complex's income qualifications. The first two didn't know, and Wilson did not return calls and emails for comment.
Jim Krencik of Genesee County Economic Development Center didn't really give a classification label but said that of the total of 55 units, 25 of them will go to tenants with 50 percent of the county's current available median income, and 30 units will go to those with 60 percent of the median income.
As an example of what that could be, the latest median yearly income data from 2017 to 2021 was $63,734, 50 percent of that is $31,867 and 60 percent is $38,240. Krencik emphasized that if someone was approved based on that starting salary and then was promoted and earned a raise, he or she wouldn't lose the apartment because of that increased figure.
The idea is to provide quality housing to people who may have just graduated from college and are starting out with a new job and career, and want to live in a decent place that they can also afford, he said.
No one who The Batavian spoke to would commit to saying that the project at 50 Ellicott St. would be for low-income folks. Or that rent could be supplemented with Federal housing vouchers.
They also didn't correct statements made at the groundbreaking for Ellicott Station that the project would be "workforce" housing for people earning $18 to $20 an hour.
As it turns out, a single person living alone making $18 an hour is making too much to qualify for an apartment at Ellicott Station, though that same person with two or three dependents, meaning no additional income, would qualify. 
Whereas two people each earning minimum wage, $14.20 an hour, are not eligible for a two-bedroom apartment at Ellicott Station because they would be earning too much (the maximum household income for two people in a two-bedroom apartment is $34,600, and two people working full-time at $14.20 would gross $59,072).
At the infant stage, the project was considered for market-rate apartments to draw a higher-salaried tenant to not only live downtown but invest in it as consumers of retail shops and restaurants. That evaporated into categories of workforce and affordable, described by company owner Sam Savarino as a way to attract people earning about $20 an hour or below in need of quality, affordable housing.
"The idea being that nobody should be expected to pay more than a third of their income for occupancy that includes rent, or a mortgage, and their utilities," he said during groundbreaking last year. "Part of the idea was if you're creating jobs here, you want to have safe, modern quality housing for those workers that they can afford."
He requested approximately $3.6 million in economic incentives, with a $2,105,792 property tax exemption, a $790,512 sales tax exemption, and a $180,792 mortgage tax exemption. He received $425,000 of the city's Downtown Revitalization Initiative grant money, and $5.7 million of low-income housing tax credits for the Ellicott Station project, which he cited as the key to moving the project forward. The DRI is "a comprehensive approach to boosting local economies by transforming communities into vibrant neighborhoods where the next generation of New Yorkers will want to live, work and raise a family," the website states.
In 2017 and 2018, the city also gave him two grants: one from Empire State Development called the Restore New York grant for $500,000 to rehab the old electric building that's on the site, and a $250,000 National Grid grant to enhance the Ellicott Trail on the property area right behind the Savarino campus. The trail will be enhanced with lighting, benches, and there will be parking areas for people to utilize the trail starting in that area, City Manager Rachael Tabelski had said during a prior City Council meeting.
"The hope is that they will also use the restaurant and brewhouse that will be on that site," she said, adding that the resolution recognizes the city as the applicant "but the work will be done by Savarino Companies."
Krencik has waxed optimistic about the city and county trying to provide varying types of housing to accommodate the needs of people at all stages of their lives.  Based on the application, Ellicott Station seems focused on financial need.  Questions include whether you require Section 8 rental assistance, alternate housing assistance, and whether you're a full-time student.
To see the flyer or obtain an application, go to Applications at Ellicott Station. Applications are being taken and are due by 5 p.m. April 18. There is no mention of minimum income requirements or if applicants will be vetted before the lottery. The state's website states prospective tenants must pass a credit check and criminal background check.
Tenants will be selected by a lottery method noon on May 2 — not in Batavia, but at 500 Seneca St., Buffalo.  For more information, also visit the Ellicott Station page at NYHousingSearch.com.
2023 File Photo of Ellicott Station by Howard Owens.