Image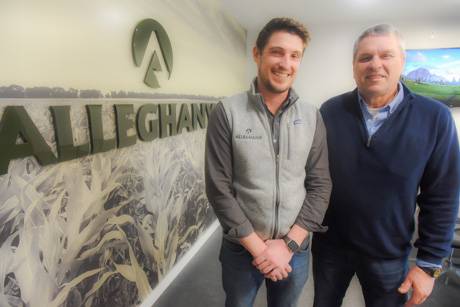 From Chad, 33, to Harriett, 92, the Klotzbach clan knows the meaning of running a family business. 
They each do their part to push Alleghany Farm Services into higher levels of success, from Chad's role as managing partner with his dad Drew to his grandmother's promotional skills.
"We send out mailers, and she sent out 6,000 of them. She puts labels and stamps on them, it keeps her busy," her grandson said during an interview with The Batavian. "She calls to ask if we heard from anyone about the mailer. It's a total family business."
It's that close-knit personal touch that has earned Alleghany Farm Services a nod of approval with the 2021 Genesee County Chamber of Commerce Agricultural Business of the Year Award. The company was founded in 1983 by Drew Klotzbach, Chad's father, and a company partner, and is comprised of multiple companies led by Alleghany Farm Services and Alleghany Construction as the two largest ones.
Although Chad has been literally out in the field since he was about 8 years old, he later wondered — "like every kid" — whether the local business world was for him.
"You leave and go off to college, and I wondered 'do I want to stay with the family business? I always thought it as more of a challenge to stay than to leave," he said. 
A native of Basom, he graduated from Oakfield-Alabama High School and went to Clarkson University for civil engineering, followed by obtaining a Master's in Business Administration at Canisius College. He joined the family business in 2010 and has worked his way up to managing partner with an eye toward serving the community. He also has a seat on Genesee County Legislature.
His age has belied his experience at times, Chad said, and prompted some prospective customers to question his expertise.
"You know, I'm 33 years old. So a lot of times, I'll have customers see me pull up on-site, and they're like, oh, boy, who is this kid?" he said. "It's like, you know, I've been out here since you know, 8 or 10 years old doing this. So I may be young, but that's kind of what I grew up doing."
Listening to him explain the complexity of field drainage and soil type, how much the industry has become data-driven, and how it's a multi-year investment rather than a quick payoff, it seems clear he knows what he's talking about. Still, it has made for "a tough elevator pitch," he said.
Alleghany Farm Services has 30 employees and millions of dollars in specialized and computerized equipment. The company has installed 20 million feet of pipe over the past 10 years — up to four million feet a year now — and has more than doubled its size in the past five years.
Chad said it is the largest business of its kind in the Northeast and was the first to incorporate Global Positioning Systems (GPS) technology in drainage design and installation in the same region. Primarily three machines are used for field drainage work — a tile plow, excavator, and a challenger tractor — and used together can install pipe in the ground using GPS to design it out ahead of time. It's all about water management and configuring the pipe system to ensure maximum crop production, Chad said.
"You know, I think one of the things I said before is, it's way more complex than just putting pipe in the ground. You have to know the soil types, you have to know the correct pipe, the grades, the spacing, how the water flows through the soil," he said. "I went to school for civil engineering. And even with that background, there's stuff that we see pretty much in every project that's unique. When you install subsurface drainage in a grid pattern, you're controlling pretty much the water table, You're dealing with surface saturation so you can get on the crops earlier in the spring and same thing in the fall."
The process begins with the company's sales team, he said, followed by data collection and extensive research "in order to create the proper design." An average of 15,000 feet a day per machine can be installed, and "we stand by our work and remain in contact after projects are completed to make sure everything is performing correctly."
Their business protocols have not only pushed the company into its sixth state but have garnered the attention of Jeanna Clark of M&T Bank and Farm Credit East. Clark's nomination cited several reasons, including how the company has:
Increased their fleet of tile plows from two to four, including a prohibitively expensive mini tile plow that fits the space constraints of vineyards and orchards 
Expanded company size and employees by 25 percent over the last two years
Thanked customers with a yearly Field Day 
Focused on drainage education by working with local soil and water districts
Farm Credit East also cited the company's impressive expansion statistics and lauded it for its remaining loyalty to Genesee County with headquarters in Basom.
With all of that pipe laid down, what lies ahead for Alleghany Farm Services? They have no plans to slow down now, Chad said.
"We're right down the road from the STAMP project, and, you know, just seeing the community grow, we have new opportunities with that. We just want to continue with employing local people, keeping people interested in agriculture," he said. "And we love supporting (initiatives such as) Cooperative Extension doing Ag in the Classroom stuff that's coming up. It's all about that education. I do a lot of education, and I think that's the biggest thing that we want to try to bring to the community."
Top photo: Chad Klotzbach, left, and father/partner Drew have no plans to slow down their ever-growing success with Alleghany Farm Services in Basom. The company earned a 2021 Agricultural Business of the Year Award, which is to be presented with other chamber awards this Saturday at Batavia Downs Gaming. Photo by Howard Owens.
This is the fourth of four articles highlighting the 50th Annual Chamber of Commerce Awards. The annual dinner is Saturday at Batavia Downs, with hor d'oeuvres at 5 p.m. and dinner at 7 p.m. For more information about the dinner, call the Genesee County Chamber at (585) 343-7440.