Image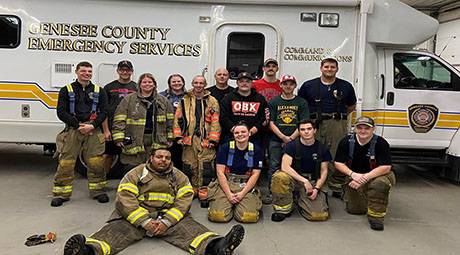 If Genesee County legislators approve a law to allow firefighters to opt-in to tax exemptions, it could mean an average yearly savings of $134 for every volunteer firefighter, Deputy Treasurer Kevin Andrews says.
There are a few caveats to the law, however. Firefighters must choose between taking the current tax credit or the new option of a property tax exemption. These may be offered in towns, villages, schools, fire districts and counties, but those taxing entities don't have to participate.
City of Batavia firefighters and city residents cannot take part in the exemption, even if they're a volunteer at another fire department, he said. And if someone rents, that's disqualified as well.
To qualify, volunteer firefighters have to live within the fire district that they serve. They also need at least two to five years of service to participate or can apply for a lifetime exemption with more than 20 years of service. They cannot claim both the tax credit and exemption. The higher the property assessment, the more the savings, Andrews said.
Ideally, one would want to stack a town, school and the county for the maximum 10 percent exemption, he said.
"On average, just the county by itself isn't enough to receive it," he said.
He estimated that if every volunteer firefighter took advantage of the exemption, it would mean a two-cent increase on the tax rate, and every taxpayer would pay $3.30 more in yearly taxes.
"The levy would stay the same, but it would get shifted to others," he said.
That didn't sit well with Legislator Marianne Clattenburg.
"I'm very concerned about this cost shift because, you know, we have mutual aid. And I'm going to speak for the city constituents. Again, we pay a hefty price for professional fire service, which we want in the city of Batavia. This exemption is gonna get shifted onto an already burdened city resident. So I want to know what this shift is."
With 585 volunteers saving an average of $134, that adds up to $78,000 a year, Andrews said.
"So if we're willing to talk about taking x amount of sales tax money or something along that line to close the hole in the budget to compensate for that, then I would be okay with that. But I don't want it shifted to others," Clattenburg said.
Legislator Christian Yunker asked if this is a real recruiting tool.
"I think it's more every day, we're looking at it as a retention tool. How do you take care of the people that have been here and done the service for so many years, to keep those people engaged because every organization has got such a small group of people that are working there. And there's really nothing to incentivize them for staying, so like this, New York State Fire is talking about incentive programs for new recruits taking training, if you complete your first basic level, you're going to get $1,000. If you go to the next level, it's $1,000. But they're not doing anything for any of the people that are already in the system," Emergency Management Services Deputy Coordinator Gary Patnode said.
He added, "You know, for a young firefighter that doesn't own their home, this isn't going to benefit them. But for me, being a taxpayer in town, this would certainly be attractive. Right now, they didn't really want to entertain this unless all parties were going to be involved. They wanted to get to school districts, fire districts, villages, you know, town, county, anybody that can go in, so they're getting the best bang for their buck. Otherwise, right now, it's, it's better for everybody to take the $200 tax credit."
He wasn't sure if schools have even been part of the conversation yet, and pointed to the aspect of involving all volunteers, no matter their job duties. Some go out in the field to combat a blaze, while others maintain headquarters, answer phones, and do the bookkeeping.
"The nonactive is just as important as the active firefighters," he said.
Clattenburg wants to see more active volunteers, which are those that go out when the bell rings.
"That's the problem, there are not enough people to go out," she said.
If the law passes, the earliest it would be adopted is in 2024. Volunteers would then have to apply by March 1.
"There are a lot of questions," Legislator Gary Maha said. "Thanks for the information, there's a lot more work to go through."
Firefighters will have to understand which municipalities and schools are involved before signing up for either the exemption or tax credit, County Manager Matt Landers said.
"Right now, Tim Yaeger is going to be going to GAM and trying to get an understanding between the towns and the villages, getting an understanding from fire districts, and also probably the school districts, to be able to report back to the Legislature: What's the consensus out there? Is there a willingness from our local municipalities and schools to sign up for these exemptions?" Landers said. "Because if the county doesn't have this willingness from our municipalities, then from what I listened to today, it sounds like our legislature would not want to go it alone, it's not worthwhile for our firefighters just to have the county go along on this."
File Photo of volunteer firefighters during training in 2021, by Howard Owens.