March 17, 2023 - 7:55am
Notre Dame brings the dramedy of high school to life with 'Mean Girls' March 17-18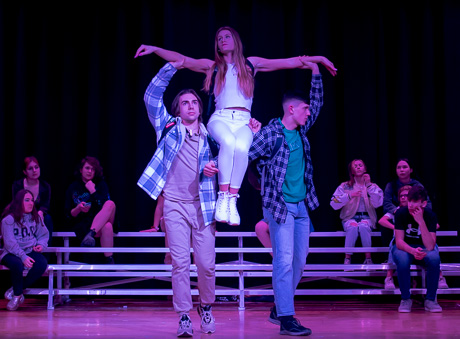 When Notre Dame musical director Kate Edwards was looking for this year's show, she wanted something for her outgoing seniors while also tickling the community with a thoughtful comedy that's not yet been performed in this region.
Enter "Mean Girls," a coming-of-age musical based on the 2004 film written by longtime "Saturday Night Live" actor/writer Tina Fey.
"I chose it because I have some very strong seniors who were going to graduate, and I wanted a show to highlight them. I thought this was perfect; it had five female leads and two strong males. It kind of fit all our pieces. Tina Fey wrote it, and her husband wrote the lyrics. And it really just deals with a lot of real-life high school issues, but in a satirical way," Edwards said during an interview with The Batavian. "So it's very funny. She has been quoted in the past that she was really hoping to show how all the bullying and the cliques, and, you know, trying to be body beautiful, and trying to be the best athlete in the world or being the prettiest girl and how that is just inundated on our kids nowadays, especially with the advent of social media.
"And so we just really thought it would be a good option to kind of show what real life is like in high school and deal with it in a funny way that can maybe spur conversations with parents."
Anyone who has ever gone through high school knows the drill: it's a jungle out there of competition to be the best, weigh a certain weight, score the highest, wear the coolest clothes, survive being a band geek, a science nerd, a wannabe, and not get eaten alive by those who judge or bully you before graduation.
The action takes to the stage at 7 p.m. Friday and Saturday at Notre Dame High School, 73 Union St., Batavia.
Despite the premise of all that high school drama, it's an upbeat, energetic show with a lot of "hip-hoppish," professionally choreographed dancing numbers, Edwards said. Tuan Malinowski, a friend from Orchard Park, now living in New York City, helped out by putting together several dance scenes.
"He's a professional from NYC. He has a very unique style," Edwards said. "He choreographs for a lot of colleges and professional shows."
They used FaceTime and videos that Malinowski sent to collaborate and integrate the dance routines into the two-hour show, which includes an additional 20-minute intermission. The music style is pop rock, and, per one of the songs, "I'd Rather Be Me," it's about "accepting everybody," Edwards said.
The premise is based on Cady and her parents moving from Kenya to a Chicago suburb, where Cady soon realizes that her high school classmates don't readily accept others who are different from them. Cady accepts the challenge and attempts to find her niche social group as she encounters Regina George, the Queen Bee and member of the "Plastics," dreamy Aaron Samuels, and the myriad other classmate characters.
Along the way, there's love, betrayal, heartbreak, pranks, unwelcome weight gain, ridicule, and shaming. One of Edwards' favorite scenes is around the song "Sexy," which she admits may sound uncharacteristically risqué for a high school production. It's actually about Halloween. The character of Karen explains to Cady that in high school, this holiday revolves around looking sexy and having a hot costume.
"You can't just be like, you know, a ghoulish witch or something, you know what I mean? And that is a very real issue in today's world. And so that one I like, and that's a really fun number. It's really, really fun. The dance is fantastic. And the kids have a blast with it. And they're all in costume," Edwards said. "But then I think the song I liked the most is probably Janice's song towards the end of the act, where she sings about you've got to be yourself don't always try to feel like you should fit in with other people. And that's called 'I'd Rather Be Me.' And that's probably my favorite song of the entire show."
With a cast of 15, and another 10 backstage, and everything being done by the students — sets being made and moved around, spotlights, soundboards, light boards, staging, acting — a main challenge has been coordinating schedules around their busy lives, she said, from mock trial and classes to basketball and other extracurriculars.
Oh, and having to figure out how to transition scenes without any fancy technology or electronics.
"So, typically, like on Broadway, of course, when they've got their million dollar stages, right, they have these set changes, where they just slide onto the stage and then slide off, and then the stage can rotate, and then things can come forward and go back. And, of course, we can't do any of that," she said. "The kids kind of figured out how they could make that transition as smooth as possible. And that was really fun to see the kids thinking in more of a technical, backstage way."
Taking time to be more thoughtful — demonstrated in a comedic, down-to-earth way —  also includes a message about texting, Edwards said. The song "Stop" is about when you're about to text or post something on social media. Just stop and think before you do it, "because there's consequences," she said.
"I really hope kids come out and see it, and I'm really hoping it's good for some conversations," she said. "The moral is just accept everybody for who they are and what they do … Accept everyone and be kind. That's really the biggest issue."
Does Cady finally discover that true acceptance? Tickets are $10 at the door to find out.