Image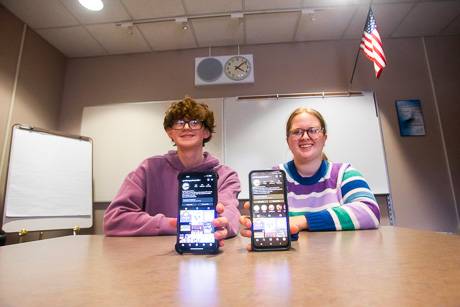 There are a handful of students at Pavilion Central School who've gained much attention for their heavy use of social media both during and after the school day.
Evelyn Northrup and Christopher Doody are two of them who spend several focused hours a week not only posting, but talking about it, planning for it, and mapping out schedules for how to get their posts done throughout their busy school days.
Think these students are among the many people mindlessly scrolling the Internet and potentially getting caught up in all of the negative chatter out there? Not at all, they say. Instead, they are part of Pavilion's student PR team with a goal to market and promote the positive actions of student clubs, sports and groups around campus.
The team has eight students guided by Instructional Technology Support Leader and Online Learning Coordinator Nancy Stauber as advisor.
"This Team was created a couple of months ago when two students presented an idea to our administration about creating a social media page, PavilionGopherPride Instagram Page. Since then, they have grown to eight students and are already evolving their public relations campaign to include teacher interviews and, hopefully soon, podcasting," Stauber said. "These students are solely responsible for what is posted, reaching out to various people to gather information, and making sure what they post is safe, positive, inclusive, and informative and monitor all comments for appropriateness.
"These students are also learning many 'life skills' and participating in an activity that could potentially become a real life career involving social media," she said. "Additionally, they are also learning about and modeling good digital citizenship along with learning about privacy laws and permissions involving state and federal laws."
Evelyn saw the PR team spill out of a school spirit committee that had gotten so big, that the PR team was created to help with promoting school happenings. That means attending games, conducting interviews and taking videos and photos of athletes, teachers and coaches, and selecting and decorating the gym each month with coordinated themes — such as a volleyball beach bum theme.
"We began in early October 2022 to get ready for Girls Volleyball sectionals," 17-year-old Christopher said.
The main goal was to make people aware of the games and schedules, encourage participation in the theme nights, and "open them up to extracurriculars and to show off our school," Evelyn, a senior, said.
"And we highlight other activities, like musical theater, Scholastic Bowl, FFA chapter, and Art Club," she said.
Going for the 'Likes'
They have become not just word masters, but visual artists with those themes to draw an audience, and the desired likes, comments and shares that they have also learned to track. They were happy with the early results.
"Within a week to a week and a half, we had 100 to 200 followers," Christopher said.
For the record, the account is currently at 317 followers.
While so many people — young and old alike — seem to zero in on the negative parts of social media, through cyberbullying, comparing, arguing, complaining and such, these kids are homing in on the opposite.
"We try to keep everything positive," Evelyn said. "If someone is being negative toward a student specifically, they can be deleted, or we contact them and ask them to be respectful."
Twice so far, they've had to do that — and not with a fellow student, but with a parent. In each case, a parent was complaining about either a referee and/or a student-athlete and had to be reminded of the policy. Evelyn reached out to one of them and wasn't intimidated to do so.
"Just knowing how to talk to individuals, and that's being professional and respectful and is not retaliatory," she said. "It's kind of ironic that the parents are the ones being negative. I think students know there are consequences."
It must have worked; the parent did not return to the site with any more comments.
Practical side of social media
Aside from learning how to handle rule-breakers, there has been other lessons within the business side of social media, such as handling privacy laws, the need to acquire consent forms before publishing names and faces in certain circumstances, creating a schedule for posts, content planning, learning new technology, cropping photos and videos, time management, analytics and tracking statistics, they said.
They have also learned how to share content from another site that posts area sports to take advantage of what's already out there and save time. They have also tried out free apps to save money and sent out emails to district members — staff, teachers, students, and coaches — reminding them to send material for the online page.
Personally, both Christopher and Evelyn use Instagram and Snap Chat more than Facebook and don't even consider Twitter. In their professional endeavors in the PR team, it's mostly Instagram with some posts on Facebook.
Drama is relative, enjoy the small moments
"You have communication apps, and Snapchat and Instagram, one is used to talk to your friends, and one is used to share your experiences," she said. "I do agree that some parts are bad. There's drama."
She and Christopher agreed that there was some social media drama a while ago at the school, but it seemed driven by a couple of particular students. And when they left the school, so did the drama. Aside from that instance, life for these students is fairly low-key where social media is concerned, they said. 
Has the positive focus made a difference? These savvy kids think so. Teachers and staff, and parents have thanked them for their efforts and expressed their appreciation for the Gopher spotlights, though student response has been more lackluster.
"I don't think students say it as much," Evelyn said, adding that she thinks maybe when they're older, it will be a bit of nostalgia to look back on more fondly. "It's almost like a yearbook, a digital version. Don't take for granted the small moments."
Pavilion Central School students Christopher Doody and Evelyn Northrup show a social media stats page that they use for their student-run PR team used to promote district sports and other clubs and groups on campus. Photo by Howard Owens.