March 14, 2023 - 8:16am
Proclamation: Greg Ireland honored for 23-year service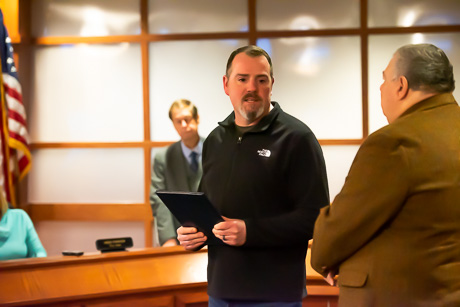 Greg Ireland likes to tell people that one of his best days happened 23 years ago. That's when he was hired by the City of Batavia as an emergency medical technician. Apparently, the feeling has been mutual all these years since Ireland has climbed the ranks, being promoted to firefighter in 2002, lieutenant in 2015 and captain in 2018.
He was given a warm send-off Monday evening during his last department move to retirement. City Councilman Rich Richmond read a proclamation that summarized Ireland's two dozen years of service that included firefighting, educating other first responders throughout Genesee County, and being "a positive role model to all of the fire department throughout his 23-year career," Richmond said.
"In the true spirit of appreciation, for many years, Captain Gregory Ireland has served as a City of Batavia employee, the City Council and the City of Batavia herby make this proclamation to sincerely thank him for 23 years of dedicated service in our community, and wish him well in his retirement," Richmond said.
During an interview with The Batavian in June 2022, Ireland had given notice and already walked out the door.  That last day was emotional, he said, as being part of the city Fire Department had "definitely been part of my lifestyle."
"Emotions came in waves. It was the right decision at this time," he said at the time. "I'll have the opportunity to be home with my family … that's going to allow me more time with my family and my kids. That was the main driver behind it."
After more than two decades as a city employee, Ireland has been a recognizable face throughout the community. He started out as an emergency medical technician when the city-owned and operated its own ambulance service. He credits Sept. 4, 1999, as "the best day of my life" for a career move out of the radio — and the airplanes and helicopters used for part of his traffic reporting job.
"I actually flew on an airplane for almost two years every morning. I did that for a bunch of stations up in Buffalo," he said. "It was a great experience, but not what I wanted to do."
An Alexander High School and Genesee Community College graduate, he worked in Buffalo for a while before making the move. He began as an EMT in 1999, with a background of having volunteered for the Alexander fire department, and a year or two before that, Ireland took a first aid class. The handwriting seemed to be on the wall before a teenaged Ireland took serious note of it. He moved through the ranks from basic to intermediate EMT and then to paramedic. By 2002, he was offered a job as a firefighter, which was a major goal.
In 1999, the opportunity for a job came up, and it "turned into a great career," he said.
He couldn't help but humbly accept the honor before the council and remind everyone how he feels.
"I always say Sept. 4, 1999, was one of the luckiest days of my life," he said. "They're always going to be part of my family."
Photo of Greg Ireland accepting proclamation from City Councilman Rich Richmond during City Council's conference session Monday at City Hall, by Howard Owens.