January 19, 2023 - 8:00am
Safety is the name of the game for new county position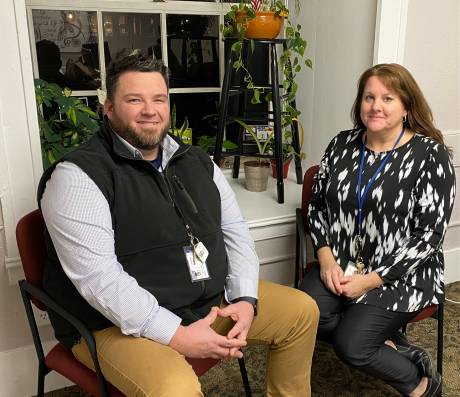 Workers' Compensation is hardly a sexy topic, but it's becoming a vital component of Genesee County's offerings, Assistant County Manager Tammy Ferringer says.
After a four-month search, Ferringer found and hired the county's first health and safety coordinator who will serve as executive secretary for a cooperative Workers' Comp program of most every taxing entity in the county, including schools, towns and villages.
Up to recently, the participating entities haven't shown much interest in training offered related to on-the-job safety issues, Ferringer said.
"Participants weren't interested in training until this past year," she said. "It was exciting to see a lot of attendance."
Participants of the Workers' Comp program pay a premium to be a member of the plan, and trainings are one of the perks that also help them to keep employees safe at work and reduce insurance claims, injuries and related absenteeism.
Workers' compensation is insurance that provides cash benefits and/or medical care for workers who are injured or become ill as a direct result of their job.
The new position was born out of the budget process this past year, Ferringer said after Kathy Jasinski had announced that she was going to be retiring at the end of the year.
"And so that prompted us to try and reenvision the gaps of the plan as it exists," she said. "And we just wanted to enhance the services that are available to the plan participants ... the worker's comp plan that's administered by Genesee County, and towns, villages, school districts, any taxing entity in Genesee County can opt into the plan. And currently, there's a large list of them."
Enter Dustin Watterson, a lifelong Oakfield resident who is now the full-time health and safety coordinator. He will be taking on administrative tasks, serving as safety officer for the county and going out on the road to meet plan participants.
"Dustin is going to be charged with the administrative piece of acting as executive secretary to the workers' comp plan. And he'll work with me on the administrative tasks necessary to make sure that it's efficiently run," she said. "And then we are going to take this safety approach in-house, and he is going to go out on the road, and he is going to garner relationships with our participants and make sure that they know what's available to them.
"It keeps our workers safe, that's the most important thing for everyone," she said.
She added that if claims are contained, then costs will be reduced as well, which is also beneficial to any business operation.
Watterson has a decade of experience working in the security business via sales and consulting and is familiar with OSHA compliance, and items such as ADA railings, ramps, and rooftop fall protection, he said. Not only is the financial piece important, but also the morale of an employee who can otherwise be spared those days spent home recovering from an accident at work, he said.
Although Workers' Comp is one large umbrella, it covers multitudes of jobs and careers, Ferringer said.
"Our plan has so many different industries or types of workers, from law enforcement to nurses to just regular office staffs and highway workers and construction. There's such a diverse group of workers, we're trying to make sure that we capture all of their needs," Ferringer said. "But also, by working together with them … we're just allowing them enhancement to help keep this community safe."
During Wednesday's Ways & Means meeting, County Manager Matt Landers introduced Watterson with confidence in his new role working with plan participants.
"I think he can help them with their safety plans," Landers said.
Dustin Watterson, Genesee County's new health and safety coordinator, and Assistant County Manager Tammy Ferringer talk about the expanded and safety aspects of Workers' Comp Wednesday. Photo by Joanne Beck.