June 27, 2015 - 3:21pm
Stafford FD raffle winner announced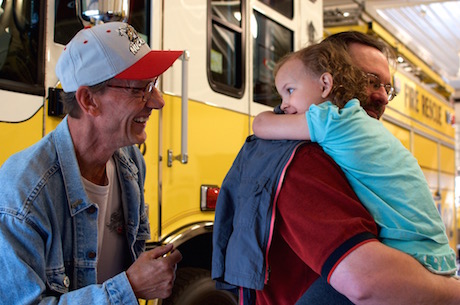 She had a job to do. There was no time for playing. This was serious business. 
With all the attentiveness her little 4-year-old body could muster, she reached into the bin holding the slips of paper and drew out a name. 
"She was very serious about doing her job pulling the ticket," Yvonne Freeman, the little girl's mom, said. "Most kids, when you put them in the bin to draw the name, play with the paper, not Teaghan, she was very serious about the whole thing."
For more than 25 years the Stafford Fire Department has raffled off a car; for more than a decade, it's been a classic Corvette. About every other year, someone from the local area wins the grand prize. This year, Cortland Kopp, of Attica, won his choice between a 1967 cherry red Corvette convertible or $50,000 cash.
"I own a 1972 Corvette," Kopp said, "have for 30 years. I decided to take the cash."
The Attica corrections officer has been buying the raffle tickets since 1976. This is the first year he showed a return on his $30-a-year investment.
"After taxes I figure it'll be about $35,000," Kopp said. "It's been a wild, surreal week."
Raffle organizer and Stafford Fire Department social member Robin Krenzer reported thousands of tickets are sold for the raffle. While there is one Grand Prize winner, there are 10 winners of $1,000 each as well.
"There were only 200-something of that car made," Krenzer said. "We will sell this vehicle and then purchase a different one for next year's raffle.
"The last time we had a local winner was two years ago and she took the cash, too," Krenzer said. "A man from Texas won last year and he took the car."
While the cars are purchased yearly, this '67 'vette has an appraised value of $92,000. Additionally, organizers scour the region for a different car every year. Occasionally they are bought from individuals, other times, car dealers, they really never know what year the next model will be.
According to Krenzer, proceeds from the raffle helps to fund the department's budget for the year. Additionally, the Stafford Fire Department donates $5,000 to Mercy Flight every year from the proceeds of the raffle.
But right now, in this moment, Kopp is living a surreal sort of life, getting ready to enjoy his new windfall.