October 7, 2013 - 4:25pm
Sponsored Post: Blue Pearl Yoga to host skype workshop, "Everyday Meditation", with Michael DeFrancisco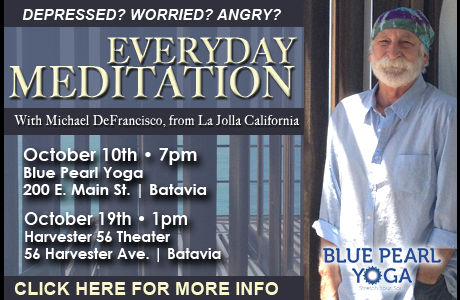 When Karen Reisdorf began meditating 15 years ago. The local yoga instructor studied Transcendental Meditation (TM) with a teacher from Rochester but found the process lacking, particularly the follow-up and sense of community. "There was no support," she said, "I felt like I'd been left to figure out the rest on my own," until she met Michael DeFrancisco and experienced his Blessing Meditation technique. Now the Batavia resident and owner of Blue Pearl Yoga is collaborating with DeFrancisco to bring "Blessing Meditation" to Western New York in a series of skype workshops in October and an in-person visit in November.
Meditation can be found throughout history. In fact, some of the earliest written records of meditation date to around 3000 BC while cave paintings depicting meditative rituals go back as far as 15,000 years ago. It became a phenomenon that caught the eye of Westerners in the mid-1960's when The Beatles traveled to India to study with the Maharishi Mahesh Yogi. (Fun Fact: DeFrancisco studied with the Maharishi Mahesh for six months in 1975.) While meditation became the darling of rock-n-roll royalty and movie stars, it felt largely unavailable to the rest of us. "Many meditation programs require some sort intellectual understanding or academic background," says DeFrancisco. And he should know. He's taught nearly 30,000 people to find their bliss for 38 years – first at a meditation center in Philadelphia, PA and later as a private teacher in LaJolla, CA.  Because standard meditation techniques, as well as some wellness methods like acupuncture, chiropractic, and special diets, do not teach any way to effortlessly access inner peace the results are often temporary. Blessing Meditation offers a simple approach to build a contemplative routine.
More after the jump (click on the headline):
The benefits of a consistent meditation practice are well documented. Studies suggest that those who spend as little as 20 minutes a day meditating can enjoy lower blood pressure, decreased stress, anxiety, and depression and improved cognitive function. The rub, according to DeFrancisco, is that "although our society is more technologically advanced than ever before, we're stuck with the same old vulnerable psycho-emotional system." Simply put, we might be able to give voice commands to our iPhones but our "fight-or-flight" mechanism has us positioned – emotionally anyway – squarely in the jungle. That guy that cut you off in traffic this morning? He might as well be a Wooly Mammoth and its dinnertime. "People are stressed and overwhelmed. They may have reached a high level of achievement but feel very little fulfillment." Blessing Meditation can move us out of the 21st century jungle and into a state of inner peace that already exists, "we just need to uncover it," he says.
Learning to meditate is easy. Easier, according to DeFrancisco, than Raja Yoga, which he began practicing in 1971. "It was difficult and required rigorous concentration." By 1974 he jumped on the Transcendental Meditation movement that was sweeping the country and experienced immediate benefits. DeFrancisco's brand of Blessing Meditation is "effortless and requires no concentration or difficult positions or postures. It's not yoga and it's not a religion," he says. "In fact, I've taught priests and ministers." Meditation is a practical tool that can be used in the daily routine to bring about spontaneous happiness. The benefits too are spontaneous…and cumulative. Many people report an increased sense of calm and relaxation that deepens as they continue their meditative practice. And, this technique is endlessly transportable. "It can be done anywhere," says DeFrancisco. Indeed, he has taught, attended courses, or led workshops and retreats in Pennsylvania, California, North Carolina, Texas, Iowa, New York, Canada, India, Germany, Switzerland, and France. Students hail from such far-flung locales as Brazil, Australia, South Africa, and Europe. And participants get an added bonus when they study with Michael – the support that Reisdorf was searching for is abundantly available; Monthly skype visits are organized at Blue Pearl Yoga where students gather to "check in" and fine-tune their practice. This personal component "is more than support," Reisdorf says, "it creates a real sense of community."
Blessing Meditation can most accurately be defined as a transfer of grace – a charming gift of the divine. Blessings are used in many cultures, from the ancient shamans of Siberia to First Nation medicine men and women. "My first experience with blessings occurred in 1992 with a spontaneous, innocent movement of my hands to my head and face," DeFrancisco states. An inner vision – or God – moved my hands during meditation and suddenly the light of love - the light of God – descended on me in a magnificent display of blissful love that is impossible to capture and express in words." DeFrancisco will regularly give blessings to the people he meditates with, either in person or during one of his popular skype sessions, prompting him to admit "technology is often a very good thing!" He considers his blessings "a charming gift from the divine that awakens the recipients own divine nature."
Anyone interested in learning more about Blessing Meditation may register for a Skype workshop, "Everyday Meditation with Michael DeFrancisco" on October 10 at 1 p.m. at Blue Pearl Yoga, 200 East Main Street, Batavia or on October 19 at 7 p.m. at Harvester 56 Theatre, 56 Harvester Avenue, Batavia. He will be in Batavia at Blue Pearl Yoga on November 7 to meet with prospective students. Workshops are free but space is limited so pre-registration is strongly suggested. For additional information visit www.bp-yoga.com or call 585.230.5430.