May 18, 2015 - 6:00pm
Sponsored Post: Charting a Course to Prosperity!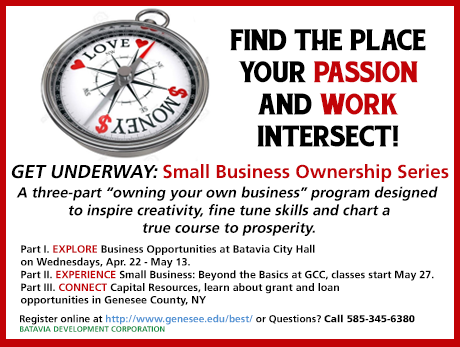 Charting a Course to Prosperity! GCC's The BEST Center and City of Batavia Offering Small Business Ownership Series.
Calling all aspiring entrepreneurs. Here's your chance to find out if you have what it takes to achieve small business success. The BEST Center at Genesee Community College is partnering with the City of Batavia and the Batavia Development Corporation (BDC) to offer a three-part "Owning Your Own Business" program designed to inspire creativity, fine­ tune skills, and chart a true course to prosperity. Those interested will be able to explore, experience, and connect with resources that can help turn a dream into a reality. 
The program, "Get Underway: Small Business Ownership Series," begins with a series of one hour workshops where participants will explore business opportunities, assessing their personal readiness to own and operate a new business. Each session will run from noon ­1 p.m. in the second floor community room at Batavia City Hall. The following four sessions are planned and participants are encouraged to attend each one: 
April 22 -- Do I have what it takes to own a small business?

April 29 -- Can I earn a living through my passion? Maybe I should buy a business?

May 6 -- Why didn't I think of THAT business?

May 13 -- The Sniff Test, assessing your business idea!
The second part of the program goes beyond the basics to help participants fully develop a business concept and transition into becoming a business manager. These five weekly Wednesday evening sessions are mandatory if participants want to access grant resources available through the City of Batavia Microenterprise Grant Program. The sessions run from 6 to 9 p.m. in Room T121 of the Conable Technology Building on GCC's Batavia campus. They include: 
May 27 -
- Trials, tribulations & skills of a successful business leader
June 3 -
-  Marketing strategies to increase sales

June 10 -
- Using financial information to guide my business
June 17 --  Learning to "manage" a business
June 24 -- Business plan presentation and networking 
The five­-week course costs $125 and students will receive a certificate upon successful completion. Registration for this course is also available online at
http://www.genesee.edu/best/
. 
The Small Business Ownership series is funded in part by the New York State Office of Community Renewal Community Development Block Grant. 
For more information, contact Julie Pacatte, Batavia Development Corporation at 585-345-6380 or via email: [email protected]​