August 26, 2013 - 4:10pm
Sponsored Post: Enter to win dinner for 10 to benefit Michael Napoleone Foundation! Enter to win today, drawing on Aug. 30!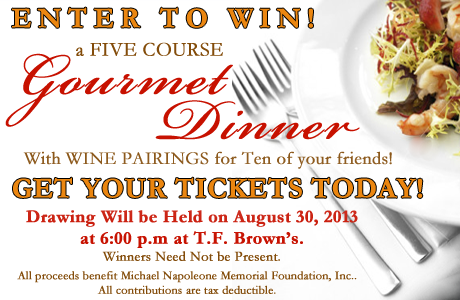 Enter to win the grand prize of a five course gourmet dinner for 10 people with wine pairings. DESIGN YOUR OWN DINNER PARTY -- hosted by: Michael Napoleone Foundation Board of Directors. Prepared by "Chef" Mark Napoleone and Sous Chefs. Limo Service Provided (some distance restrictions).
WHO:  You and Nine of Your Friends!
WHEN:  September 21, 2013, beginning at 5:00 p.m.
WHERE:  An Intimate Home Setting in Batavia.
TICKET COST:  One Chance for $30 or three for $50.
Drawing will be held at T.F. Brown's on August 30, 2013 at 6:00 p.m. Winners need not be present at time of drawing. All proceeds support the mission of The Michael Napoleone Memorial Foundation, to assist families facing the challenges of a pediatric cancer diagnosis, support research efforts, and assist youth activities in our community. All contributions are tax deductible.
For ticket information, call 585-861-0550 or 585-409-3276. Credit card or Paypal orders accepted on the Michael Napoleone Memorial Foundation. Visit us online at: www.michaelshope.org