June 28, 2013 - 5:43pm
Sponsored Post: GO ART! presents the 35th Annual PICNIC IN THE PARK!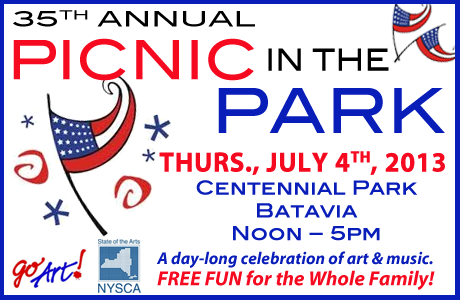 GO ART! presents the 35th Annual PICNIC IN THE PARK • Thursday, July 4th, 2013 • Centennial Park, Batavia. Noon – 5 p.m.! A daylong celebration of art & music. Free Fun for the Whole Family!!! 
Main Stage -- 12 Noon
Batavia Concert Band. Always a crowd favorite, BCB performs Sousa-esque marches & Big Band numbers. 
1 p.m. -- The Town Pants. Irish traditional, folk and roots Americana, fusing their signature dual lead vocals to create their own unique brand of high energy "West Coast Celtic."
2:30 p.m. -- Trio Los Arpegios. Traditional Latin American music in the typical trio style of close vocal harmonies with guitar accompaniment.
4 p.m. -- The BossTones. Strongly grounded in old-time & bluegrass traditions, this fiddle trio also incorporates jazz, swing, & Celtic influences.
Explore Art!
Families are invited to join us for a FREE CREATIVE ACTIVITY at the Explore Art! Tent...decorate paper flowerpots & create paper flowers to be delivered to area nursing homes & hospitals. Also, try your hand at decorating white paper bags to be used in delivery of Meals on Wheels to senior citizens. Materials provided! AmeriCorps volunteer Beth Ely will help kids & adults alike to be creative. Face Painting will be available, too!
Kiddie Parade -- New this year! Bring your bikes, scooters or strollers…decorations will be provided! Decorating begins at 11 a.m.; Parade starts at 11:30 a.m. on Ellicott Avenue.
Stage II
12:30 p.m.  & 2 p.m. -- The Traveling Dress Up Theatre. Family friendly dress up storytelling... Unique and great fun for kids of all ages!
1:30 p.m. & 3 p.m. -- The Stringmen. A delightful mix of folk & participatory music for kids of all ages. Doug Yeomans & Judd Sunshine bring over 30 years of experience to young people across Western NY.
All Day in the Park
Juggling by Brian Kozody & Owen Gould
Horse-drawn Wagon Rides & Petting Zoo by Hartland Carriages
Miniature Golf by My Cowboy
"Cookie Songwriting" by Geoffrey Clough
Food Vendors & Nonprofit Organizations
Air Gym & Inflatable Obstacle Course by YMCA
Wildlife Educators Coalition
Recycling by Genesee County ARC
The Jaycees famous dog and burger stand!
Arts & Crafts Show & Sale
For more information: 585-343-9313 / [email protected] / www.GOart.org / www.facebook.com/geneseeorleansarts. This event is made possible, in part, by the New York State Council on the Arts.