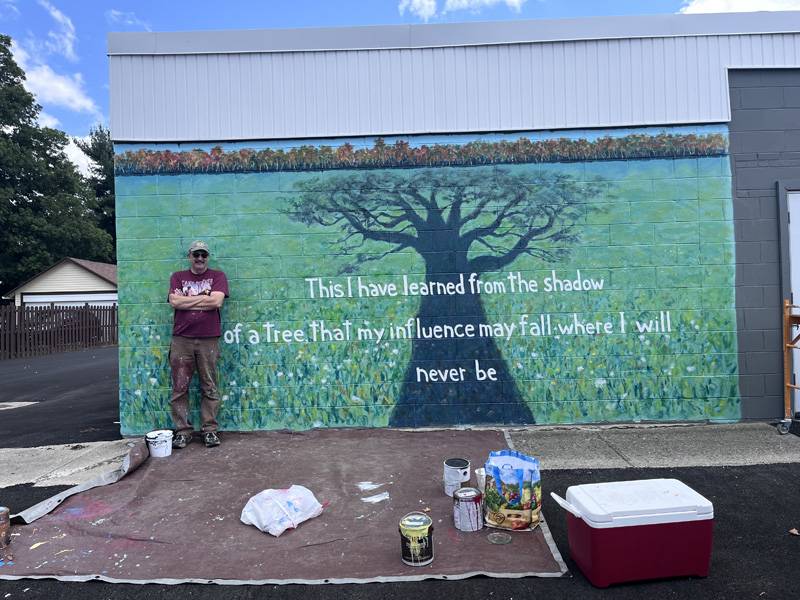 Two new art projects at the GOOSE Community Center in Oakfield are not just visual embellishments to the Main Street property, founder Susan Zeliff says.
They are embodiments of what the center stands for and has become. 
One is a mural based on a quote that Zeliff chose: "This I have learned from the shadow of a tree, that my influence may fall where I will never be."
"It spoke to me a lot about our community center and the people that support it," Zeliff said. "They're helping people that they may never come into contact with."
She commissioned artist David Burke, thanks to a grant through GO Art!, to paint the mural on an exterior wall of the center. It features a large grassy area with a tree's shadow and the quote. 
The easy part was knowing what to do, Burke said. He used a scaffold for the piece measuring about 10 feet high and 40 feet wide. It took about 35 hours over the course of three or four trips to complete it with rollers and brushes.
What's it like to have pedestrians and motorists going by observing your handiwork?
"It's great, I love it. Several people in Batavia have been doing murals and all over the country," he said. "Murals are coming back. It's exposing people to art. I just like the idea of teaching and art. I really kind of enjoy turning people onto the idea that anybody can make art; anyone has the capacity for making any kind of art or music."
Zeliff plans to apply for a GO Art! grant to bring in some art teachers, including Burke, for lessons, hopefully at the beginning of 2024, she said.
Those lessons will complement a host of activities, including chair yoga, which has doubled or tripled in attendance since first offered; a Family Fun Bingo night on the first and third Tuesdays of the month, drawing some 60 participants of all ages; a continuously growing food pantry that serves 80 to 90 families each month; a farm market that operates separately in the back of the building on Saturdays; and community room space that is rented out for special events. 
Zeliff has been turning to GO Art! more regularly with applications for grants, last year providing "different styles of art, an expressive kind of art," she said, which featured Burke and Bill Shutt, who returned this year to provide the second latest piece of exterior artwork for the GOOSE at 33 South Main St.
He and Zeliff loosely talked about how his piece could somehow represent the site, and the symbol of hands came to him.
"I asked her the reason for the GOOSE, and she said to connect the GOOSE to the community and to resources and to connect businesses, connect organizations, etc. So that kind of led me to thinking about handshakes, and we've seen some of the logos of the four interconnected hands, so that was where the thought process for this piece came from," he said. "The shapes came from recycled material … so all the hands are different. The material is all different, again, trying to show that we're all made up of different pieces, and different parts, and we can all connect together.
"Connecting hands, connecting communities is what the GOOSE is all about," Shutt said. 
A mechanic and welder fabricator for many years, Shutt was used to "making stuff" from the odds and ends of motorcycle parts and other materials that were the remains from an old farm, he said. 
"A lot of it was stuff around the house or around the shop. I've tinkered with cars and motorcycles. Probably five or six years ago was the first time that I really made something that was an art piece, per se. And that started off with old pieces, parts, motorcycle parts and car parts that I made into some musical instrument-inspired pieces," he said.
He has crafted stringed musical instruments and other creations  — including some metal sculptures on boxes depicting the inequity of humanity outside of the GO Art! site in Batavia.
For the Oakfield project, he used galvanized tubing, stainless steel, chrome steel, motorcycle parts, and an old, high-pressure gas cylinder tubing. He appreciates using recycled materials and will be working on a project using part of an old Erie Canal lift bridge. 
Connecting hands is freshly tagged, so he hasn't gotten a whole lot of feedback just yet, but "hopefully, the main message got across," Shutt said. 
"If they see something positive out of it, it was a success," he said. "It took about three months to complete. It was a lot of trial and error, a lot of R and D time, how I was going to make the hands, positions he hands. Sometimes the material dictates what you're doing."
Zeliff is pleased with both projects as an extension of yet continuing growth of the GOOSE center, which falls under the Warrior House program. Shutt's artwork depicts one person standing with a "whole lot of hands behind them, and that's my everyday," she said. 
"I am very excited about all the activity that's been happening within the community and just building relationships," Zeliff said. "We do coffee hour on Wednesdays, and one year ago, it was me and one person, and now it's two dozen people. It's exciting to see the room become full."
Image