August 2, 2013 - 3:08pm
Sponsored Post: High Voltage Tattoo has added an additional tattoo booth and another artist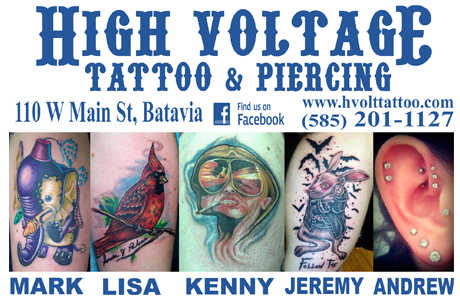 High Voltage Tattoo has added an additional tattoo booth and another artist.
In response to increasing business, we at High Voltage Tattoo and Piercing have added another tattoo booth and hired another artist. For most of 2013 all of the tattoo artists at the shop have been booked in advance with appointments, so we have rarely been able to accommodate walk-ins. Hopefully with an additional new workspace and another tattoo artist, we will be able to get more walk-ins into a chair.
Jeremy is the latest artist to join the High Voltage crew. Jeremy tattooed in Buffalo for six years and has recently moved to Batavia. We now have five people working full time to better meet the needs of our customers.
High Voltage Tattoo is Genesee County's longest established tattoo and piercing shop. We blend old-school values with modern safety standards. Our tattoo artists create custom artwork, coverups or they can bring your own sketches to life. Our studio is a sanctuary of creative self-expression and we uphold a zero-attitude policy. Each client is treated with integrity and respect.
We are open 7 days a week, so stop in for a new tattoo or piercing or call (585) 201-1127 to book an appointment. Visit us online: http://www.hvolttattoo.com/
August 2, 2013 - 4:09pm
#1
I love that Fear and Loathing ink!