November 5, 2013 - 10:31am
Sponsored Post: Ride the "Liberty Taxi"!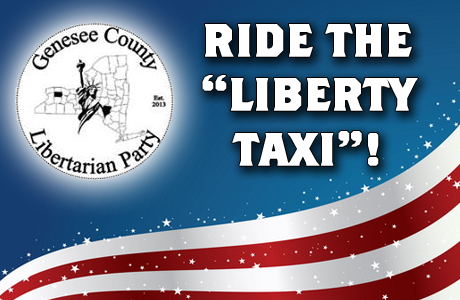 Ride the "Liberty Taxi"!
The Genesee County Libertarian Party wants everyone to have a chance to vote in today's City Council election, and they don't want a lack of transportation to prevent that from happening! The GCLP will be providing rides at no cost to voters of all political affiliations within the city from 8 a.m. until polls close at 9 p.m.
"It doesn't matter who you are voting for," said Phil Ricci, chair, Genesee County Libertarian Party. "This is not about just getting more Libertarian votes. This is about making sure that every person has the ability to exercise their choice. Too many have given their lives so you can have that -- lack of a car should not take that away!"

If you need a ride to your polling station within the City of Batavia on today, Nov. 5, please call Debbie Rosenbeck at 585-356-8623.

"This is the first year of our party, but we hope to expand this service even more into the future! We look forward to helping our neighbors!" Ricci said.

The Genesee Libertarian Party encourages everyone to get out and vote! Freedom is the culmination of Education and Choice, exercise your voice on Tuesday!
Event Date and Time
November 5, 2013 - 8:00 a.m  - 9:00 p.m.