March 1, 2018 - 6:46pm
Local gun range, shop wins innovative enterprise of the year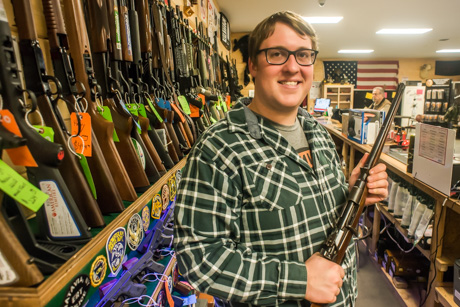 This is the fourth in a series of five stories about the honorees at this Saturday's annual Chamber of Commerce Awards Ceremony. The ceremony is being held at the Quality Inn & Suites in Batavia.
The Firing Pin in Bergen is a friendly place to visit. Owner Brandon Lewis is a big reason why. Open and gregarious, he's eager to help his customers and ensure when they come to use the range they do so safely and get the most enjoyment from it as possible.
The store is brightly lit, clean and well-stocked.  
It's no wonder, the Firing Pin was selected by the Genesee County Chamber of Commerce as the Innovative Enterprise of the Year.
Lewis, the owner, said he was humbled to receive the award.
"When you go into business, you never know what's going to happen," Lewis said. "To be recognized for the work you do is the icing on the cake. It can't get better than that."
Lewis started planning to open The Firing Pin in 2011. He wanted to offer a facility with a full range of products and services, that was not a typical gun shop. He felt it was something the community needed, and the public responded well to the business.
"We cater to those who are afraid of guns, and those who use guns," Lewis said. "We cater to every skill level. We're a destination for anyone who is looking to be better."
The facility, located at 8240 Buffalo Road, was built in 2013 and opened in 2014.
Lewis went to Alexander High School when he thought of the idea of running his own place. The idea took time to develop, so he went to St. John Fisher College.
He took a job at Gander Mountain, and decided he wanted to open a place that gave more training, the right training, and safe training.
Lewis is an eagle scout, a certified NRA pistol and rifle instructor, a certified GLOCK Armorer and a black belt in Taekwondo.  
"Everywhere down south there are gun shops and ranges," Lewis said. "It is popular down south and it's something I felt we needed."
The Firing Pin is open seven days a week, Monday from noon until 8:30 p.m., Tuesday through Friday from 9 a.m. until 8:30 p.m., and Saturday and Sunday from 9 a.m. until 5:30 p.m. They offer group rates, memberships and firearm rentals, in addition to one-on-one training with NRA certified instructors.
More information and pricing can be found here.