Image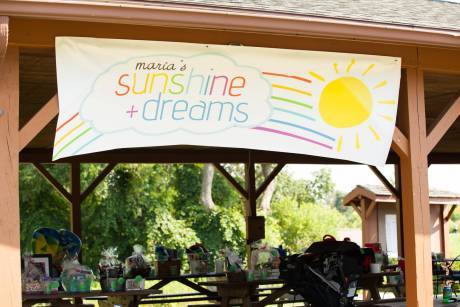 (Submitted Photos)
Children and their families dealing with cancer often need an extra ray of sunshine and that's the purpose of Maria's Sunshine and Dreams fund, which is the focus of a golf tournament July 29 at the Batavia Country Club.
There is still time to sign up for the sixth annual tournament, said Sarah Christ, Sunshine and Dreams Fund board member.
Maria's Sunshine and Dreams fund provides "sunshine" for children and their families facing medical hardships with large toys, family memberships to local zoos/museums, and needed "supplies" including gift cards for gas, groceries and more.
The fund is made possible through donations and the annual golf tournament, which typically funds the program for the rest of the year. Registration for the golf tournament can be found on their website here and any questions can be directed to [email protected]. 
"Many local people come and golf in the tournament and we are constantly looking for donations and big-ticket items as well," Christ said. "We are new and we are trying to get our name out there."
Maria's Sunshine and Dreams fund was started in honor of Christ's friend, Maria Nash Anderson, who lost her battle with cancer in March 2012 at age 25. Anderson served on missions trips while attending Roberts Wesleyan College, and worked as a youth caseworker for the Genesee County Department of Social Services. Christ said she loved children and wanted to make a better life for other children.
"We thought this would be a great way to keep her memory alive," Christ said. "We want to help other families going through difficult times by providing sunshine to them."
Christ helps to personalize each gift by speaking with friends and family to find out the children's interests and personalities.
"We've done WWE live event tickets for one boy, a spa day for a little girl, and other things, too," Christ said. "We try to include the siblings and other family members as well because they're going through this, too."
Missy Sacheli, mother of "Sunshine Kid" Joseph Sacheli, said the organization brings happiness, comfort and smiles to those who need it most and they will be forever grateful they were chosen to bring sunshine to.
"The Sunshine organization was an unexpected ray of light for our son during a really difficult and dark time," Sacheli said. "They are thoughtful and take into account each child's interests and likes. My favorite part about them is they allow kids to focus on being kids...instead of the setbacks they are working to overcome."
Almost all of the sunshine stays in Genesee County, but Christ said they do branch outward to surrounding areas to help other children.
In the past, Maria's Sunshine and Dreams fund has given a lot of the proceeds to Ronald McDonald House of Rochester to be used as a separate fund for families to have fun in Rochester while they were in the area and provide meals once a week. Christ said they realized they needed to keep the money local, so most of the funds go to local families now.
"We want to try to help more kids in the area and spread the word around more than we have in the past years to get support in the community," Christ said.
Christ is hoping to continue growing the organization to give the children bigger and better toys, as well as help the parents provide more necessities. The organization started in Rochester but was brought back locally about four years ago. Since then, Christ said they have helped more than 20 children and their families, and the number is growing.
"We try to help any kids from the age of a preemie baby whose family has to go back and forth to the hospital, or a kid with a severe or daily medical issue," Christ said. "We focus on the kids' needs and what they love and try to use that to personalize each basket. Every basket is completely different."
Dawn Logsdon, mother of "Sunshine Kid" Roger "Bubba" Logsdon said it is a phenomenal organization that has a unique way to brighten kids' days and put smiles on faces that have every reason not to smile.
"The kids [Maria's Sunshine and Dreams Fund] help have been dealt a terrible hand and [the] organization gives them the "wild card" that keeps them motivated to keep getting better and stronger," Logsdon said.
Image