June 27, 2018 - 1:37pm
Younger sister continuing selling rubber band bracelets for Alzheimer's Research at Picnic in the Park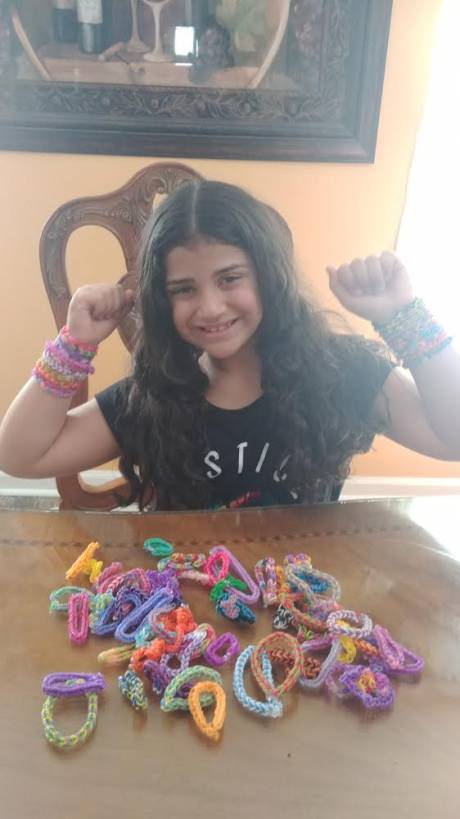 (Submitted photo.)
Carmelina Pellegrino, an 8-year-old who lives in Batavia, has dedicated her time this summer making colorful rubber band bracelets to sell at Picnic at the Park this year, with all the proceeds being donated to Alzheimer's Research.
A booth will be set up outside of their house at 150 State St., across from Centennial Park during Picnic at the Park on July 4th, with purple balloons and tablecloths, which is the color of Alzheimer's Disease Awareness.
"Hopefully she can get some donations," Angelina said.
Carmelina is going into fourth grade at John Kennedy Intermediate School in Batavia. Her older sister, Mikalina, 13, started making the bracelets a few years ago for the annual walk to end Alzheimer's, sold the bracelets to family members, and the proceeds were donated to the Alzheimer's Association.
Angelina said the family participates in the Walk to End Alzheimer's every year in memory of family members who passed away from the disease.
"Mikalina got busy with school and Carmelina started making the bracelets not too long ago," Angelina said.
Carmelina said she likes making the bracelets and it's a nice idea for a good cause.
"She suggested that the day of Picnic in the Park, to set up a booth and sell the bracelets," Angelina said.
As of Tuesday, Carmelina has made 108 bracelets, and hopes to make even more by next Wednesday.
"She is still going," Angelina said.
Carmelina has made many types of bracelets, including bangle bracelets, and threaded bracelets with charms.
Angelina has been helping Carmelina with the bracelets.
"It's something fun we can do together," Angelina said. "We pop on some music or put on the TV and listen as were making them."
Angelina is hoping people will learn about the bracelets and donate to the cause.
"It's just an awful disease and we're hoping one day that there will be a cure," Angelina said. "That's why we try to raise awareness. When you talk about cancer and heart disease, Alzheimer's gets put on the back burner."