February 28, 2022 - 10:32am
Albion's Cole wins Tommy Kress event in Brockport; Batavian Neubert first in Super Bowl tourney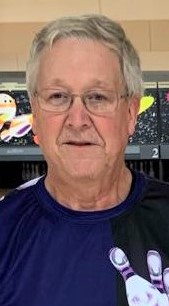 Reid Cole of Albion captured first place Sunday in the Tommy Kress 60-and-Over Tour tournament at Brockport Bowl, rolling a 297 game in the qualifying round and 227 in the title match.
The 62-year-old right-hander (photo at right) averaged 230 for his seven games in the event to win the $310 top prize.
In the finals, Cole's 227 was good enough to defeat Chris Buonaugurio (212), Mike Feola (201) and Don Perrault (169). To reach the title match, Cole posted games of 225 and 216 following his 942 four-game total in the qualifying round.
In November, Cole won the Genesee Region USBC Senior Masters at Perry Bowling Center.
Two Batavia bowlers cashed as well with Paul Spiotta (923 in the qualifying round) and Bill Neubert (891) each earning $70 after exiting in the first eliminator round.
The next tournament is at 1 p.m. March 20 at Bowl-A-Roll Lanes on Jefferson Road in Rochester.
NEUBERT WINS SUPER BOWL TOURNEY
Neubert took top honors in the Super Bowl handicap tournament at Mancuso Bowling Center on Feb. 13, outlasting 46 others.
The right-hander posted a 261 game in the title match to claim the $450 first prize. His first two games in the head-to-head match play were 211 and 235.
Other local cashers were Nick Johnson of Byron and Rick Underhill of Batavia.
798 FOR HAYDEN ALLIS
Hayden Allis continued his stellar bowling in the Sunday Rolloffs League at Medina Lanes yesterday, registering a 798 series on games of 252-257-289. He rolled two 800 series over the past month.
For a list of high scores around the Genesee Region USBC last week, click on the Pin Points tab at the top of the home page.
TWO EVENTS THIS WEEKEND
Oak Orchard Bowl in Albion is hosting the sixth annual NY Gamerz/Smash It Sports Triples Handicap No-Tap Tournament this Saturday and Sunday, with squads at 1 and 3 p.m. both days. Call Bill Hickman at 585-590-6717 to enter.
Mancuso Bowling Center in Batavia is hosting the annuak King & Queen Mixed Doubles Handicap Tournament Saturday, with squads at noon and 2 p.m. Call Mark Brown at 716-474-7960 to enter.