March 21, 2019 - 8:07am
Bardol, Landers team for K&Q crown; Cory Paris looking to purchase Scopano's Lanes in Oakfield
Update March 21, 12:45 p.m. -- In the section about the potential sale of Scopano's Lanes, the content has been corrected to reflect that Cory Paris' auto business will remain open.
----------------
Chris Bardol had one heck of a bowling season over the past two weeks.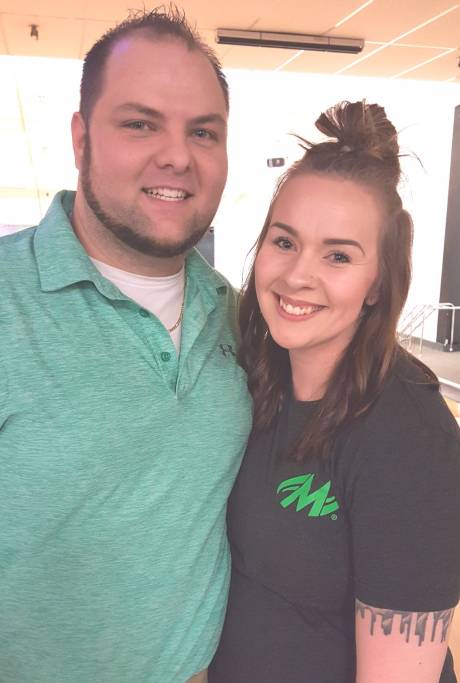 On March 9th, the 31-year-old right-hander teamed with his girlfriend, Caycee Landers, to win the annual King & Queen Mixed Doubles Handicap Tournament at Mancuso Bowling Center and, a day later, he placed second in the prestigious Super Bud Bowl at Lighthouse Lanes in Oswego
At Mancuso's, Bardol and Landers each came through with strikes in the 10th frame of the championship match against the father-daughter team of Mario and Kara Mangiola of Rochester to win, 466-451, and claim the $500 first prize.
Landers rolled 237 and Bardol 229 to offset a 224 by Mario and 227 by Kara, who was stopped by a solid 8-pin in the 10th frame.
The victory was especially sweet for Landers, a former touring pro.
"He's (Chris) is used to winning all the time, so for me it's a little bit better," she said.
The Mangiolas earned $300 for placing second.
Two other Rochester teams -- Traci Spanitz/Rob Gustke and Sara Germano/Steve Meyer -- made it to the semifinals and won $200 apiece.
Quarterfinalists ($150 each) were Naomi Hyde/Shayne Herold, Le Roy; Selina and Tom McJury, Batavia; Sarah Cassidy, Albion/Rob Stefani, Batavia; and Kelsey Ayers, Leicester/Brady Weber, Perry.
Other local cashers ($100 each) were Karisa Schuster/Brian Weber, Perry; Dawn Johnston, Livonia/John LaGeorge, Retsof; and Christine Thompson, Mumford/Dean Cadieux Sr., Byron.
Jeremy Vallance of Warsaw had the tournament's high game – 298.
The next day, March 10th, Bardol traveled to Oswego for the Super Bud Bowl and – 11 games later – he drove back home with the runner-up check of $2,750.
Finishing second in the Bud Bowl is quite an accomplishment – considering that the weeklong tournament attracts more than 1,000 entries.
The 31-year-old right-hander rolled 846 for four games of qualifying on a challenging oil pattern and then went on to win five matches to reach the three-person step-ladder finals. In four of the matches he needed at least the first strike in the 10th frame to advance. Now that's coming through in the clutch.
In the stepladder finals, he bowled 247 to win his first match before dropping a 247-192 decision to Zach Wilkins of Canada in the championship match.
Honorable mention goes out to Matt Slocum of Perry for placing in the top six and to Kevin Gray Jr. of Warsaw who also made it to the 96-bowler finals.
POTENTIAL BUYER OF SCOPANO'S LANES IN OAKFIELD SURFACES  
After a year and a half of speculation over the future of Scopano's Paradise Lanes and the Oakfield Hotel, it looks as though Cory Paris, a lifelong Genesee County resident, is on track to become the next owner of the South Pearl Street establishment.
"We're moving in a positive direction … we have a closing date next month," Paris said on Tuesday.
Paris, 53, said his Batavia-area car repair shop/dealership will continue to operate as he also focuses his attention to the restaurant, bar and bowling business.
Acknowledging that the lanes currently are underutilized, Paris said that he – along with son, Robert, and daughter, Taylor – are determined to do what needs to be done to attract bowlers back to the 12-lane center.
"I grew up at Scopano's Lanes, having lived in Oakfield until about age 12 or 13," he said. "We know that it has great potential."
He said he already has contacted the Village of Oakfield zoning department to see what upgrades are required (making it handicapped accessible, for example) and is close to getting his liquor license.
"We're going to update the bathrooms and kitchen as we go," he said, "and I don't think I'll have any problems (maintaining the pinsetters)."
Paris did not say how much he paid for the business, citing a confidentiality agreement with the Scopano family.
John "Jonesy" Scopano said the deal is "99.9 percent" certain and that his family – wife, Lois, and sister, Judy -- are looking forward to retirement after a more than 50-year career.
Jonesy's father, John, bought the Oakfield Hotel from the Monachino family in the early 1960s, and they built the lanes in 1972.
Jonesy, Lois and Judy primarily handled the bar/restaurant side of the operation while brother, Sam, who passed away in January 2016, ran the bowling business.
Scopano's Lanes has been a fixture in the Batavia Bowling Association and, now, Genesee Region USBC, and the site of countless memorable achievements.
A well-deserved "thank you" to the Scopano family and best wishes upon retirement.
'SUPER' MARIO CAPTURES T.F. BROWN'S TOURNEY TITLE
Rochester's Mario Mangiola has found a home away from home at Mancuso Bowling Center.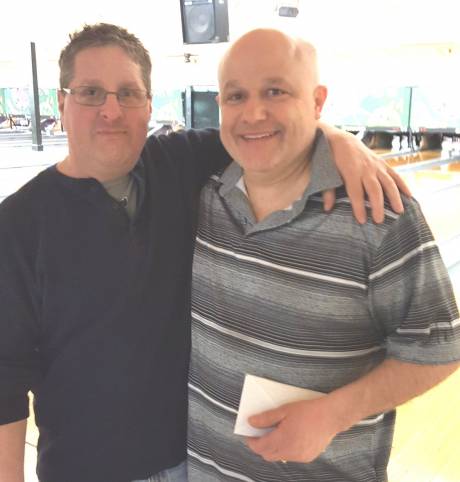 After placing second with his daughter, Kara, in the King & Queen tournament, the 47-year-old righty returned to Batavia the following week (March 16) and captured the $1,500 top prize at the T.F. Brown's Eliminator scratch singles event.
Mangiola (pictured at right with Mark Brown, tournament director, recorded a pair of 279 in the finals, including a front nine-strike gem in the title match to defeat Brian Hall of Canandaigua, who shot 240; George Szczublewski of West Seneca (191) and Carl Kinyon of Lockport (158).
"I had to dig deep for that," said Mangiola, who usually travels to watch Kara compete in scratch events. "I was trying to get a lot of loft on the ball and play the track area … kept it high and tight."
He displayed much emotion -- running out several shots -- as he progressed through the eliminator finals (where half the field on each pair advances) with games of 192, 215, 279, 214 and 279.
Hall earned $750 for placing second while Szczublewski won $500 and Kinyon $400.
Three Genesee Region bowlers cashed – Chris Huntz of Perry ($130), Nathan Cordes of Batavia ($160) and Scott Allis of Medina ($190). The tournament drew 90 entrants.
GRUSBC ASSOCIATION TOURNEY STARTS ON SATURDAY
Plenty of spots remain for the 13th annual Genesee Region USBC Association Tournament that gets under way this weekend at Oak Orchard Bowl in Albion (Team event) and Medina Lanes (Doubles & Singles events).
Team squads are at noon and 3 p.m. on March 23 and March 31 and at 3 p.m. on March 24 and March 30. Doubles & Singles squads are set for 11:30 a.m. and 3 p.m. on all four days.
Competition will take place in Open and Women's divisions, with handicap based on 90 percent of the difference in the bowler's highest average from the past three seasons and 215.
The entry fee is $30 per person per event, with optional All-Events priced at $10.
The tournament is open to current GRUSBC members who have bowled at least 21 games in at least one league during the 2017-18 or 2018-19 season.
For more information or to sign up for a squad, send an email to [email protected].
Entry forms can be downloaded from the GRUSBC website – www.bowlgr.com.
ROSE GARDEN II TEAM WINS GR YOUTH TRAVEL LEAGUE
The Rose Garden II team of Evan Phillips, Sawyer Zinter, Megan Jarkiewicz and Brendan Pimm placed first in the Genesee Region Youth Travel League that concluded its regular season on March 10 at Legion Lanes in Le Roy.
The winning team posted a 149-67 record to outdistance second-place Perry Bowling Center by 16 points. Oak Orchard I placed third another 4.5 points back.
In final week action, Aaron Leone of Le Roy Legion Lanes led the way with a 245 game and 614 series while Devon Zinter of Rose Garden I had 237—543 and Dallas Ecker of Oak Orchard I had 213—526.
Individually, Dennis Van Duser of Perry had the high average for boys with 196 and also had the high scratch game of 257 and high scratch series of 706.
Samantha Hyde of Le Roy led the girls with a 174 average, 223 scratch game and 594 scratch series.
Van Duser also had the high series with handicap (781) while Pimm had the high game with handicap (289).  Jarkiewicz had high game with handicap for girls (274) and Paige Snook of Oak Orchard II had the high series with handicap for girls (731).
The league wraps up with a no-tap tournament and banquet at 1 p.m. this Sunday at Rose Garden Bowl in Bergen.
For complete standings and statistics, go to www.bowlgr.com and click on the Jr. Travel League tab at the top of the home page.
MEDINA UNIFIED BOWLING SQUAD REPEATS AS CHAMPION
The Medina Central School Mustangs team in the Unified Bowling league went undefeated for the second straight year and won the sectional division championship for the second year in a row.
Coached by Rob Dennis, the program consists of special education students bowling with general education students. The league consisted of 15 schools.
Members of the Medina team this year were Juliana Allis, Gracelin Mahnke, Gracie Cogovan, Zachary Fike, Morgan Crossett, Emma Carson, Bobby Vidovich, Arian Cayea, Steven Secore, Jackson Touhey, Joe Biaselli and Tom Biaselli.
Dennis said that each of the students were able to get their own bowling ball with the support of Eric Greenlief, Tom Allis and Jim Foss of Medina Lanes.
"A special thanks to Athletic Director Eric Valley his help in starting this program in our school district," Dennis said. "This enables these kids to grow together and feel the sense of working together as a team -- and seeing the results of hard work and dedication."