March 2, 2017 - 7:30am
Bardol strikes again with $1,000 tourney win, 300--814 in league play
With multiple 300 games, 800 series and tournament victories, Chris Bardol, an "adopted" Batavian by way of Rochester and Brockport, is in the upper echelon of bowlers in our area.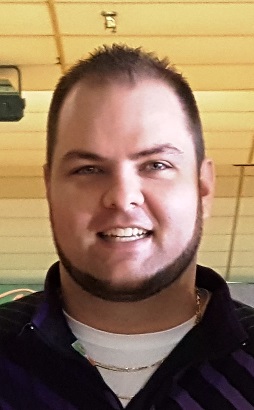 But on wood lanes, like the ones he cut his bowling teeth on at Brockport Bowl, the 29-year-old right-hander stands at the very top.
Bardol, owner of North Pole Restaurant in Batavia, added to his accomplishments recently when he captured the $1,000 first prize at the Miller Lanes scratch tournament in Honeoye Falls on Feb. 19 and, two nights later, when he posted 247-267-300—814 in the G&W Vending League at Rose Garden Bowl in Bergen.
Both centers have wood lanes.
In Honeoye Falls, Bardol outlasted 88 other entrants, defeating Brian Hall of Macedon, 238-234, in the title match. He also was the high qualifier in the event with a 935 score for four games – a 233 average.
In the G&W Vending League, Bardol has averaged around 225 over the past four seasons, rolling a handful of perfect games and 800 series along the way.
And just two nights ago, he nearly tacked on a couple more honor scores with a 277-289-218—784 effort on lanes 3-4.  A 10-pin on the 11th ball of the second game cost him another 300 and five 10-pins and a 4-pin in the final game cost him a high 800 series.
His 784 wasn't the evening's best, however, as 22-year-old Rochester resident Rich Ehnre exploded for 257-300-265—822 on lanes 5-6.
Bardol said many of today's young competitive bowlers have problems on wood lanes, since most of them have learned how to bowl on synthetic lanes.
"I definitely don't shy away from them (wood lanes)," he said, noting that he his familiarity with the way wood lanes transition gives him an advantage.
He also competes in (and co-sponsors) the North Pole/Family Affair Boat Repair League on Thursday nights at Mancuso Bowling Center in Batavia (another hall with wood lanes), but said he hasn't been able to dial in there just yet.
"I've been banging my head against the wall to manage 630 or 640 (in league play) there," he said. "It's been tough as the shot seems to change from week to week."
Bardol said he plans to defend his T.F. Brown's scratch singles tournament title at Mancuso's later this month (see the March tournament listing below).
FOSS, MIKE ALLIS ON TARGET IN ALBION, MEDINA
Two of Orleans County's finest – Medina residents Curtis Foss and Mike Allis – notched 300 games in league play last month.
Foss, who has split time between WNY and Florida this season, filled in on the Friday Night Mixers League at Oak Orchard Bowl in Albion on Feb. 17 to the tune of 268-300-268—836, and now has four 800 series this season alone.  He is averaging 240 for 33 games in the league.
Allis, another high-revving power player, recorded his second 300 game of the season on Feb. 9 in the Thursday Firefighters League at Medina Lanes, and finished with a 750 series.
MEDINA'S HODGSON COMES THROUGH AT 60-PLUS EVENT
Bob Hodgson, the retired school teacher who has excelled in league play at Medina Lanes over the years, came through with three strikes in the 10th frame of the title match on Sunday to place first in the 60-and-Over Tournament Bowlers Club event at Pleasure Lanes in Hilton.
Hodgson defeated Charlie Gfleller, 257-246, in an exciting finale that saw the 81-year-old Gfleller end with a flurry of strikes to force Hodgson to double in the 10th.
After a slow start in qualifying (181), Hodgson, 69, said he switched to a "just drilled" Roto-Grip Daredevil and the results were impressive. He finished with 251 and 247 for a 679 series to secure the final spot to match play, and then bowled 258 and 258 to advance to the title game.
Attica's Joe Trigilio rolled 740 in qualifying and also cashed.
TOURNAMENT RESULTS FROM LE ROY, PORTAGEVILLE
Buffalo residents John Masiello, Bill Swiat and John Stobnicki teamed with Rochester's Steve Meyer to take first place in the annual Ron Riggi Memorial handicap team tournament at Legion Lanes in Le Roy last weekend.
The winning foursome posted 3,629 with handicap for four games to take home the $1,000 top prize.
Local bowlers Matt Balduf, Mark Brown, Tom Rohl and Scott Culp were second with 3,540, good for $500, and Balduf and Brown were also on the third-place team with Rob Sease and Sam Steffenella, shooting 3,531 and winning $320.
The top seven teams cashed out of the 40 that entered.  In the optional singles event, Shayne Herold of Le Roy placed first with 992 to win $150.
The Scotts Rockin' team of Tom Borer, Julie Grover and Eileen Nugent placed first with a 2,400 score at the Nunda Fire Company three-person handicap no-tap event at Letchworth Pines in Portageville. Nunda Lumber was second at 2,386 and Once Again placed third at 2,381.
The tourney drew 57 teams.
Individually, Steve Maher of Castile won the singles event with an 858 score. He was followed by Craig Barkley of Portageville (849), Eric Galton of Portageville (844) and John Thompson of Dalton (842).
PERRY, BATAVIA YOUTHS WIN DOUBLES TOURNEY
Teams from Perry Bowling Center and Mancuso Bowling Center in Batavia took top honors at the Genesee Region USBC Youth Doubles Tournament at Mount Morris Lanes on Feb. 18-19.
In Division A, Matt Hurlburt and Dennis Van Duser combined for a 1,345 score to move past Skylar Laesser and James Townsend (Mancuso's) and win the $200 scholarship -- $100 apiece. Laesser and Townsend posted 1,320.
Dominic Perkins (Mount Morris) and Townsend placed third with 1,292.
In Division B, Brooke Jurek and Van Duser earned the $200 scholarship with 1,194 -- five pins better than Madelynn Pimm and Brooke Jarkiewicz (Rose Garden Bowl, Bergen).
Haylee Thornley and Zack Wester (Mancuso's) placed third with 1,124.
In Division C, Brock Bigsby and Ben Sputore (Mancuso's) placed first, winning the $200 scholarship, with 1,229.
They were followed by Lily Martin and Jonah Martin (Mancuso's and Jillian Menzie and Jarkiewicz (Rose Garden Bowl) with 1,198 and 1,186, respectively.
The tournament attracted 28 teams. The top three teams in each division received trophies.
MARCH TOURNEY SLATE INCLUDES K&Q, PERRY FD NO-TAP
Following is a list of tournaments in the Genesee Region during the month of March:
GRUSBC Youth Team, March 4-5, Rose Garden Bowl, Bergen: Squad times are at noon and 3 p.m. on Saturday and 10 a.m. and during the GR Youth Travel League on Sunday. Entry fee is $64 per four-person team. Teams will be divided into three groups, by average, with scholarships and trophies awarded to the top three teams in each division. To enter, call 585-284-2637.
18th annual Bob Bertram Memorial No-Tap, March 4-5, 11-12, Mount Morris Lanes: Squad times are at noon and 3 p.m. each of the four days of the five-person, no-tap handicap event that benefits Livingston County Hospice and Teresa House. First place is $1,000 guaranteed. Entry fee is $125 per team. To enter, call 585-658-2540.
King & Queen Mixed Doubles, March 11, Mancuso Bowling Center, Batavia: Squad times are noon and 2 p.m. for this mixed doubles handicap event, which offers a $500 top prize based on 60 entries. Entry fee is $50 per team. The top 12 teams will advance to match play. To enter, call 716-474-7960.
Sonny Yencer Perry FD No-Tap, March 11-12, Perry Bowling Center: The Perry FD handicap tournament fundraiser returns after a couple-year hiatus with squads at 1, 3 and 5 p.m. on Saturday and 3, 5 and 7 p.m. on Sunday. The entry fee is $60 per team. To enter, call 585-237-6358.
T.F. Brown's Scratch Eliminator, March 17-18, Mancuso Bowling Center: A $1,500 first prize awaits the winner of this scratch singles tournament that lists squad times (four games) at 6:30 p.m. on March 17 and 11:30 a.m. and 2 p.m. on March 18. Entry fee is $65. One in five bowlers per squad will advance to the eliminator round (where half the field advances after each game). To enter, call 716-474-7960.
KIWA Three-Person No-Tap, March 18, Medina Lanes: The entry fee is $75 per team for his handicap event, which lists squads at 1 and 3 p.m. The prize fund is based on entries. Call 585-318-4474 to enter.
Five-Person Baker Team Challenge, March 19, Medina Lanes: This handicap five-person event offers a $1,000 first prize and $500 second prize – both guaranteed. Squad times are 10 a.m. and 2 p.m., with each team rolling eight Baker-style games (where players alternate frames) across eight lanes, and then one in five will advance to match play. To enter, call 585-318-4474
60-and-Over Tour Scratch, March 26, Rose Garden Bowl: Open to all bowlers age 60 and over, there will be two three-game qualifying squads, with the top 12, including a guaranteed spot for a bowler in the 65-69, 70-74 and 75-and-over divisions, advancing to match play. To enter, call 585-739-3097.
GRUSBC Association Tournament, March 24-26, 31, April 1-2: Letchworth Pines will host the Team event and Perry Bowling Center will host Doubles & Singles for the annual association tournament, which features five-person teams in Open and Women's Divisions. Squad times are at 7 p.m. on Fridays, 11 a.m. and 2:30 (or 3 p.m. for D/S) on Saturdays and 11:30 a.m and 3 p.m. on Sundays.  For more information, go to www.bowlgr.com.
(Mike Pettinella's Pin Points column appears every other Thursday on The Batavian, the region's No. 1 source for online news. To advertise on this page, contact Mike at [email protected] or at 585-343-3736).