January 27, 2022 - 10:36pm
Batavia Notre Dame United knocks off New York's No. 3 ranked team as Schrader, Falleti Jr. shine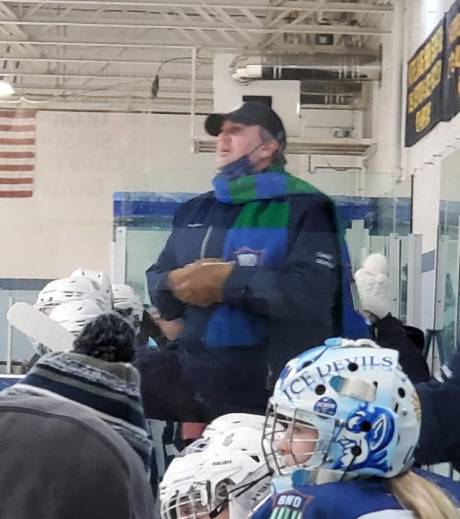 It may be time for the New York State Sports Writers Association to take a closer look at the Batavia Notre Dame varsity hockey team.
Coach Marc Staley's United club posted a major victory tonight, knocking off the Victor Blue Devils, ranked third in the state by the NYSSWA, by a 4-2 score at the Batavia Ice Arena.
Gavin Schrader, Section V's leading scorer, poured in three more goals to lead BND, which stands at 10-4-3 after its fifth win in its last six games (the other being a tie). United is not listed among the NYSSWA's top 15 teams in Division I in its latest poll.
Victor's second straight loss puts its record at 12-2-2.
United got a big lift from sophomore goalie Frank Falleti Jr., inserted into the starting lineup for the first time since he suffered a leg injury in the team's opening game. Falleti stopped 29 of 31 shots, including several at point-blank range.
BND managed just 13 shots against the Blue Devils, but made the most of its opportunities – driving starting goalie Cameron Beal out of the game after Schrader's third goal at the 12:11 mark of the third period gave the home team a 4-1 advantage.
As expected, Staley was ecstatic after the final buzzer sounded – yelling out "I told you we would win this game" – as he headed to the locker room.
Afterwards, he brought up the fact that his club had just beaten an elite opponent.
"Well, they are the third-ranked team in the state," he said, responding to the significance of tonight's win. "So, you tell me. I mean it was 4-1 at one point and we went into our trap the last eight minutes to keep the clock moving. We knew they were going to come after us late, but we hung on."
Victor opened the scoring five minutes into the first period when sophomore forward Chris Donnelly scored after a shot from the point by teammate Christian Kurz popped out of Falleti's glove and onto the ice.
United responded eight minutes later when senior Vin DiRisio swept a rebound on a long shot by Schrader past Beal for a power play goal to tie the game. Zack Eschberger also picked up an assist on the play.
Neither team scored in a second period that proved to be a clinic in penalty killing as the teams combined for six infractions – four of them by BND. Falleti was tested throughout the frame as the Blue Devils outshot United by a 12-1 count.
The third period showcased Schrader's talents as the senior forward registered a "natural hat trick" with three goals in the final 17 minutes. He now has 29 goals and 28 assists in the team's 17 games.
BND took the lead with 14:46 on the clock when Andrew Kasmarek got the puck to Brady Johnson, who passed it in front of the net to Schrader, who quickly put the puck in the net.
Schrader made it 3-1 when, after taking a pass from DiRisio, rushed down the ice untouched and beat Beal high to his glove side with 12:31 to play. Following a Victor timeout, Schrader scored again just 20 seconds later when he jammed the puck into the net, with Johnson picking up the assist.
Victor's Simon Kowal collected a rebound of a missed shot at the 7:08 mark to make it 4-2, but the visitors were unable to score again as Falleti came up with five nifty saves down the stretch.
"We've been a great third period team all year – outshooting and outscoring teams – but we got outshot tonight, and we knew that was going to happen," Staley said, assessing Victor's strengths. "But we wanted to get quality shots, and a couple of those went in to really help us out."
He said he wasn't pleased with all the penalties in the second period, but was happy that BND was able to kill them off and also was one for four on the power play.
"When you get that and then you add in some g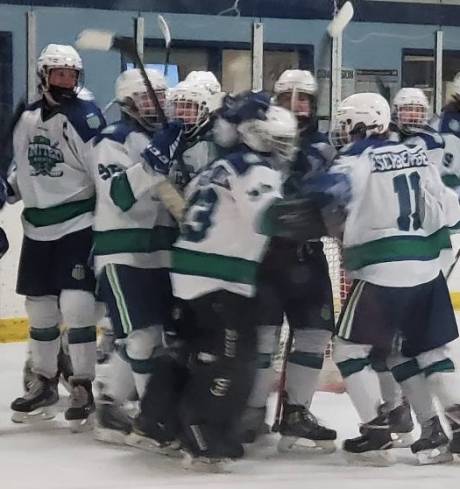 oaltending, you're tough to beat," he said. "(Falleti) played really well; he's fully healthy now. With Courtney (Schum), who has done an amazing job, we now have two fine goaltenders competing for that spot, which helps."
Staley said the team's nickname is appropriate at this stage of the season.
"I just feel by the way we've been practicing that these kids are really united, and they're really playing for each other right now," he offered. "Everybody on the bench is happy. Even when we see guys blocking shots and clearing the puck, the team is responding to that now.
"And we've really found our identity in terms of the style we want to play. And when we stick to our game plan, we're going to be a tough team to beat down the stretch. Teams are going to have to play their best hockey to beat us."
United is off until 6 p.m. Tuesday when McQuaid Jesuit comes to town, and then it will face Victor again at 5 p.m. Feb. 3 at the Rochester Ice Center in Fairport. Its last regular season game is set for 6 p.m. Feb. 8 at home against Geneseo/Avon/Livonia.
Photos from tonight's game: Coach Marc Staley on the bench, United players congratulate goaltender Frank Falleti Jr. (33). Photos by Mike Pettinella.