November 16, 2016 - 3:51pm
Batavia teen rolls 300 game in Turnbull Heating youth league at Mancuso Bowling Center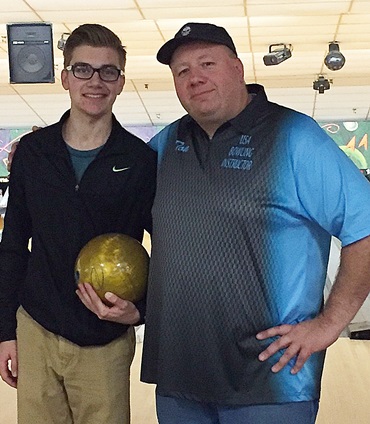 Jordan Fluker has continued to participate in organized youth bowling into his late teens, and the Batavian's dedication to the sport was rewarded at the highest level last Saturday (Nov. 12) when he rolled a 300 game at Mancuso Bowling Center.
Jordan, 19, joined a handful of Batavia youth bowlers who reached perfection by starting with 12 strikes in a row on lanes 17-18 in the Turnbull Heating Junior League, that is coordinated by his father, Tom Fluker, president of the Genesee Region USBC (in photo above).
A second-year student at Genesee Community College, Jordan said he started in the youth program at the age of 9, and has received coaching from his dad, who is a USBC Silver Level instructor.
"I saw my dad walking around behind me, and checking the scores but he didn't say anything to me during the game," Jordan said. "I think that he didn't want to mess up my game."
The slim right-hander said he became more and more nervous as the string of strikes increased, but kept his composure enough to keep the ball in the 1-3 pocket on all but one delivery -- the 11th ball.
"That one came up a little high and I got a good break to carry," he said. "That was the closest one to not being a strike."
The 12th ball was flush in the 1-3 pocket and all 10 pins flew into the pit. Hugs (the first one was from his dad) and handshakes from his teammates, other youth bowlers, parents and coaches followed.
Jordan said he was still shaky in the second game, suffering a few splits for a 181, but bounced back in the third game for 248 and a 729 series, a personal best.
A 200 average bowler, he has competed in two NYS Team Tournament finals and the NYS Youth Pepsi finals. He said that this is his final year of youth bowling, but wants to continue with the sport -- either when he transfers to a college with a bowling program or as part of an adult league.
Jordan, a former Mr. Batavian at Batavia High School, is on track for an associate degree at GCC in the spring, and said he is leaning toward majoring in Accounting or Web Design.
By the way, Tom Fluker rolled his first of his 10 USBC-certified perfect games at the age of 29.
November 16, 2016 - 6:13pm
#1