February 17, 2022 - 9:57pm
BND United bows out of Section V hockey tournament with 5-0 loss to Victor, ends first season at 12-7-3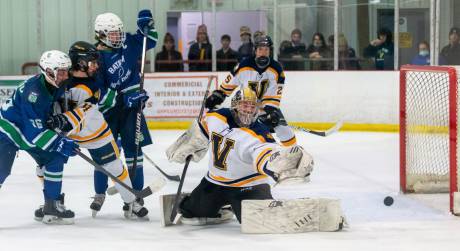 Batavia Notre Dame United's season came to an end tonight at the hands of perennial hockey powerhouse Victor, 5-0, in the Section V tournament Class A quarterfinals at the Rochester Ice Center in Fairport.
The team – in its first year of the merger of the Batavia High and Notre Dame programs – finishes with a record of 12 wins, seven losses and three ties.
As the clock wound down in the third period, Head Coach Marc Staley said he could only think of seven senior class members of the club who provided the leadership needed to forge such a successful inaugural campaign.
"Right now, we're just thinking about the seniors; we're thinking about how far up the mountain we climbed because it's a lot further than I think people thought we were going to go," Staley said. "And, tonight we may have just lost to the state champions – on their home ice."
Victor, now 16-2-2, got goals from five different players – scoring once in the first period, three times in the second period and once in the third period. A deep and talented squad, it limited United to 18 shots and put constant pressure on BND goaltender Frank Falleti Jr., putting 38 shots on net.
"They're one of the best teams in the state," Staley said. "So, that's the level you have to get to; you can't make mistakes."
Staley was talking about a turnover along the boards behind Falleti that turned into the game's first goal at the 10:02 mark.
Senior forward Jon Chapman stole the puck and quickly passed it out front where senior forward Braydon Risenberger, streaking down the middle of the ice, flicked a one-timer past Falleti.
Less than a minute later, United's Cooper Hamilton had a great scoring chance but missed the open side of the net. Falleti came up with a sparkling save with 3:46 left to keep it at 1-0.
Victor thought it had a second goal in the opening period with 1:42 remaining, but the goal judge ruled "no goal" as Falleti fell onto the puck as it rolled across the goal line.
BND's freshman forward Brady Johnson, alone in front of Victor's sophomore goalie Max Pitts, was unable to get off a good shot in the first minute of the second period, and less than a minute later, Victor went up 2-0 when sophomore defenseman Michael Peluso's long flip shot toward the BND goal deflected off Falleti's pad and into the net.
The Blue Devils capitalized on a roughing penalty on BND as sophomore forward Tanner Radogna batted a shot in mid-air from Asher Erwin past Falleti. Chapman scored an unassisted goal with 6:12 left to make it 4-0. Victor outshot United 16-4 in the period.
United had a few decent scoring opportunities in the third period but Pitts was equal to the task – thwarting seniors Vin DiRisio and Gavin Schrader. Victor senior forward Colin McNamara closed out the scoring with a power play goal with just 2:29 left on the clock.
After defeating Victor, 4-2, on Jan. 27 in Batavia, United was unable to find the back of the net in the teams' next two meetings, losing 9-0 on Feb. 3 and getting shutout tonight.
Staley said he could sense the disappointment on the bench when the team got down by three and four goals, knowing that Victor gave up as many as four goals in a game just twice this season.
"You could feel it on the bench when they got up by four goals but we never stopped, we never quit. I thought we played a great third period. I'm proud of the way that the kids handled themselves in terms of playing with class right to the end," he said.
Victor Head Coach Mike Ferreri, who guided the Blue Devils to the state title in 2018 and were on their way to the state Final Four in 2020 before COVID-19 hit, credited the BND coaches for their efforts.
"I think Marc and (Assistant Coach) John (Kirkwood) did a phenomenal job of trying to merge schools," he said. "We've got a handful a merged schools in our section right now and it's very challenging. I can't imagine how they do it because the culture that we preach – supporting one another and putting the team ahead of your individual goals – would be even harder to do with kids from multiple schools."
Staley acknowledged that he will be thinking about next season in a day or two but tonight was saddened about losing "a great senior class" – Schrader, DiRisio, Zack Eschberger, Parker Corbelli, Andrew Kasmarek, Thomas Reardon and goalie Courtney Schum.
He said the journey that all of the coaches and players took together this year was special.
"So many stories to be told about practices; what happened in the locker room and great moments of guys supporting one another and being selfless," he said. "To me as a coach, that's what it's about. Did we make 21 kids better hockey players, probably. But I feel really confident that we made 21 kids better people. And right now, that's what I reflect on."
Still, he couldn't help but to speak about the future.
"We certainly have a very positive jayvee team this year. The coaches did a great job developing those kids and a number of those kids are going to be ready to step right in with us next year," he said. "That was the goal -- to create this type of development model and it was extremely rewarding. It's something personally that I've been privately dreaming about for over a decade and now we're seeing this unity not only in the hockey locker room, but within the community too."
Staley said the United club will be involved in raising the bar for youth hockey at the David M. McCarthy Memorial Ice Arena in Batavia.
"We want to help the youth hockey program grow," he said. "We have a responsibility to help fix up the rink in Batavia a bit and put hockey on a better path long term – and this was a heck of a start."
Photo at top: United's Vin DiRisio fires one past Victor goalie Max Pitts but just wide of the net.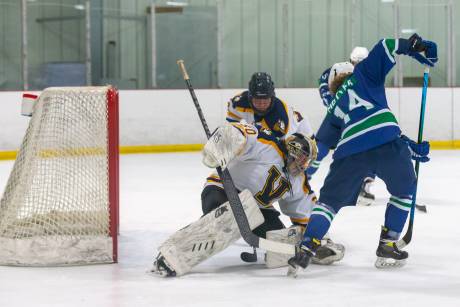 Pitts grabs the puck as BND's Jameson Motyka applies the pressure.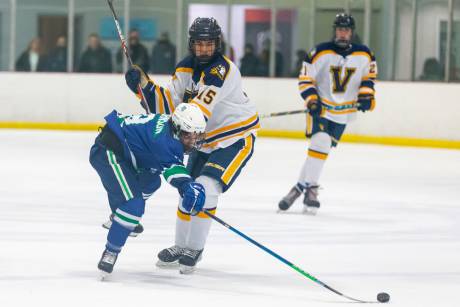 United's Brady Johnson reaches to control the puck as he battles with Victor's Tanner Rodogna.
United goalie Frank Falleti Jr. dives on the puck with help from DiRisio after a shot by Victor's Simon Kowal.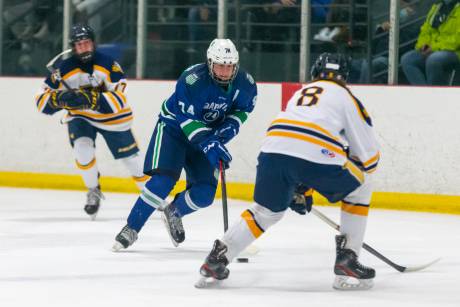 BND's Ronin Hofmaster looks to skate past Victor's Asher Erwin.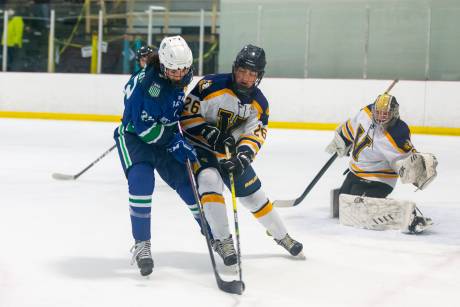 United's Cooper Hamilton and Victor's Christian Kurz meet at the puck in front of goalie Pitts.
To view or purchase photos, click here.
Photos by Steve Ognibene