September 12, 2019 - 9:16am
Bowling community planning events to honor Hall of Famer Joe Trigilio
posted by
Mike Pettinella
in
Bowling
.
Another bowling season has begun but, for the first time in more than 45 years, it doesn't include my longtime close friend and teammate, Joe Trigilio.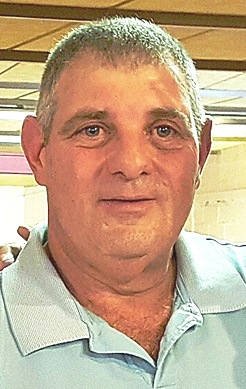 "Trigger" – a Batavia native and Attica resident -- took his place in Heaven on Sept. 1 at the age of 66 after a courageous battle against brain cancer.
Joe leaves behind a loving and devoted family – wife, Kathy; sisters, Angela and Tammy; son, Frank (who is a spittin' image of his dad); grandchildren Gianna, Ciara and Frankie; mother-in-law Dorothy L. Keizer of Alexander; sisters and brothers-in-law, Mary Ellen (Greg) Lewis of Alden; Jack (Carrie) Caccamise of Alexander; Gary Caccamise of Batavia; Marilyn (Dave) Grinnell of Michigan; nieces and nephews.
He also leaves behind hundreds of bowling, golfing and horse racing friends, who carry on with heavy hearts – understanding that our world here will not be the same without him.
Joe was a bigger-than-life personality who wore his heart on his sleeve; he wasn't shy about expressing his opinion, but he always respected other people's views.
His distinctive voice and mannerisms made him a "hit" on the lanes (likely the golf course, too). He made friends easily, and they became friends for life.
A true mark of success is not just what we have accomplished in this life – although Joe, a Genesee Region USBC Hall of Famer, did achieve much on the lanes, winning numerous tournaments and recording multiple honor scores. A better indicator is the impact a person had on others. By that measure, Trig (as I like to call him) definitely made it into the winner's circle.
I've already heard from three bowlers in the area who want to run tournaments in memory of Joe.  And one of them, Tommy Kress of Rochester, already has set up a 60-and-Over Tour event for Nov. 24 at Mancuso Bowling Center in Batavia that will be dedicated to Joe, a two-time champion on the Tour.
Mark Brown of Attica reportedly is looking to add a Joe Trigilio tournament to his schedule and Kevin Gray Jr. of Warsaw is working with bowlers from Buffalo to Syracuse on a regional team tournament in Trig's honor.
Joe would be amazed by all the fuss over him – just as he was over the number of people who attended a benefit for him at Batavia Downs Gaming in March.  But for someone who contributed so much for so long, we wouldn't have it any other way.
GENESEE REGION USBC TOURNAMENT SCHEDULE
The Genesee Region USBC has released its tournament schedule for 2019-20.
It gets under way on Saturday, Oct. 26 at Mancuso Bowling Center with the 1st GRUSBC Handicap Bracket Challenge, a singles event open to the first 48 men or women association members who sign up.
First prize, based on a full field, is $500, and the top 12 will cash.
The format consists of four 12-bowler brackets, opening with six two-game head-to-head matches determined by a draw. After that, single game matches will take place until a winner is determined.
Entry fee is $35. To enter, contact Tom Fluker at 585-284-2637 or by email at [email protected]. By the way, the tournament is SMART approved, which means that GRUSBC youth bowlers are eligible to enter.
Other GRUSBC tournaments are as follows:
Saturday, Sunday, 11/2-3 – Gladys Ford Senior Women, Perry Bowling Center
Sunday, 11/3 – Senior Masters, Mount Morris Lanes
Saturday, Sunday, 1/4-5 – Scratch Memorial, Paris Lanes, Oakfield
Friday-Sunday, 1/10-12 – Adult-Junior, Raider Lanes, Caledonia
Saturday, 2/8 – Five-Man Baker Scratch, Livingston Lanes, Geneseo
Saturday, Sunday, 2/15-16 – Youth Team, Medina Lanes
Saturday, Sunday, 3/7-8 – Youth Doubles, Oak Orchard Bowl, Albion
Friday-Sunday, 3/20-22, 27-29 – Association – Team, Rose Garden Bowl
Friday-Sunday, 3/20-22, 27-29 – Association – D/S, Legion Lanes, Le Roy
OTHER TOURNAMENTS ON THE LOCAL SCHEDULE
Several other tournaments in our area have been scheduled, including a guaranteed $5,000 scratch singles event at Livingston Lanes in Geneseo on Nov. 7-10. The tourney also features a pair of "sweepers" on the evenings of Nov. 8-9, each offering a $700 top prize (based on 48 entries).
For more information, contact Mike Kime at Livingston Lanes – 585-243-1760.
Mark Brown's tournament schedule is as follows:
Saturday, Nov. 16 -- Brian Morasco Memorial 3 –person handicap, Mancuso Bowling Center.
Saturday, Dec. 14 -- Scratch Doubles, Le Roy Legion Lanes.
Sunday, Feb. 2 – Super Bowl Handicap Singles, Mancuso's.
Friday-Sunday, Feb. 21-23, Ron Riggi Memorial 4-person handicap, Legion Lanes.
Saturday, March 7 – King & Queen mixed doubles handicap, Mancuso's.
Friday-Saturday, March 13-14, T.F. Brown's Scratch Eliminator, Mancuso's.
Additionally, I will once again be running the Triple O Mechanical Handicap Singles Tournament at Rose Garden Bowl in Bergen on Sunday, Nov. 17.
The first Tommy Kress 60-and-Over singles tour event is set for Oct. 6 at Brockport Bowl, with check-in starting at 10:45 a.m. and bowling starting at noon. To enter, contact Kress at [email protected]. I will post his complete schedule in my Sept. 26 column.
BATAVIA DUO PLACES 8TH AT USBC CHAMPIONSHIPS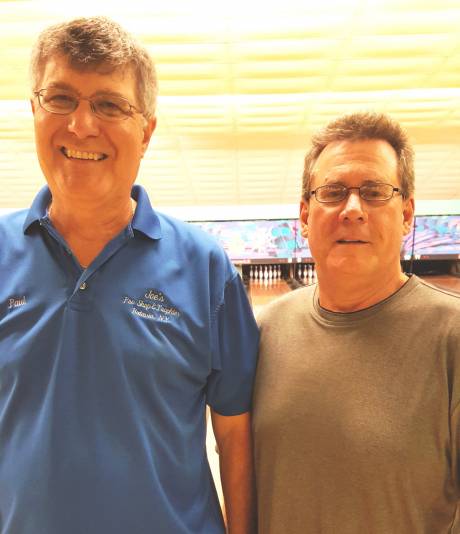 With Joe Mortellaro's 50th USBC Open Championships appearance (and recognition) and teammate Joe Trigilio's support as a backdrop, Batavians Paul Spiotta (at left in photo) and Gregg Wolff soared to new heights at the national tournament in late April in Las Vegas, Nev.
Competing in the Standard Division (combined averages of 350 or less based on past USBC Open scores), the duo rolled 1,225 in the Doubles event, which put them in fourth place at the time.
Spiotta had the line for all three games, posting 235-202-233 for a 670 series, while Wolff contributed 212-175-168—555. But it should be noted that Wolff finished with four strikes in the last game.
When the tournament ended two months later, Spiotta and Wolff found their names tied for eighth place, good for a $3,000 prize check.
Spiotta said he was moved and motivated by the ceremony for Mortellaro and by Joe Trigilio being able to make the trip.
"It was inspiring to have Joe Trigilio in attendance while we bowled," he said. "He was my longtime doubles partner but because of his terminal illness, he was not able to bowl. However, to have him there and be dressed in our doubles & singles shirt and slacks brought tears to my eyes."
ROCHESTER'S MEYER CAPTURES 'EAGLE' AT USBC OPEN
While on the subject of the USBC Open Championships, Rochester standout Steve Meyer was part of the Mento Produce of Syracuse team that captured the Regular Division Team All-Events crown in Las Vegas.
Meyer recorded 1,995 for his nine games (Team, Doubles, Singles) on the challenging oil pattern – a 221 average – to help Mento Produce win the prestigious title with a 9,983 total (a 222 average for the 45 games).
Other members were Derek Magno of Syracuse, who had a 2,142 total, including a 300 game; Joe Conti Jr. of Syracuse, 2,084; Anthony Pepe of Long Island, 1,953, and T.J. Mento of Syracuse, 1,809.
Each member of the winning squad will receive an Eagle trophy, emblematic of national supremacy.
PERRY BOWLING CENTER BACK IN ACTION AFTER FIRE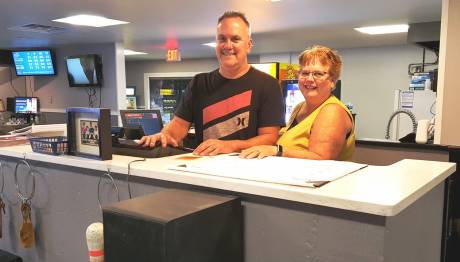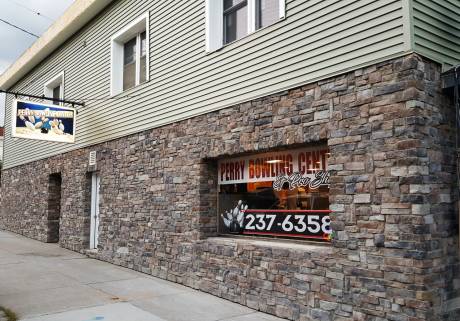 Perry Bowling Center has bounced back even stronger – featuring a new look inside and out – after being forced to close down for the remainder of last season due to a fire that started in an upstairs apartment on New Year's Eve.
Proprietors Brett and Joann Van Duser re-opened several weeks ago following extensive remodeling of the customer service areas and the outside of the building on Covington Street.
Renovations to the first-floor bowling center included new carpeting, flooring, ceiling, lighting, countertops and painting. The two upstairs apartments were a total loss and were completely renovated to meet current fire codes.
All the leagues that relocated to other centers have returned to Perry.
PARIS FAMILY TAKES OVER OAKFIELD ESTABLISHMENT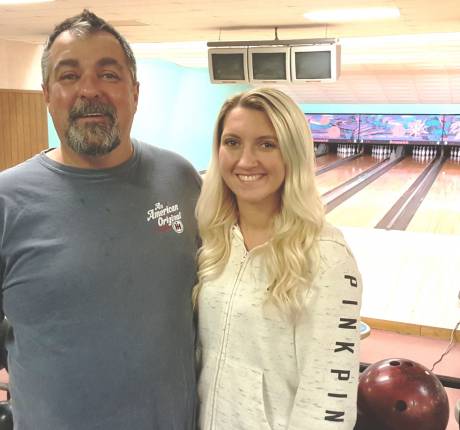 Cory Paris, pictured with his daughter, Taylor, is the new proprietor of Paris Oakfield Hotel and Lanes, formerly Scopano's Paradise Lanes. Paris, owner of an auto repair shop, says he is envisions the establishment as a "community center" and looks to create programs and events to attract area residents. Taylor is the company's operations manager while brother, Robert, also will assist in the family venture.