November 17, 2020 - 10:43am
Bowling: Hyde wins Triple O Mechanical tournament at Rose Garden Bowl; Team Baney 1st at PAWS event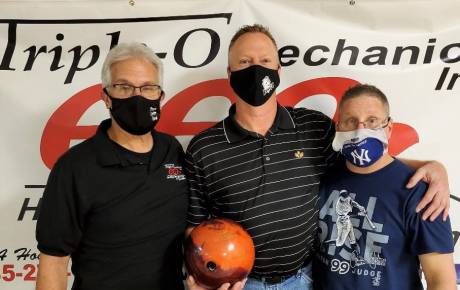 In a battle of former Golden Gophers, Mickey Hyde of Le Roy defeated Mark Brown of Attica, 279-213, on Sunday to capture the 13th annual Triple O Mechanical Handicap Singles Tournament at Rose Garden Bowl in Bergen.
Hyde rolled 269 scratch (he received 10 pins handicap) to cap a high-scoring day and claim the $500 first prize.
It is the second local singles tourney victory for Hyde in a year for the Bank of Castile Le Roy branch manager, who placed first in the Genesee Region USBC Senior Masters last November at Mount Morris Lanes -- using his favorite ball, the Roto-Grip Uproar in both competitions.
Hyde averaged 239 scratch for his seven games – three in the qualifying round and four in the eliminator-style finals, where two of the four bowlers on each pair of lanes advance to the next round.
Brown, who rolled 202 scratch in the title game (11 pins handicap), pocketed $250 for placing second in the event, which drew 58 entries.
Both Hyde (1984) and Brown (1987) are graduates of Pavilion High School and are longtime friends.
They reached the title match by defeating a pair of 18-year-olds, Dennis Van Duser of Perry and Kyle Johnson of Batavia, in the semifinals.
With handicap, Brown rolled 246, Hyde 242, Van Duser 228 and Johnson 212.
Van Duser and Johnson each won $110.
Quarterfinalists, winning $55 apiece, were Peter Pilaroscia and Scott Dingman of Rochester, and Jerry Menzie Jr. and Rob Husted of Bergen. Husted rolled 234 in the second round, falling three pins short of overtaking Hyde for the second spot behind Johnson's 262.
Other cashers ($40) were Frank Jarkiewicz of Byron, Mike Johnson of Batavia, Brian Weber of Perry, Jillian Menzie and Harris Busmire of Bergen, Chris Mathis and Marcus Germonto of Rochester, and Mark Mack of Le Roy.
Busmire (297) and Jarkiewicz (290) had the high games in the USBC-certified tournament.
In other tournament action:
Team Baney placed first in the PAWS Triples No-Tap Tournament at Oak Orchard Bowl in Albion over the weekend, rolling 2,562 with handicap to outlast 43 other teams for the $465 top prize. Members were Sammy Oddo, Matt Nolan and Paul Baney.
They were followed by Sticks 'N' Stones (Alishia Foss, Corey Winters and Bailey Hudson), $330, and El Leach (Derek Leach, Devon Leach, Josh Elliott), $275.
The top eight teams cashed in the event, which raised close to $2,000 for the PAWS Animal Shelter in Albion.
Bonnie Willey of Geneseo took top honors in the Class AA (75-and-over) division of the 35th Gladys Ford Memorial Women's Senior Singles at Livingston Lanes in Geneseo, rolling a tournament-best 676 series for the $150 first prize.
Carole Flicker of Lakeville was second at 661, winning $100. Other cashers were Dawn Bertrand, Wyoming, 656, $80; Bonnie Wass, Warsaw, 628, $50, and Joanne Reed, Livonia, 596, $30.
In Class A (70-74), Bernie Hotchkiss of Mount Morris placed first with 607, good for $85.
In Class B (65-59), Betsy Flint of Portageville was first with 596 ($85).
In Class C (60-64), Marian Gerhardy of Albion was first with 634 ($85), followed by Dawn Luckenbach of Caledonia, 626 ($57).
In Class D (55-59), Penny Brown led the way with 633, winning $85, and Lisa Granger of Silver Springs was second with 584 ($57).
In Class E (50-54), Diane Hurlburt placed first with 584 $60).
Thirty-four GRUSBC members competed. The GRUSBC contributed $200 to the tournament.
Photo: Tom Sardou, proprietor of Rose Garden Bowl in Bergen; Mickey Hyde, Mark Brown. Photo by Mike Pettinella.