March 19, 2020 - 8:30am
Bowling's state of affairs: It's so quiet you can('t) hear a pin drop
posted by
Mike Pettinella
in
Bowling
.
Due to the coronavirus pandemic, organized bowling at the local, state and national levels has come to a screeching halt -- putting the overwhelming majority of the 1.4 million members of the United States Bowling Congress on the sidelines heading into the peak of the tournament season and down the stretch of the league season.
Without question, it's a punch to the gut.
Bowling, as is the case with other sports, is on hold while the country and the world deal with this awful situation.
Currently, bowling centers in the four GLOW (Genesee, Livingston, Orleans and Wyoming) area are closed – and their restaurants have been relegated to take-out or curbside venues.
The Genesee Region USBC, the local association that oversees certified bowling leagues, has postponed (likely canceled) its annual Team, Doubles & Singles Tournament that was scheduled to begin a two-weekend run on Friday at Rose Garden Bowl and Le Roy Legion Lanes.
The GR Youth Travel League banquet, which was supposed to take place last Sunday, has been postponed for at least four weeks. And the GR USBC's annual banquet scheduled for May 9 at Batavia Downs is up in the air.
All New York State USBC championship tournaments – adult and youth – have been canceled and will not be rescheduled this season. That includes the NYS Women's Championships in Syracuse, the NYS Open Championships in Schenectady, the NYS Queens in Syracuse, and the NYS Youth Team finals and Adult-Junior tournament in Syracuse, Youth Pepsi regionals at various locations and the Youth Pepsi finals in Rome.
The cancellation of these events affects thousands of bowlers, youth and old, and significantly affects the operation of the state association, which now will be refunding hundreds of entry fees.
As of this writing, the NYS USBC Annual Meeting and Awards Banquet scheduled for June 6 in Binghamton are still on the table.
Thousands of bowlers who participate each year in the United States Bowling Congress national tournaments have had their travel plans scuttled by the virus.
On Tuesday, the USBC moved the tentative start date for the 2020 USBC Open in Reno, Nev., and Women's Championships in Las Vegas, Nev., to May 23 – two months after the original opening day -- and will extend the tournaments several more weeks to allow teams rescheduling flexibility.
According to a press release, USBC Executive Director Chad Murphy said that the USBC intends to conduct the major tournaments in 2020 and "will update the tentative start date based on current conditions and shift that start date back in the calendar as needed."
He also said that, starting today, an updated reservation calendar will be available which includes expanded team dates for the Open Championships through Aug. 29 and expanded team dates for the Women's Championships through July 31.
Registration for next year's event, the 2021 USBC Open Championships in Las Vegas, will open on schedule, starting at 11 a.m. on March 23.
The USBC also has canceled the 2020 Intercollegiate Singles and Team Championships due to COVID-19 public health concerns. The event was scheduled to take place April 13-18 in Grand Rapids, Mich.
Both the Professional Bowlers Association and the Professional Women's Bowling Association are on hiatus as well.
The PBA, PBA50 and PBA Regional tours have been postponed, with the PBA Playoffs that were scheduled to start on April 6 as the first victim.
In a bit of irony, the final round of the PBA World Championship on Sunday was the only live major sporting event on television (FS1) in quite some time since the NBA, NHL, MLB and the NCAA's March Madness have been shut down.
For those who didn't watch, the five-man stepladder finals took place before an audience of a few PBA members, tournament officials and family members.
It turned out to be a crowning achievement for Australian Jason Belmonte, who defeated Anthony Simonson of Little Elm, Texas, 213-190, in a battle of two-handers to win his third consecutive PBA World Championship title.
The victory in Las Vegas extended Belmonte's all-time career-leading major win total to 13 and padded his bank account by $150,000. And it was especially sweet since his wife, Kimberly; daughters, Aria and Sylvie, and son Hugo, were there to see him compete after flying in from Australia earlier in the week.
Not surprisingly, the show was FS1's most-watch telecast last week. I am sure it drew in millions of non-bowling fans who are starving for live sports action.
PBA World Championship results:
Final Standings
1, Jason Belmonte, Australia $150,000.
2, Anthony Simonsen, Little Elm, Texas, $70,000.
3, EJ Tackett, Bluffton, Ind., $40,000.
4, Francois Lavoie, Canada, $30,000.
5, Chris Via, Springfield, Ohio, $20,000.
Playoff Results
Match one – Lavoie def. Via, 269-258.
Match two – Simonsen def. Lavoie, 224-204.
Semifinal – Simonsen def. Tackett, 215-177.
Championship – Belmonte def. Simonsen, 213-190.
ROCHESTER BOWLER CAPTURES SCRATCH ELIMINATOR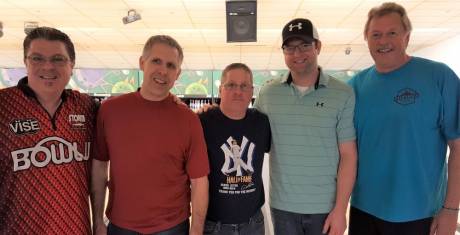 SCRATCH ELIMINATOR FINALISTS: From left, Brad Angelo, Phil Kaiser, tournament director Mark Brown, Rich Wagner, Scott Shields.
Phil Kaiser of Spencerport defeated Brad Angelo of Lockport and Batavians Scott Shields and Rich Wagner in the four-bowler finals Saturday to win the T.F. Brown's Scratch Eliminator at Mancuso Bowling Center in Batavia.
The 52-year-old right-hander rolled a 209 game on a challenging "Sport" oil pattern to edge Angelo, a PBA Tour standout, by six pins for the $1,000 top prize. Angelo earned $500.
Shields posted 177 to place third, good for $400, while Wagner, the lone lefty in the finals, shot 173 to win $300.
The two-day event drew 56 entrants, with Shields and Wagner emerging as the only Genesee County residents to cash. Scott Culp of Honeoye Falls qualified through the last-chance roll-off and ended up winning $150.
Kaiser, competing on the Saturday 11:30 a.m. squad, and Rochester's Kara Mangiola, competing on the Saturday 2 p.m. squad, were the high qualifiers with four-game totals of 914 (a 228 average).
LANDERS, BARDOL RETAIN MIXED DOUBLES THRONE
Brockport residents Caycee Landers and Chris Bardol successfully defended their King & Queen Mixed Doubles Handicap Tournament crown on March 7, defeating Batavians Michele Larson and Rich Wagner in the title match.
The winning couple earned $500 while the runners-up split $300.
Landers and Bardol reached the title match with a victory over Kim Starken and Scott Culp while Larson and Wagner advanced by upending Heather D'Errico and Rob Gustke. The semifinalists earned $200 each.
Other local cashers were Jennifer Johnston and Chase Cone, Tracy Spanitz and Mark Brown, Jeanette Sease and Brady Weber, Kathy Trigilio and Geoff Harloff, Samantha Hyde and Shayne Herold, Naomi Hyde and Mickey Hyde, and Darleen and Matt Balduf.
BATAVIANS DOMINATE MOUNT MORRIS TOURNAMENT
Teams organized by Batavian Mike Johnson placed first and third in the 21st annual Bob Bertram Memorial five-person handicap no-tap tournament earlier this month at Mount Morris Lanes.
The $1,000 top prize went to Josh Elliott, Nathan Cordes, Gregg Wolff, Jim Lambert and Geoff Harloff while the $500 third prize went to Wolff, Lambert, AJ Allenbrandt, Tom Baker and Mike Johnson.
Fifty-two teams competed in the Team event and another 51 bowlers entered the optional Singles event. More than $1,400 was raised for both Teresa House and Livingston County Hospice.