December 5, 2019 - 7:57am
Brunswick's purchase of Ebonite brands shakes up bowling ball industry
Brunswick's purchase of Ebonite International last month was more than surprising to a Professional Bowlers Tour standout who has represented the Ebonite bowling ball brands for the past 26 years.
"It was such a well-kept secret and it was news to me as well. It definitely was a shock-and-awe moment," said Jason Couch, a 16-time champion on the PBA Tour, speaking by telephone on Friday from his home in Clermont, Fla.
Couch, a PBA and United States Bowling Congress Hall of Famer, is best known for his "three-peat" in the PBA Tournament of Champions, winning the major tournament in 1999, 2000 and 2002 (it wasn't held in 2001).
Ranked 10th in all-time PBA earnings, the left-hander turned 50 on Nov. 8 and said he is gearing up to compete in the PBA50 Tour starting in April.
He also is trying to get his head around the Brunswick-Ebonite development that has resulted in the loss of many jobs and closed down the Ebonite plant in Hopkinsville, Ky.
"It's heartbreaking, especially for the 171 people who lost their jobs," Couch said. "That's corporate America, though … merging companies and getting bigger themselves."
Couch said the bowling ball industry is highly competitive as sales have fallen off dramatically in recent years.
"Sales have declined for quite a while now," he said. "It's not like the good old days. I think there were 1.5 to 1.6 million (balls) sold worldwide last year (down from 2 million sold 15 years ago). That's not a lot, especially when you're looking at eight or nine brands."
As a result of the acquisition, Brunswick now controls the manufacturing of its Brunswick, DV8 and Radical brands as well as the Ebonite, Hammer, Columbia 300 and Track brands that previously were part of the Ebonite lineup. All of those balls will be made at Brunswick's plant in Reynosa, Mexico.
The industry's other major ball manufacturers – Storm and MOTIV – will continue to make their products in the United States.
Couch noted that he was set to take on a new role with Ebonite – as the company's PBA50 Tour rep – starting Jan. 1 and is hoping that those plans don't change.
"I signed on to supply balls on the PBA truck (to PBA50 members) and keep inventory for those four (Ebonite) brands," he said. "But I am waiting to find out what is going on."
He said that Brunswick may be hiring some of the Ebonite staff, and put in a plug for Randy Teitloff, Ebonite's vice president of research and development.
"Randy is the lead chemist at Ebonite and I really hope that Brnswick offers him a position. Randy is fantastic," said Couch, who also has represented Turbo 2-N-1 Grips and Dexter shoes since the 1990s.
Brunswick CEO Corey Dykstra stated that Brunswick is extending severance pay to the 171 employees until Jan. 13 and will be looking to add jobs in management, marketing and distribution -- and that bodes well from some of the displaced Ebonite workers.
With more bowling balls being made outside of the United States, MOTIV President Scott Wilbur responded to a request for comment from this writer by emphasizing his company's mission.
"In light of this news, we continue to look forward to the opportunity to showcase our exceptional line of bowling equipment to those of you who may be looking to support a company and workers making great bowling balls right here in the USA," Wilbur said. "We are one of the largest producers of balls exclusively made in the USA.."
On a local level, Brian Green, owner of Striking Effects Pro Shop at Mancuso Bowling Center in Batavia, said he doesn't see the acquisition "as a bad thing."
"I think this turns into an exciting time if you are a Brunswick or Ebonite International fan," he said. "I personally have had success with all the Brunswick brands and the EBI brands over the years shooting several honor scores with them all."
Green said he is worried over the "very high potential to have a lot of bowling balls having overlapping reactions when you have seven brands made by one manufacturer."
"But with Brunswick being the leader in coverstock technology, I really feel the sky is the limit as to what we may see on the lanes in the future."
Brad Buckert, owner of Begin'rs to Pro's in Rochester, said Brunswick should be able to "ramp things up" since both plants weren't running at full capacity, but he is saddened by the move out of the United States.
"I personally don't like the fact that more industry is leaving the U.S. I don't want to get political, but I hate the fact that these will be made out of the USA and like everything else the price won't show the impact of the company's lower costs and greater profits," he said.
With the purchase, Ebonite brands now would be subject to re-approval per the USBC Equipment Specifications and Certifications Manual.
The manual states that if manufacturing equipment of a previously approved product changes locations, that product must be re-submitted for approval testing, and all testing fees shall apply, and that any ball model which has shifted manufacturing facilities must be re-submitted for approval testing, and all testing fees shall apply.
Footnote:
Thanks to Batavia native Ray San Fratello for setting up the phone interview with Jason Couch.
Ray moved to Clermont 15 years ago after a successful tenure as the president of the Genesee County Chamber of Commerce. He served in a similar capacity in Clermont, as president of the South Lake Chamber of Commerce for 12 years -- helping the Central Florida community grow in population from 15,000 to 40,000.
I was able to catch up with Ray last week during a "magical" trip to the Orlando area and am glad to report that he and his wife, Carol, are doing well – and that Ray is working part-time as a support staff member for the City of Clermont.
He is a bowling fan, having developed friendships with both Couch and PBA Hall of Famer Norm Duke, another Clermont resident.
BROCKPORT LEFTY CAPTURES 'JOE TRIG' MEMORIAL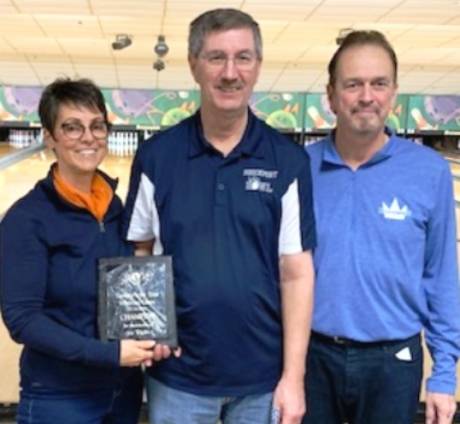 Jim Donk of Brockport defeated Greg Voytovich of Kenmore, 252-206, to win the Tommy Kress 60-and-Over Tour's "Joe Trigilio Memorial" scratch singles tournament on Nov. 24 at Mancuso Bowling Center in Batavia.
Donk, a 66-year-old left-hander, advanced to the eliminator finals by posting a 630 series in the three-game qualifying round, and then added 215 and 259 to earn the No. 1 position for the four-man stepladder finals.
In the stepladder finals, Voytovich upended Bob Wiley of Victor, 258-194, and Wayne Potter of Shortsville, 228-185, to earn the right to face Donk in the title match.
The tournament, which attracted 44 bowlers, featured an appearance by Joe's wife, Kathy, who presented the championship plaque to the winner, as well as special prizes donated by Batavia- and Rochester-area businesses as well as Mount Morris Lanes & Pro Shop.
Local bowlers who cashed were Batavians Gregg Wolff and John Wolff (no relation).
Photo – Kathy Trigilio presents the championship plaque to Jim Donk, center, as Tommy Kress looks on.
SOUTH RETOOLS IN ATTEMPT TO REGAIN MARTH CUP
South team captain Ed Doody has brought in some new faces this year as his Batavia-area squad attempts to knock off the Medina-area squad in the 26th annual Karl Marth Cup challenge match at 1 p.m. Saturday at Mancuso Bowling Center.
"After a few tough losses, there was a lot of chatter that we needed some fresh blood on the team," said Doody, a Batavia native now residing in Pavilion. "After consulting with members of the team, some very strong additions have been made."
Doody said it was "difficult" to free up some spots on the 12-member squad, but nevertheless said he is confident that the 2019 version "gives us the best chance to compete against the firepower from the North."
Additions include tournament tested Scott Culp of Honeoye Falls and Kevin Gray Jr. of Warsaw, along with three guys who bowl regularly (and consistently well) at Mancuso's – Matt Balduf of South Byron, Josh Elliott of Attica and Nate Cordes of Batavia.
Rounding out the South team are Mancuso bowlers Jim Pursel, Geoff Harloff and Mike Johnson, all of Batavia, and longtime members Steve O'Dell and Dean Cadieux Jr., both of Oakfield, and Paul Spiotta of Batavia (the only person to participate in all 25 events).
Doody mentioned that one position opened this year by the untimely passing of South bowler Joe Trigilio, and said both teams are dedicating this year's event in Joe's memory.
Tom Allis of Medina once again is (non-competing) captain of the North team, which has won the past two years and seven of the last eight meetings. Overall, the North leads the series, 15-10.
Five other members of the Allis family are on the team – Roger, Hayden, Mike, Scott and Alex.
They will be joined by longtime North members Scott Gibson of Oakfield, Scott Shields of Batavia, and Aaron Verheyn, Jason Mahnke, Jim Foss, Mike Lavender and Rich Culver, all of Medina.
The participants will compete in Singles, Doubles, Baker Doubles and Baker Team events.