June 29, 2021 - 9:01am
Council member: 'Rocket Car' restoration is almost done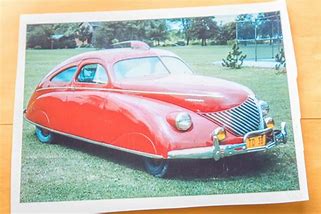 What's going on with the "Rocket Car?"
City resident John Roach posed that question about the 1938 invention of former Batavia resident Charles D. Thomas to Batavia City Council members at their meeting Monday night.
The vehicle, with innovations such as a rearview periscope and independent suspension, is officially called the Thomas Rocket Car. It was designed by Thomas and put together by a friend and welder, Norman Richardson, in a rented garage near Main Street and Ellicott Avenue.
It has been in the hands of Dick McClurg of Old World Collision for more than five years. The plan is to have the car, once fully restored, placed on display somewhere in the city.
Council Member Robert Bialkowski said the car was in the Memorial Day parade – on a trailer hauled by McClurg.
"Ninety-nine and a half percent of the exterior body work is done, the headliners in the interior panels are done, and I think they are waiting now to get a windshield and some other odds and ends, and it will be complete," Bialkowski said.
City Manager Rachael Tabelski reported that, pre-COVID, there was a meeting with the Chamber of Commerce; Howard Owens, publisher of The Batavian, and McClurg, "and there was still a bit of fundraising to do – the last few parts and pieces of it – and we have not established the permanent home or location."
She said people want to move it around to different shows, so she isn't sure if the City Centre would be suitable in that case.
Bialkowski spoke of the independent suspension and unique periscope in responding to Roach's query.
"It had a periscope, because back then if anybody remembers the older cars they were torpedo shaped in the back – you couldn't see anything backing up – so a slow periscope went up and you looked in a mirror and you could see where you were backing up," he said.
He said auto companies weren't ready for something like that and that the car was way ahead of its time.
The car was cut up into pieces and almost scrapped, he said, before finding its way to Old World Collision for restoration.
"People from all over the country that aren't from around here seem to know about it," Bialkowski added.
Previously: Thomas Rocket Car nearly restored but another $4k needed to complete project
Photo at top: Picture of the original Thomas Rocket Car.