Image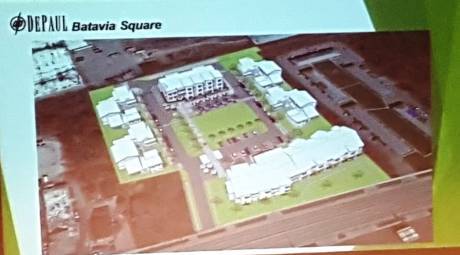 Image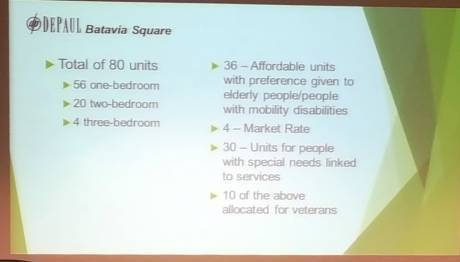 DePaul President Mark Fuller says the proposed DePaul Batavia Square Apartments on East Main Street, an 80-unit complex for income-eligible tenants, is his way of giving back to the community that he calls home.
"I grew up in Warsaw, went to RIT, and worked at Eaton, Yale & Towne before finding out I didn't like what I was doing," said Fuller, opening a presentation about the project at Monday night's Batavia City Council meeting.
"I then worked for the county, met my wife, Michele (Rapone), and we've been married for almost 40 years. My kids went to Notre Dame and I live in Le Roy, I'm Genesee County through and through."
Fuller, along with DePaul Vice President Gillian Conde, attorneys Ashley Champion and Jonathan Penna, and architect Joe Gibbons, shared details of their plan with Council, which later passed a resolution -- with Alfred McGinnis casting the lone "no" vote -- to introduce a necessary ordinance to change the zoning in the vicinity of the Batavia Gardens apartments (661, 665 and 679 E. Main St.) from Industrial to Commercial and to set a public hearing on the matter for April 24.
Champion pointed out that DePaul was in agreement with the Batavia Planning & Development Committee's recommendation to change from Industrial to Commercial zoning (not the original proposal of Industrial to Residential) to "more closely align with the goals and perspectives of the city's Comprehensive Plan."
But the theme of the video presentation -- which included photos of other DePaul renovation projects and testimonials from three residents of the Rochester-based company's Batavia Apartments on East Main Street near Eastown Plaza -- was that, according to Fuller, "there is a huge need for affordable housing in Batavia."
He said that New York State has identified Genesee County as needing affordable housing and has allocated $3.2 billion across the state for projects such as these. Residents of Batavia Square, should it come to fruition, would receive services to meet special needs and be charged rent based on income limits, for example, $27,000 for an individual and $38,700 for a family of four.
"Every project fills within two to three weeks, and we have huge waiting lists on all of our projects," he said.
Fuller said he is convinced the Batavia community will support the venture, which will include DePaul applying for financial incentives -- PILOTs or payment in lieu of taxes -- from the Genesee County Economic Development Center.
"What's amazing is – I talked to Kiwanis last week, I'm speaking to Rotary in a couple weeks and I've been out meeting with everybody in the community – to a person, everybody wants the project," Fuller said. 
"The history of DePaul, we've got a great reputation in Batavia, and I'm really doing this because people approached me and wanted more housing in Batavia. The lack of adequate, handicap-accessible housing for special needs and everything else (is there), so I'm really doing this to give back to Genesee County – my hometown."
Of the 80 units, 36 have been designated as affordable units with preference given to elderly people and/or people with mobility disabilities, four are set at market rate, 30 are for people with special needs linked to services, and 10 will be allocated for veterans.
Fuller said that comments that DePaul is making money off of veterans or doesn't need the tax breaks stem from those who "don't know the whole story."
"We're getting no money to house veterans. We're just setting aside 10 units (as priority for veterans) and it could be more if there's 20 veterans … we're setting 10 units aside to guarantee because our housing projects fill in 10 days."
As far as the PILOT is concerned, Fuller said DePaul would be unable to get involved without it.
"These projects would not be doable without a PILOT with the city, but it's important to point out that we're a not-for-profit but we're still giving a significant tax payment to the city for 30 years – more than four times than what they're getting for that property now."
Fuller said the development will create 18 jobs as well as another 200 construction jobs.
Gibbons outlined details of the complex -- a 5-acre parcel with 24 units in Building A, 24 units in a three-story Buildilng B, and 32 units divided into four eight-unit two-story townhouses. The plan calls for 56 one-bedroom, 22 two-bedroom and four three-bedroom apartments and 94 parking spaces (which could be expanded).
"It will be highly energy efficient through Energy Star and NYSERDA programs, and typically 50 percent will be handicapped-accessible," he said.
Conde said that rent will be set at $700 for a one-bedroom unit and $850 for a two-bedroom apartment, but residents have to show an income to be eligible. Utilities, wireless Internet and cable TV are included, along with around-the-clock staffing and a sophisticated security system.
She added that "housing specialists" are on staff to help link tenants to services in the community, but before being accepted all applicants "receive extensive background checks" -- with those convicted of non-DWI felonies or sex offenders not eligible.
"We manage our own tenant list ... that's a huge piece toward having respectful communities," she said.
The DePaul team said it will be meeting once again with the Genesee County Planning Board later this week over the rezoning issue, and hopes for a positive outcome over the next several weeks with City Council.
"This is really just the first start – the hard part is getting the money out of Albany," Fuller said. "We certainly have done it a lot, we've got the project in the works, we've been told this is a high priority. Our goal would be to have that all in place by the winter so we can start construction in early spring 2018, and that's about a two-year construction period."