December 8, 2016 - 7:54am
E.J. Tackett sets sights on PBA Player of the Year; Batavian on 'Beat The Champ' this weekend
posted by
Mike Pettinella
in
Bowling
.
It looks as though E.J. Tackett has become the next "big thing" on the Professional Bowlers Tour.
Already a two-time winner this season, Tackett, a 24-year-old right-hander from Huntington, Ind., is in the running for four more PBA Tour titles at this week's GEICO PBA World Series of Bowling VIII in Reno, Nev.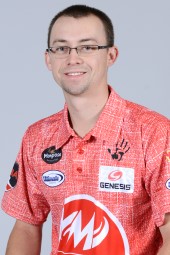 Through Wednesday's action, Tackett finds himself in the Round of 8 of three of the four "animal" pattern events – Chameleon, Scorpion and Shark – and, to top it off, is the No. 1 seed for the stepladder finals of the PBA World Championship, which will be televised live at 1 p.m. this Sunday on ESPN.
With a couple more tournament victories (especially the World Championship), Tackett, the 2013 PBA Rookie of the Year, would become the favorite to win Player of the Year honors.
All four animal pattern tournament Round of 8 matches are taking place today. The top four in each event will advance to the ESPN finals, which will be contested on Saturday and televised on a tape-delayed basis (see schedule below).
In the World Championship stepladder finals on Sunday, Tackett will have to bowl just one match – against either second-seeded Dom Barrett, England; No. 3 Jason Belmonte, Australia; No. 4, Tom Smallwood, Saginaw, Mich., or No. 5, Anthony Simonsen, Austin, Texas.
PBA Hall of Famer Pete Weber, bowling well despite a hip injury, finished in sixth place in the World Championship, missing out on another TV appearance but still earning $11,000.  No New Yorkers made it to the top 24.
Here is the ESPN schedule through Jan. 1:
-- Dec. 11, 1 p.m., PBA World Championship.
-- Dec. 18, 1 p.m., PBA Cheetah Championship.
-- Dec. 24, 1 p.m., PBA Chameleon Championship.
-- Dec. 25, 2:30 p.m., PBA Scorpion Championship.
-- Dec. 25, 3:30 p.m., PBA Shark Championship.
-- Jan. 1, 4 p.m., PBA World Championship (repeat).
WAGNER'S 'BEAT THE CHAMP' APPEARANCE IS SATURDAY
Batavian Rich Wagner will be among four competitors on the "Beat The Champ" TV show airing at 4 p.m. this Saturday (and repeated at 11 p.m. Sunday) on WBBZ-TV (MeTV). The show is the first of four that were taped at Mancuso Bowling Center on Nov. 30.
The 33-year-old left-hander, who qualified for the show by rolling an 815 series at Mancuso's on Nov. 20, will face Joe Ciffa of Niagara Falls, the current "champ", in the first match.
The winner of that match will move on to meet Tony Dolan of West Seneca and the winner of that match will face Pat Brick of Buffalo for the right to become the new champion and advance to the next show.
The winner of each match earns $100 while the loser pockets $50.
Rick Mancuso, proprietor of Mancuso Bowling Center, is a guest on the show, which features commentators Paul Peck and Sue Nawojski.
Fred Gravanda of Batavia will appear on the third show from Mancuso's, scheduled to air on Dec. 24.
TRIGILIO TAKES TOP HONORS IN 60-AND-OVER EVENT
Attica resident Joe Trigilio added to his long list of tournament titles on Nov. 27 when he placed first in the 60-and-Over Tournament Bowlers Club event at AMF Terrace Gardens in Rochester.
The 63-year-old Batavia native rolled a 233 game in the three-man finals to defeat Bob Hodgson of Medina (204) and Charlie Gfeller of Rochester (183) for the $220 first prize.
Trigilio was the top qualifier out of the 42 entrants with 699 for three games. He posted a 223 game in the round of 12 to advance to the round of six, where his 214 effort was good enough to make it to the finals.
Gravanda, Joe's longtime teammate and doubles partner, was the second-high qualifier with 697 and went on to place sixth. The top 12 received prize money.
The next 60-and-Over tournament is scheduled for 12:30 p.m. this Sunday (Dec. 11) at Bowl-A-Roll Lanes on Jefferson Road in Rochester.
GR YOUTH TRAVEL LEAGUE RESUMES ON SUNDAY
The Scopano's I team holds a slim lead over Batavia Strike Force after four weeks of the Genesee Region Youth Travel League.
The team of Mason Cadieux, Austin Kotarski, Collin Scheiber and Trevor O'Dell has a 53.5-22.5 record, just ahead of Strike Force's 53-23.  Batavia X-Factor is third at 53-23 in the 12-team league.
In recent action, Tony Sprague posted 257—668 to lead X-Factor to a 15-4 win over Le Roy Legion Lanes, while Skylar Laesser shot 628 and Corinne Saluste added 220—597 to help Strike Force top Oak Orchard I, 13-6.
Scopano's I, meanwhile, defeated Perry Bowling Center, 16-3, as Scheiber and O'Dell rolled 557 and 552, respectively.
Competition resumes this Sunday afternoon (12:30 p.m.) at Legion Lanes in Le Roy and continues on Dec. 18 at Mancuso Bowling Center in Batavia.
LE ROY HOSTING SCRATCH DOUBLES TOURNAMENT
Legion Lanes in Le Roy's annual scratch doubles tournament is scheduled for this Saturday, with qualifying squad times at 11:45 a.m., 1:15 p.m. and 2:45 p.m.
Entry fee is $70 per team and first place, based on 36 entries, is $800.
All teams will roll two games, moving two pairs of lanes to the right after the first game. The top eight teams – including the top two teams from the first qualifying squad -- will advance to the head-to-head round (based on 32 teams). If less than 32 teams, the top six will advance.
Head-to-head rounds will consist of one game of Baker-style bowling, where the teammates alternate frames.
For more information or to enter, contact Penny Brown at 716-474-7960.  The tournament is being sponsored by Striking Effects Pro Shop, owned by Brian Green, who became a first-time dad with the birth of his son, Caleb, last week.
YOUTH 'BAKER' TEAM EVENT IS SATURDAY IN OAKFIELD
The third annual Youth "Baker" Team tournament sponsored by the Genesee Region USBC will take place Saturday at Scopano's Lanes in Oakfield, with squad times at noon and 2:30 p.m.
Scholarships totaling $1,300 will be awarded to the top four teams.  The entry fee is $60 per team ($15 per bowler).
Handicap is based on 90 percent of the difference in the team's average and 800, with bowlers using their highest current USBC certified average for at least nine games.
To enter, contact Tom Fluker, GRUSBC president, at [email protected] or 585-284-2637.