May 13, 2018 - 7:20am
Genesee Region USBC inducts three into Hall of Fame, honors bowling season champions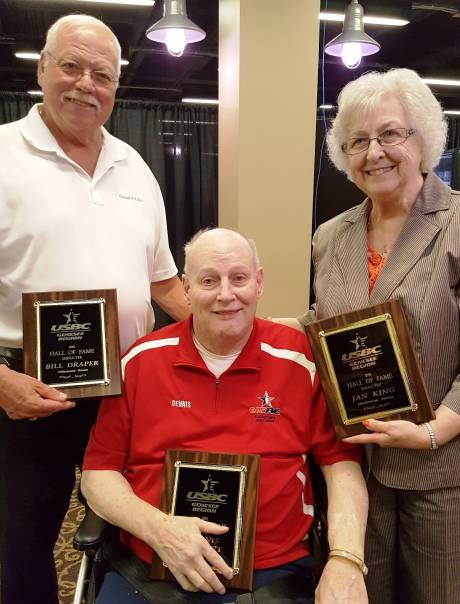 BOWLING HALL OF FAMERS: From left, Bill Draper of Livonia, Dennis Englert of Nunda and Jan King of Dansville are the newest members of the Genesee Region USBC Hall of Fame.
The Genesee Region USBC celebrated a successful 2017-18 bowling season on Saturday night by inducting three people into its Hall of Fame and recognizing association leaders, tournament champions and scholarship recipient.
More than 100 people gathered together at Batavia Downs Gaming for the local bowling association's awards banquet, an annual event that also saw GRUSBC President Tom Fluker hand the leadership baton to fellow Batavian Gary Kuchler.
Fluker had served on the GRUSBC board for nine years, the last six as president -- and was instrumental in expanding the association's youth, awards and scholarship programs.
Kuchler will begin his term as president on Aug. 1.
Three incumbent directors were re-elected to the board -- Patricia Fuller of Medina, Steve Krna of Alexander and Sharon Willet of Dalton.
Dennis Englert of Nunda and Jan King of Dansville were inducted into the Hall of Fame in the Meritorious Service category while Bill Draper of Livonia was enshrined in the Achievement Veteran category.
Englert was a longtime bowling manager at Letchworth Pines and an avid bowler, who suffered a life-altering brain injury when pushed to the floor by an irate patron at Letchworth Pines in January 2015. At last night's dinner, he was surrounded by friends and family, including his wife, Eunice, who worked with him for many years at Letchworth Pines.
King's induction also was witnessed by several family members and friends, while Draper was accompanied by his wife, Gail, and longtime bowling buddy, Doug Johnston. 
"I'm truly humbled," Draper said. "When I was a little guy, I never thought that I would make it here. I'm very honored."
Sam Miller of Le Roy, a standout bowler in the Turnbull Heating Junior League at Mancuso Bowling Center in Batavia and in the Genesee Region Youth Travel League, was selected to receive the Barbara Krieley Memorial Scholarship, a $1,000 award for his scholastic and bowling accomplishments. He will be attending Rochester Institute of Technology in the fall.
Association leaders in league play this season were honored as well, including Curtis Foss of Medina, who tied a GRUSBC record by averaging 242 in a league at Oak Orchard Bowl in Albion.
Other 2017-18 adult leaders were Brian Cline of Williamsville, who set an association record with an 858 series; Jackie Jurinich of Medina, 298 game, and Caycee Landers of Brockport, 223 average and 782 series.
In youth bowling, Brody Brown of Medina, had the high game (289) and series (759) and Alex Allis of Medina had the high average (209) for the boys, while Haylee Thornley of Batavia had the high series (646) and Julia Menzie of Bergen had the high game (266) and average (176) for the girls.
The GRUSBC gave away $1,600 through its annual "grand prize drawing" of names of bowlers who earned entries into the drawing through their high scores in league play throughout the season.
Winners of $500 prizes were Janet McDonald of Corfu, Diane Hurlburt of Warsaw and Brian Green of Batavia. Four others won $25 each.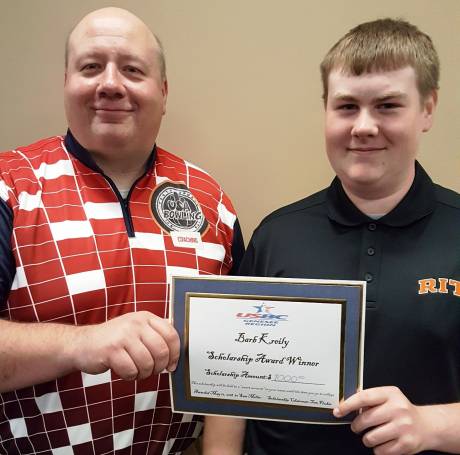 SCHOLARSHIP RECIPIENT: GRUSBC President Tom Fluker congratulates Sam Miller of Le Roy as the association's scholarship recipient for 2017-18.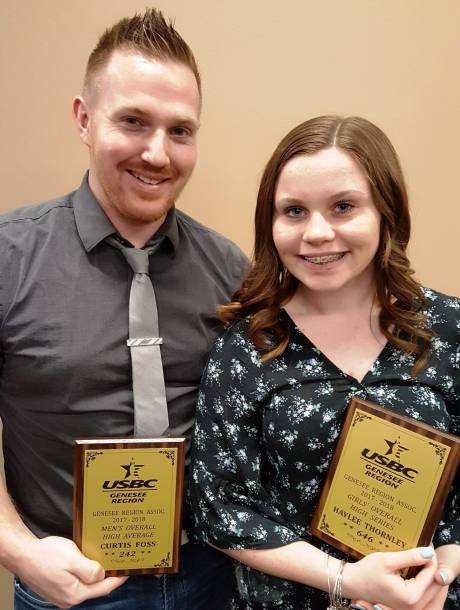 ASSOCIATION LEADERS: Curtis Foss of Medina posted the GRUSBC's high league average of 242 while Haylee Thornley of Batavia led all girl youth bowlers with a 646 series.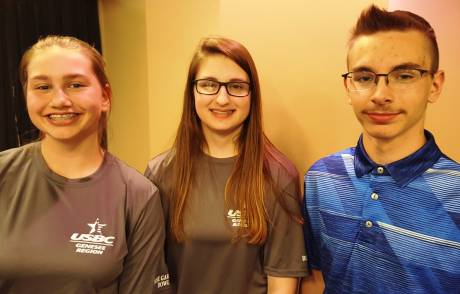 TRAVEL LEAGUE CHAMPIONS: Members of the Rose Garden Bowl team from Bergen, which won the Genesee Region Youth Travel League this season, are, from left, Madelynn Pimm, Brooke Jarkiewicz and Devon Zinter. Photos by Mike Pettinella.