January 10, 2019 - 8:54am
Gray Jr. captures Scratch Memorial; several tournaments on tap in January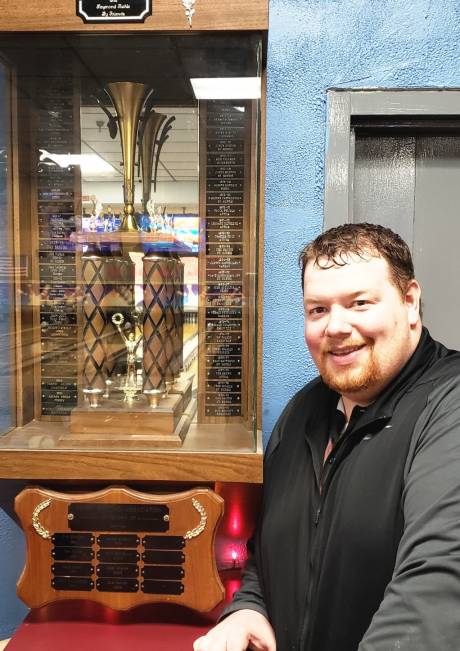 The ability to come through in the clutch is the mark of a champion. Kevin Gray Jr. of Warsaw has that ability.
Gray, 37, once again showed that he is among the elite Western New York tournament bowlers by rallying past fellow left-hander Rich Wagner of Batavia, 226-187, on Sunday to capture the 65th annual Genesee Region USBC Scratch Memorial at Livingston Lanes in Geneseo.
The two-day tournament was held in Geneseo due to a fire that has temporarily closed Perry Bowling Center (see below).
The Scratch Memorial championship game was a rematch of last February's decisive battle at the GRUSBC Masters, which saw Gray defeat Wagner, 213-204, also at Livingston Lanes.
This time around, Gray trailed by 16 pins in the sixth frame but came up with four strikes in frames seven through 10 to close out Wagner.
The win was worth $650 for the University of Rochester medical access center employee, while the 36-year-old Wagner, a corrections officer, took home $350.
"This feels good," Gray said. "The field was strong, and you had to stay focused at all times if you wanted to advance."
Gray earned the No. 1 seed in the five-person stepladder finals with a 1,750 eight-game total (four qualifying round games and four semifinal round games) – one pin more than Wagner's 1,749.
Bowling on the same pair with Wagner in the semifinals, Gray prevailed by rolling a strike on his fill ball in the 10th frame.
"That was a tough match where we both struggled on that pair (lanes 15-16)," Gray said, referring to the fact that he shot 174 and Wagner 179.
By grabbing the top seed, Gray was able to wait in the wings to see who would emerge in the stepladder finals.
In the first match, Batavia lefty and pro shop owner Brian Green edged right-hander Nathan Tackentien of Arcade, 216-215, and in the second match, Green ousted two-time defending champion and high-revving righty Scott Culp of Honeoye Falls, 218-216.
Green then faced Wagner and held a lead into the 10th frame before dropping a 192-181 decision.
For his third-place finish, Green won $260, while Culp pocketed $215 and Tackentien earned $160. The 21-year-old Tackentien, another emerging "power player," rolled a 300 game in the last game of the semifinals to reach the stepladder round.
Other cashers were Brian Weber of Perry ($130), Bob Santini of Mount Morris ($120), Matt Slocum of Perry ($110), Matt Balduf of Batavia ($100), Brett Van Duser of Perry ($100), Ryan Smith of Perry ($100), Mike Pettinella of Batavia ($85), Brady Weber of Perry ($85) and Jeff Wolinski of Perry ($85).
Gray now has won two GRUSBC Scratch Memorials (the first came in 2016) as well as the GRUSBC Masters, and scratch tournaments in Bradford, Pa.; Medina, and Erie, Pa.
Wagner was the high qualifier with a 919 four-game total and Gray was second at 898. Both averaged 218 for the tournament, which was contested on two challenge oil patterns – a 40-foot pattern in the qualifying round and a 45-foot pattern in the semifinals and finals.
Fifty-six bowlers entered.
The next Genesee Region USBC scratch tournament is set for Feb. 9-10 – the Masters at Scopano's Lanes in Oakfield.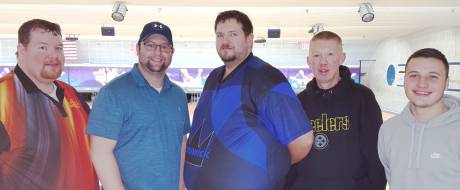 GRUSBC Scratch Memorial finalists -- Kevin Gray Jr., left; Rich Wagner, Brian Green, Scott Culp and Nathan Tackentien.
THREE LEAGUES RELOCATE FOLLOWING PERRY FIRE
A trio of Perry Bowling Center leagues have found new homes for the remainder of the 2018-19 season in wake of a New Year's Eve fire at the Covington Street two-story building that houses the eight-lane establishment.
The Monday and Thursday night leagues have relocated to Letchworth Pines in Portageville and Livingston Lanes in Geneseo, respectively, while the Wednesday afternoon ladies league has switched to Mount Morris Lanes.
Unfortunately, the Friday night league and the youth program are being cut short by the electrical fire that started in a wall of one of the two upstairs apartments. Fortunately, flames did not spread to the bowling lanes and pinsetters, and owner Brett Van Duser hopes to be up and running sometime this spring.
Damage – the apartments were destroyed -- is estimated at $200,000-plus.
The Van Dusers have owned and operated the business for 16 years, and bowling has been part of the Perry community since 1940.
PBA HALL OF FAME INDUCTS FOUR NEW MEMBERS
Tour standouts Mika Koivuniemi of Finland and Patrick Allen of South Salem, N.Y. have made it to the Professional Bowlers Association Hall of Fame.
Koivuniemi and Allen were inducted on Jan. 5 at the International Bowling Museum and Hall of Fame in Arlington, Texas, along with Jim Doty, respected bowling center general manager, and Bob Johnson, longtime bowling writer and editor.
"Major Mika," as he is known, won 14 PBA tournaments, including the 2000 USBC Masters, the 2001 U.S. Open and the 2011 PBA Tournament of Champions. The latter featured a first prize of $250,000.
He now lives in the United Arab Emirates where he coaches the UAE national bowling team.
Allen is a 13-time PBA Tour title winner and 2004-05 Chris Schenkel PBA Player of the Year. During that season, he finished in the top five in all four PBA majors – placing second in the USBC Masters and U.S. Open, fifth in the PBA Tournament of Champions and winning the PBA World Championship.
At the ceremony, he thanked PBA Hall of Famer Doug Kent of Newark, who served as Allen's presenter.
 "Doug was responsible for two careers: his own and mine," Allen said. "He told me I had to learn the technical side of the sport, and then he taught me."
Doty is general manager of Royal Pin Leisure centers, the Indianapolis chain that includes long-time PBA host Woodland Bowl. Under his leadership, Woodland Bowl has hosted PBA events over a span of 20 years, including the U.S. Open, PBA Touring Players Championship, USBC Masters, PBA World Championship, PBA Tournament of Champions and PBA League Elias Cup finals among other events.
Woodland Bowl is the only center to host all five PBA major Championships.
Johnson is an award-winning writer and has served as editor of four national bowling magazines, including Bowlers Journal International.  He is a recipient of both the International Bowling Media Association's Luby Hall of Fame Award and the Mid-America Bowling Writers Golden Quill Award.
He and his wife, Michelle, exhibited their love of the game and generosity by purchasing a commemorative brick for the sidewalk outside the IGM/HF, wrote a check to a breast cancer charity and donated the cost of his Hall of Fame ring to the Bowlers to Veterans Link.
SEVERAL TOURNAMENTS SCHEDULED IN JANUARY
-- Rose Garden Bowl in Bergen is the setting for the fifth annual GRUSBC Adult-Junior Doubles Tournament this Friday through Sunday.
Squad times for the handicap tournament are set for 7 p.m. Friday, noon and 3 p.m. Saturday and noon and 3 p.m. Sunday (the last squad on Sunday is full).
Genesee Region youth bowlers will be paired with adults in two divisions – 12 & under and 13 & over.  Entry fee is $45 per team and at least one in five teams will cash.
To enter, contact Tom Fluker at 585-284-2637.
-- Oak Orchard Bowl in Albion is hosting its seventh annual Scott Whittier Memorial three-person handicap no-tap tournament this Saturday, with squads at 1, 3, 5:30 and 7:30 p.m. The entry fee is $60 per team and one in six teams will cash.
Proceeds from the event, which includes squad drawings, will go to the Scott Whittier Scholarship Foundation.
To enter, call Oak Orchard Bowl at 585-589-6900 after 6 p.m.
-- Mancuso Bowling Center in Batavia is hosting a four-person handicap no-tap tournament on Sunday to benefit Batavia bowler Jim Pursel Jr. Squad times are 1:30 and 4 p.m.
One in eight teams will cash, with the winning team receiving $700 (as long as 48 teams are entered). Entry fee is $120 per team.
Part of the entry fee will go to help pay medical expenses for Pursel, who was seriously injured in a work accident on Dec. 7.
To enter, contact Mike Johnson at 585-297-6040 or Mark Brown at 716-474-7960.
-- The 41st annual Mount Morris Pepsi Open scratch singles tournament will take place Jan. 18-20 at Mount Morris Lanes.
First place is guaranteed at $1,500, and one in five is guaranteed to cash. The entry fee is $70 (with a $50 re-entry fee).
Squad times are 7 and 9:30 p.m. on Friday, Jan. 18; 11:30 a.m. and 2:30 p.m. on Saturday, Jan. 19, and 10 a.m. and 1 p.m. on Sunday, Jan. 20. A last chance one-game squad for bowlers who didn't make a squad cut is set for 4 p.m. on Sunday, prior to the eliminator finals.
The tourney has a 55-and-over incentive and is open to youth bowlers with any money winnings going to their SMART scholarship account.
To enter, call Mount Morris Lanes at 585-658-2540.
-- Legion Lanes in Le Roy is hosting the Help-R-Heroes four-person handicap no-tap tournament on Jan. 25-27, with squad times at 7 p.m. on Friday, and noon and 3 p.m. on Saturday and Sunday.
First place, based on 40 entries, is $1,000, and the entry fee is $100 per team.  One in six teams will cash.
A chicken BBQ will be offered on Saturday night and an all-you-can-eat breakfast will be featured on Sunday (both at $10 per person).
To enter, call Scott O'Neill at 585-409-0459.