November 21, 2019 - 8:59am
Keenan averages 254 en route to Triple O Mechanical tournament title
posted by
Mike Pettinella
in
Bowling
.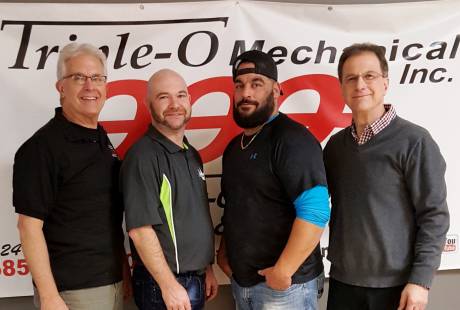 Dan Keenan enjoyed 'to the max" a break from the toils of being a bowling weekend warrior by rolling a 300 game and capturing the 12th annual Triple O Mechanical Singles Handicap Tournament last Sunday at Rose Garden Bowl in Bergen.
Keenan, a 37-year-old right-hander, defeated Ricky Zinone, a 33-year-old left-hander, 227-225 in a battle of Rochester bowlers in the title match.
The victory was worth $370 while Zinone took home $190 for placing second.
"I really like the format (three games of qualifying followed by eliminator-style finals) and it's something fun to do on a Sunday – on a house pattern – which gives us a little break from the grind," Keenan said.
In becoming the 12th different champion of the event, Keenan used a Radical Conspiracy Pearl ball for all seven of his tournament games – averaging a lofty 254 for the day.
After posting 258-268-238—761 in qualifying, he went on to roll 300, 246 and 244 before posting 227 in the final game.
"This ball allowed me to get through the fronts but have enough roll – not to flippy on the back end – and the right angle to kick out the 10-pin," he said.
Still, he figured his efforts were going to fall short after finishing with 227 and seeing that Zinone, who rolled 737 in qualifying, needed a strike on his first ball in the 10th frame to win.
"Honestly, I didn't think it would be enough, especially against a real tough competitor in Ricky," he said.
Zinone put the ball firmly in the 1-2 pocket but was thwarted in his attempt for victory when the 7-pin failed to go down.
Both Keenan and Zinone bowl in leagues in Rochester and are regulars on the weekend bowling tournament circuit that features the best bowlers from miles around.  In fact, both of them cashed in the Livingston Lanes Open on Nov. 9 (see story below).
While Keenan grabbed the headlines at the Triple O event, 66-year-old Ray Bardol of Brockport became another storyline with his performance.
Bardol, the former longtime proprietor at Brockport Bowl, made it to the semifinals – along with his son, Chris – by rolling 632 scratch (752 with handicap)  in the qualifying round and following that with scratch games of 173 and 212 (213 and 252 with handicap) to reach the final four.
He ran out of gas, however, in the semifinals – exiting with a 151 scratch (191 with handicap).
Ray had been sidelined with serious vision issues stemming from diabetes.
He is blind in his right eye and has macular degeneration in his left eye, conditions that forced him to look at an area on the lane, just past the foul line.  When he leaves pins standing, fellow bowlers inform him of what the pins are to help him line up properly.
The Bardols each earned $85 for reaching the semis.
Other cashers were Brady Weber of Perry (the high qualifier with 792), Rodney Jopson of Belfast, Bob Wiley of Rochester and Sam Capizzi of Rochester, $65 each, and Gary Kinyon of Lockport, Frank Jarkiewicz of Byron, Kevin Gray Sr. of Honeoye Falls, and Rochester residents Frank Fitzmaurice, Pete Pilaroscia, John Martorella Sr., Steve Meyer and Bill Stoddard, $50 apiece.
Photo at top: Tom Sardou, proprietor; Dan Keenan, Ricky Zinone and Mike Pettinella, tournament director, following the Triple O Mechanical Singles Handicap tournament on Nov. 17 at Rose Garden Bowl in Bergen.
KIME, LAGEORGE, DAVIS COMBINE FOR 'MORASCO' TITLE
The team of veteran bowlers Mike Kime of Honeoye Falls, John LaGeorge of Retsof and Jerry Davis of Pavilion – all who have been involved in bowling center management over the years – took top honors at the annual Brian Morasco Memorial three-person handicap no-tap tournament on Saturday at Mancuso Bowling Center in Batavia.
The trio registered a score of 2,535 (845 per man) for the three games to outdistance the second-place team of Tyler and Jonah Whipple and Fred Blair of Rochester by 42 pins.
Kime, LaGeorge and Davis earned $200 each for their efforts, while second place paid $300.
Also cashing were Adam Philp, Brady Weber and Brian Cline with 2,456, $200; Alex Morris, Mike Johnson and Jason Quilliam, 2,426, $180; Rob Sease, Jen Schwaed and Roger Thaine, 2,416, $170, and John Lowe, Scott O'Neill and Sam Steffenella, 2,414, $160.
The tournament drew 38 teams and raised $1,270 for charity.
Sease was part of the winning team the previous weekend, along with Kai Clark and Mark Brown, at the fifth annual PAWS triples no-tap tournament at Oak Orchard Bowl in Albion.
The trio shot 2,581 with handicap – 46 pins more than second-place Sidney Scott, Michelle Pierce and George Pierce Jr., and 95 more than third-place Tyler Hartigan, Alex Allis and Scott Allis.
Sixty-five teams generated $2,300 to benefit the PAWS Animal Shelter in Albion.
DAN VICK WINS $3,000 AT LIVINGSTON LANES OPEN
Rochester lefty Dan Vick, arguably the best left-hander in New York State, added another jewel to his tournament victory crown on Nov. 9 by winning the Livingston Lanes Open in Geneseo.
Vick registered games of 253 and 298 to coast past Dan McClelland of Canada and Jason Sterner and Matt Wallace of Rochester. McClelland and Sterner are PBA members.
The star-studded field included PBA member Brad Angelo of Lockport, PBA50 standout Brian LeClair of Albany and just about all the top amateurs from the Rochester area.
LE ROY TEAM ADVANCES BEHIND LEONE'S 685
Sparked by Aaron Leone's 685 series, the Le Roy Legion Lanes team moved into third place on Nov. 10 in the Genesee Region Youth Travel League at Oak Orchard Bowl in Albion.
Leone posted a 255 game in the big series as Le Roy downed Rose Garden Bowl II, 18-10, to jump into the third spot – four points behind Rose Garden Bowl I and 11 in back of Oak Orchard Bowl I.
Other high scores for the week:
Boys – Dennis Van Duser, Perry, 627, and Tony Sprague, Mancuso's, 601.
Girls – Emma Miller, Mancuso's, 533, and Brooke Jarkiewicz, Rose Garden Bowl I, 518.
The next league session is scheduled for 1 p.m. Dec. 1 at Rose Garden Bowl in Bergen.
To see the complete standings and individual scores, go to www.bowlgr.com and click on the Jr. Travel League tab.
MANCUSO'S TO HOST 60-AND-OVER TOUR THIS SUNDAY
A special tribute to Joe Trigilio, Batavia area bowling legend who passed away on Sept. 1, will take place during this Sunday's Tommy Kress 60-and-over Tour event at Mancuso Bowling Center.
Joe competed regularly on the Tour, winning a couple tournaments and cashing numerous times. He became a popular member of the group, just as he was in the Genesee Region and throughout New York State.
Some local businesses have donated gift certificates that will be awarded after the competition, and I have confirmed that Joe's wife, Kathy, will be there to congratulate the champion of this memorial event.
The annual Legion Lanes Scratch Doubles Tournament is set for Dec. 14 with qualifying squads at 1:15 and 2:45 p.m. First place, based on 32 teams, is $800, and the entry fee is $80 per team.
To enter, contact Penny Brown at 716-474-7960.
BRUNSWICK ACQUIRES EBONITE INTERNATIONAL
Another significant development in the bowling industry took place last week in the form of Brunswick's acquisition of Ebonite International. The purchase transfers all assets of EBI to Brunswick and shuts down the Ebonite plant in Hopkinsville, Ky. – ending a 52-year business in that community and resulting in the loss of more than 150 jobs.
Ebonite brands include Columbia 300, Hammer, Ebonite, Track, Power House and Robby's. Brunswick officials reported that they will continue to offer these products, but manufacturing will now move to Brunswick's plant in Reynosa, Mexico.
Watch for more details – including reaction from local and national bowling industry personnel – in my column on Dec. 5.