December 27, 2018 - 7:57am
Kent somehow survives to claim PBA Clash title; Time to sign up for Scratch Memorial Tournament in Perry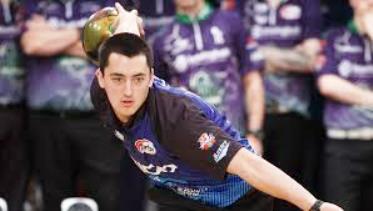 Sometimes, it's better to be lucky than good.
While four-time Professional Bowlers Association Tour champion Marshall Kent of Yakima, Wash., is very "good," he also was more than a bit "lucky" en route to capturing the PBA Clash -- a made-for-TV, winner-take-all event that aired on FOX Sports over the Christmas holiday.
Kent left the Kegel Training Center in Lake Wales, Fla., with $25,000 more in his bank account after surviving two elimination roll-offs and catching a huge break late in the title match, a 218-215 win over Dom Barrett of England.
The PBA Clash featured eight of the world's best players – Andrew Anderson, Holly, Mich.; Anthony Simonsen, Austin, Texas; Jakob Butturff, Chandler, Ariz.; Jason Belmonte, Australia; Stuart Williams, England; EJ Tackett, Bluffton, Ind., Barrett, and Kent -- in a unique format that included an opening 10th frame round, five one-ball, low-man-out rounds, and a full-game final match.
Kent began in fine style with three strikes in the first round and struck in the first one-ball round to advance to round three. In that round, the 2014 PBA Rookie of the Year crossed over to carry a strike and advance.
In round four, the right-hander's delivery sailed wide right, leaving the 1-2-4. He managed to survive, however, when Simonson left the 2-8-10 on his shot to set up a roll-off between the two. In the roll-off, Kent struck, and then Simonson broke for six pins.
In the fifth round, Kent went to the "Brooklyn" side again, leaving the 9-pin, but advanced as Butturff left the 4-7.
Barrett, Williams and Kent all struck in round six and in the ensuing roll-off, Kent and Barrett struck while Williams left a pocket 7-10.
So, it was Barrett versus Kent for the title.
Trailing by 19 pins heading into the ninth frame, Kent tripped the 9-pin for a strike and then got the biggest break of all by taking out the 4-6-7 split on a shot that went right to the nose. He finished with two more strikes, which meant that Barrett needed the first strike in the 10th to win.
When Barrett left a weak 10-pin, it was Kent who wound up hoisting the trophy.
FOX is broadcasting the PBA Tour in 2019, with most of the telecasts on FS1.  Go to pba.com for the complete schedule.
BATAVIAN LEADS QUALIFYING AT 60-AND-OVER
Batavia right-hander Paul Spiotta has found a "home away from home" in Bowl-A-Roll Lanes.
For the second straight 60-and-Over Tour event at the 32-lane center on Jefferson Road in Rochester, Spiotta led the qualifying round – topping the field of 57 bowlers with a 761 three-game series – in a tournament on Sunday (Dec. 23).
Spiotta rolled an 802 series last November in taking high qualifier honors at Bowl-A-Roll.
This year, after the 761, he rolled a 225 game to advance to the second round of the finals, before bowing out in the third round with a 202 game. He earned $110 for his effort.
Kevin Gray Sr. of Honeoye Falls also qualified with a 700 series, before being eliminated in the first round of the finals.
The next 60-and-Over Tour event is set for Jan. 27 at Parkview Bowl in Rochester.
PERRY TO HOST SCRATCH MEMORIAL SINGLES JAN. 5-6
Scott Culp of Lima is prepared to defend his title at the 65th Genesee Region USBC Scratch Memorial Tournament on Jan. 5-6 at Perry Bowling Center.
Culp, a high-revving righty, actually has won the tournament, which features two different oil patterns, the past two years.
Qualifying squads (four games) are set for noon, 3 and 6 p.m. on Jan. 5 and 10 a.m. on Jan. 6, and will be contested on a 40-foot oil pattern. The semifinals and finals will start following the 10 a.m. squad on Jan. 6 and will be bowled on a 45-foot oil pattern.
The winner will receive $1,000 (based on 80 entries) and one in five will cash. The Genesee Region USBC is adding $400 to the prize fund.
The entry fee is $55 and re-entry is permitted.
To sign up in advance, send an email to [email protected].
OAK ORCHARD BOWL TEAMS CLIMB TO THE TOP
The two Oak Orchard Bowl teams in the Genesee Region Youth Travel League stand atop the standings at the mid-season break, with Oak Orchard II in first at 78.5-41.5 and Oak Orchard I close behind at 75-42.
Rose Garden II (Bergen), which has led for much of the season, is in third place at 74-46.
In action from Dec. 16 at Livingston Lanes in Geneseo, Ben Lennox (178 average) rolled a 545 series Tyler Brett (143 average) rolled a 524 series to lead Oak Orchard II to a 19-5 win over Mount Morris.
Individually, Dennis Van Duser of Perry Bowling Center took top honors for the week with a 602 series, while Trent Willis of Mount Morris had 558, Samantha Hyde of Le Roy Legion Lanes 540 and Madelynn Pimm of Rose Garden I 518.
The league bowls again on Jan. 20 at Oak Orchard Bowl in Albion.
NEWS & NOTES FROM AROUND THE GENESEE REGION
-- Chris Haigh of Canandaigua, a former Turnbull Heating Junior League member and Batavia native, recorded his first USBC-certified 300 game on Nov. 21 while competing in the Canandaigua Merchants League at Roseland Bowl.
Haigh, 27, cut his teeth at Mancuso Bowling Center under the guidance of his father, Gary, an avid bowler, and participated in the youth program there for many years. He and his dad also bowled in the adult-child league in Batavia.
Now a financial advisor for Northwestern Mutual, Chris averaged 197 in league play last season.
A call to him had not been returned by the time this column was posted.  
-- The Sunday Rolloffs League at Medina Lanes resumes with its second 10-week season on Jan. 6, with those interested having to sign up by Jan. 4.
Bowlers roll three games against others from the same average group and advance to a semifinal and final round each week. For more information, call Medina Lanes at 318-4474.
-- Entries are filling fast for the fifth annual GRUSBC Adult-Junior Doubles Tournament on Jan. 11-13 at Rose Garden Bowl in Bergen.
The Jan. 13 squad at 3 p.m. is already full. Other squad times are 7 p.m. Jan. 11, noon and 3 p.m. Jan. 12 and noon Jan. 13. The entry fee is $45 per team and at least one in five teams will cash.
Competition will take place in two divisions – 12 & under and 13 & over. To enter, send an email to [email protected].
-- Mancuso Bowling Center is hosting a four-person handicap no-tap benefit tournament for Jim Pursel Jr. on Jan. 13, with squads at 1:30 and 4 p.m. First place, based on 48 teams, is $700 and one in eight spots will cash.
The entry fee is $120 per team with a third of that going to support Pursel, who is recovering from injuries suffered in a work accident on Dec. 7.
To enter, contact Mike Johnson at 585-297-6040 or Mark Brown at 716-474-7960.
-- Word out of Caledonia is that Raider Lanes (formerly Cal Bowl) is open for business and actively recruiting league bowlers.
Owner John Kabrovsky said that efforts are being made to start a Wednesday women's league and weekend mixed leagues over the next couple weeks. Currently, the 12-lane center is being managed by Devin Doolittle of Rochester and is open from Wednesday through Sunday.
-- Rob Stefani of Batavia put forth a better effort with a 202 game but went down to defeat during his Beat the Champ TV show appearance that was aired on Dec. 22-23 on WBBZ-TV (MeTV).
Stefani lost to Pat Brick of Buffalo, who rolled 247 and, by the way, will be inducted into the New York State Hall of Fame on June 1, 2019 in Syracuse.