December 5, 2018 - 7:29am
Lady Devils open basketball season with im-'press'-ive win over Irondequoit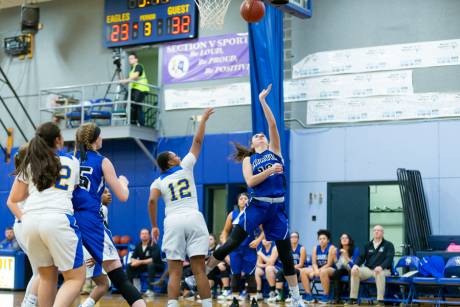 Ryann Stefaniak driving in for a layup.
The Batavia High Varsity Girls Basketball Team shook off some early jitters on the offensive end of the court by turning to an effective full-court press on the defensive end en route to a season-opening 55-37 victory over host Irondequoit in a Monroe County inter-divisional game Tuesday night.
Senior guard Ryann Stefaniak led the way for Batavia with 20 points and 10 rebounds while sophomore guards Mackenzie Reigle and Bryn Wormley added 10 apiece.
Senior forward Jenae Colkey chipped in with seven while senior center Meghan Houseknecht scored six.
Coach Marty Hein's squad looked tight at the outset, missing several layups and turning the ball over a half-dozen times in the opening period, which ended in a 14-14 tie.
After Irondequoit took a 15-14 lead early in the second quarter, Batavia went to the press and that sparked an 8-2 run with Reigle, Colkey and Emma Krolczyk scoring on the break and Houseknecht hitting from inside.
Houseknecht scored again in the final minute of the half to give Batavia a 27-22 lead.
Batavia, staying with the press that resulted in many Irondequoit turnovers, put the game away in the third quarter with an 11-2 run. Stefaniak had eight of those points on a three-pointer, two driving layups on assists from Colkey and a free throw, while Colkey had the other three.
The Lady Devils' advantage was 44-27 after the third quarter and they coasted from there.
Irondequoit was led by junior guard Alahna Paige's eight points. Paige, a 19-points-per-game scorer last season, was hampered by foul trouble throughout.
Both teams shot poorly from the foul line. Batavia was 7-for-17 while Irondequoit went 11-for-25.
The Lady Devils' next game is scheduled for Dec. 11 at Greece Athena.
To view or purchase photos click here.
Photos by Steve Ognibene.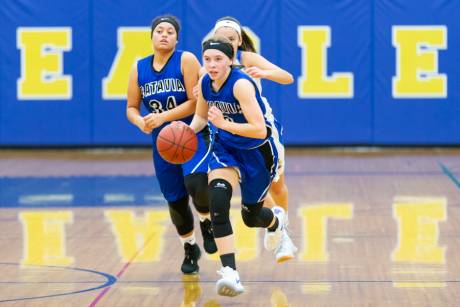 Mackenzie Reigle pushes the ball up court as Jenae Colkey advances.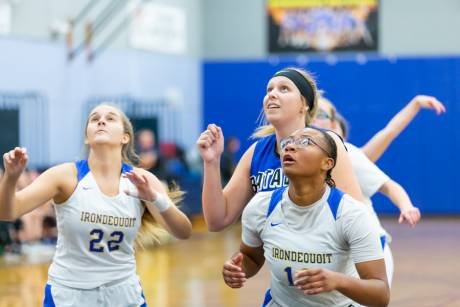 Meghan Houseknecht looks to rebound.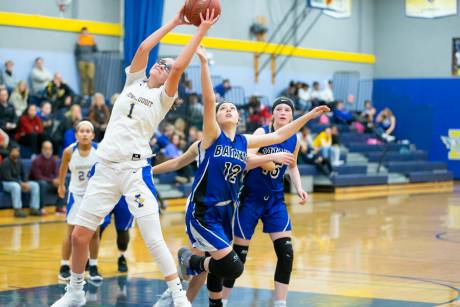 Kennedy Kolb battles for the ball as Emma Krolczyk looks on.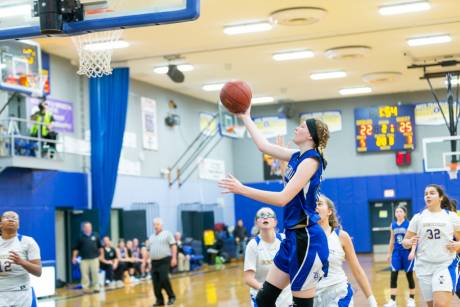 Krolczyk goes in uncontested.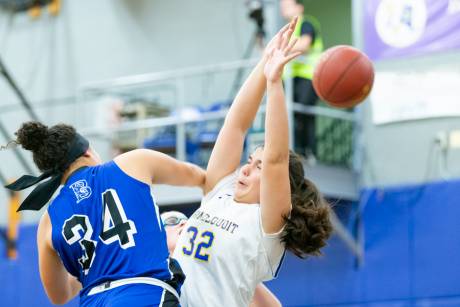 Colkey knocks the ball away from Irondequoit's Rebeca McGwin.