December 21, 2017 - 8:11am
Le Roy Teen Rolls 730 Series, Best for Women at Legion Lanes; Batavians on 'Beat The Champ' this weekend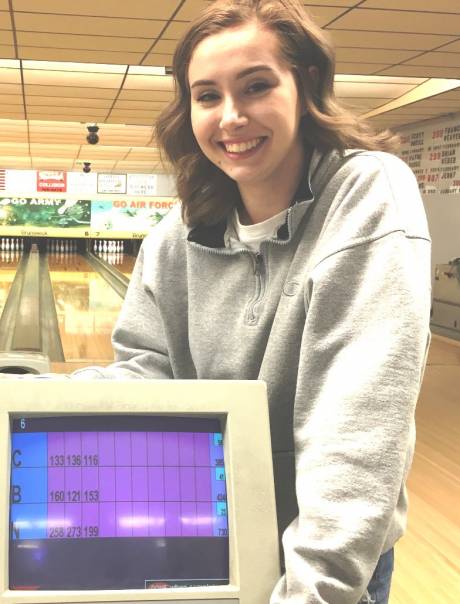 If you happen to care about the future of the sport of bowling, you will be thrilled to read about the accomplishments of youth bowlers in our area and across the state.
Starting close to home, 18-year-old Naomi Hyde of Le Roy (she'll be 19 on Dec. 30) recorded the highest USBC-certified three-game series in the history of Legion Lanes in Le Roy on Dec. 11 when she rolled a 730 set while substituting in the Monday Ladies Jackpot League.
The right-hander's games were 258-273-199. The three-game total eclipses the 709 registered by longtime LeRoyan Chris Vescovi in 2002.
Naomi (in photo above) wasn't sure of the sequence of strikes, but said she got a bit nervous in the second game "because I was hoping to bowl a 280 game."
She came close with the 273 – which topped her previous high game of 269.
"I lost the line a bit in the third game," she said, "as I had to adjust as the lanes weren't as oily."
After a slow start to the game, she regrouped at the end to post the 199, earning well-deserved applause from her father, Mickey, an avid bowler who came to the lanes to watch.
Naomi said that Vescovi, who bowls in the league, and the other ladies were quick to congratulate her.
She was bowling on a team with Charlene Price and Betty Sue Pelton. She said she is averaging 161 in a Sunday mixed league -- bowling with her dad -- and 195 for 12 games on the Monday league.
Naomi said she bowled in the Legion Lanes youth program since she was 5 years old. After graduating from high school, she is working a couple part-time jobs and said she will be attending Monroe Community College next month.
Her sister, Samantha, continues to bowl in the Le Roy youth league as well as the Genesee Region Youth Travel League.
Hilton Girl Sets Record with 831 Series
While Naomi was making headlines in the Genesee Region, Hilton freshman Elena Carr is in the national spotlight after a high school-record setting 831 series – also on Dec. 11 – in a Monroe County League match against Penfield at AMF Terrace Garden Lanes in Rochester.
Elena, 14, rolled 265-300-266, breaking the previous mark set of 826 by Kristina Frahm of Illinois in January 2007. She has been bowling for 10 years and has been on the Hilton varsity team since seventh grade and also bowls on a travel team on weekends.
By the way, her brother Brad, 16, who also is on the Hilton bowling team, rolled his first 300 game in a sanctioned morning league in September.
Continuing with the young high rollers theme, 14-year-old freshman Zachary Bogholtz of Nassau (Albany USBC) posted his fourth 300 game and first 800 series recently.
The freshman member of the Columbia High School bowling team recently registered his third perfect game of the year and first 800 series – 300-279-234—813.
It sure is encouraging to see that young people are embracing the sport and excelling at it as well. Hopefully, more adult bowlers – parents and coaches – will make it a priority to volunteer their time to helping these kids improve and to give back to a sport that has given them so much over the years.
BERGEN TEAM STRETCHES LEAD IN YOUTH TRAVEL LEAGUE
The Rose Garden I team of Bergen rolled past Batavia Fire & Ice, 18.5 to .5, last Sunday at Legion Lanes in Le Roy to expand its lead over Batavia Strike Force to 7.5 points after six of 14 sessions of the Genesee Region Youth Travel League.
Devon Zinter, Madelynn Pimm and Michael Sardou all bowled over their averages, with Zinter (141 average) shooting 501, Pimm (124 average) rolling 461 and Sardou (126 average) posting 398.
High scores for the week:
Boys – Matt Hurlburt 223—651, Skylar Laesser 232—597, James Townsend 587, Ben Lennox 221.
Girls – Paige Snook 185—517, Samantha Hyde 179—486, Logan Cadieux 168—480.
The league bowls again on Dec. 31 at Mancuso Bowling Center.
BATAVIANS UP NEXT ON WBBZ-TV'S 'BEAT THE CHAMP'
The Beat the Champ show from Mancuso Bowling Center in Batavia featuring Batavians Rich Wagner and Rob Stefani and Brockport's Chris Bardol is up next on WBBZ-TV (MeTV), airing this Saturday at 4 p.m. and repeated on Sunday at 11 p.m.
The reigning "champ," two-hander Dana Voytovich of Cheektowaga, puts his five-match winning streak on the line, facing left-hander Wagner in the first match. The winner will take on Bardol in the second match, with the winner advancing to meet Stefani in the show's final match.
Mike Pettinella, bowling writer for The Batavian, joins hosts Paul Peck and Sue Nawojski for commentary on this weekend's show.
On Dec. 30-31, eight members of the Turnbull Heating Junior League at Mancuso Bowling Center will be featured on the show.
The competition was taped on Nov. 29.
GRAVANDA, SPIOTTA SOAR AT 60-AND-OVER EVENT
Cousins Paul Spiotta and Fred Gravanda of Batavia manufactured a couple "firsts" last Sunday in the 60-and-Over Tour tournament at Bowl-A-Roll Lanes in Rochester.
Spiotta, bowling in his second event since turning 60, rolled the Tour's first 800 series in the qualifying round – 279-267-256—802 – and Gravanda, a regular member of the Tour, captured his first victory by defeating John Feola of Rochester and Ken Ball of Avon in the finals.
After his big series, Spiotta posted a 207 game in the 12-man semifinals, but it wasn't quite good enough to advance (as half the field moves on).
Gravanda, however, who qualified with a 664 series for having the best score in the 65-69 age group, went on to bowl 268 and 246 to reach the three-man final round.
In the finals, Gravanda posted 211, edging Feola by seven pins and defeating Ball by 33 pins. Prior to Sunday's tournament, Gravanda had several runner-up finishes.
Bob Hodgson of Medina (791) and Joe Trigilio of Attica (705) also qualified for the semifinals but lost in the first and second round, respectively, with Trigilio officially placing fourth.
LIMA'S CULP PRIMED TO DEFEND 'SCRATCH MEMORIAL' TITLE
Defending champion Scott Culp of Lima is in fine form as the 64th Genesee Region USBC Scratch Memorial Tournament nears. The singles event is set for Jan. 6-7 at Letchworth Pines in Portageville.
Culp, who won last year's tournament at Medina Lanes, is averaging better than 240 in the Wednesday Night JCI League at Livingston Lanes in Geneseo, with a 300 game and a pair of 800 series (805 and 837) to his credit.
The Scratch Memorial offers a $1,000 top prize, based on 80 entries, and the entry fee is $55. Qualifying squads are noon and 3 p.m. on Jan. 6 and 10 a.m. on Jan. 7, with one in five bowlers from each squad advancing to the semifinals.
The tournament features two oil patterns – the 39-foot Kegel "Middle Road" during qualifying and the 45-foot Kegel "Route 66" during the semifinals and finals.
To enter, call Mike Pettinella at 585-861-0404 or send an email to [email protected].
MERRY CHRISTMAS AND HAPPY NEW YEAR TO ALL
To all my Pin Points readers and to all in the Genesee Region, have a blessed and Merry Christmas and Happy Kwanzaa -- and a Happy New Year. And to all my Jewish readers, I hope you had a wonderful Hanukkah (which ended on Wednesday).
The next column will be posted on Jan. 4.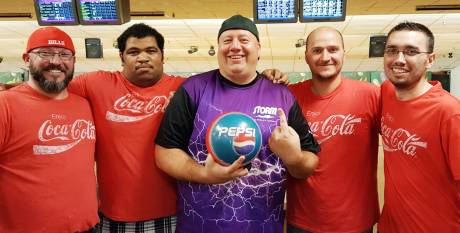 COKE VS. PEPSI: Members of the StrikeForce Academy team in the North Pole League at Mancuso Bowling Center had some fun with team captain Tom Fluker, center, who also is a longtime Pepsi employee. Members of the team, which rolled a 1,201 scratch game recently in the league, are, from left, Tom Baker, Nate Wright, Fluker, Jerry Harding and Eric Kraus.