November 7, 2019 - 7:35am
LeRoyan Hyde wins GRUSBC Senior Masters; Fluker triumphs in Handicap Bracket Challenge
posted by
Mike Pettinella
in
Bowling
.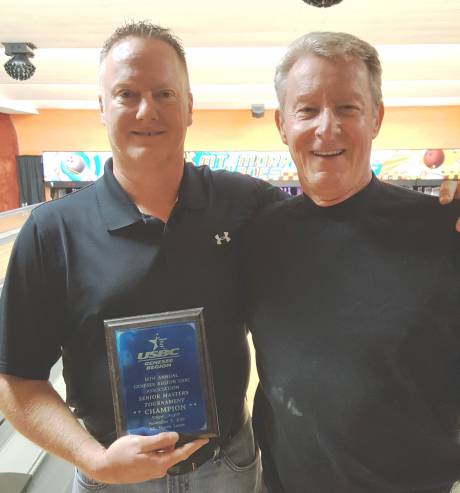 The old bowling axiom, "hook is for show, straight is for dough," came into play over the weekend at the 14th annual Genesee Region USBC Senior Masters Tournament at Mount Morris Lanes.
Bowling in the tournament for the first time, 53-year-old right-hander Mickey Hyde of Le Roy utilized that strategy to emerge victorious against 42 other entrants on Sunday.
"I pretty much stayed straight up the alley," said Hyde, who averaged 234 for his seven games, capped by a 246-208 victory over Tim Fonte of Dansville in the title match. "Normally, that shot doesn't work for me any place else, but it has here before."
Hyde, manager of the Tompkins Bank of Castile Le Roy branch, earned $270 plus a free entry into the GRUSBC Scratch Memorial Tournament in January and a plaque from Joe's Trophies & Awards.
The three-person stepladder finals in the event for association members 50 and over featured three first-time Senior Masters participants -- Hyde, Fonte and Batavian Bill Neubert.
Fonte downed Neubert, 218-173, in the first stepladder match to earn the right to face Hyde, who secured the top seed by virtue of a 714 series in the three-game qualifying round and 463 in the two-game second round.
Fonte, 71, pocketed $170 for his runner-up finish while Neubert, 69, won $120 for placing third. Both Fonte and Neubert played a direct line, and it carried them to the stepladder round.
Reaching the semis were Dave DiSalvo of Mount Morris, Mike Pettinella of Batavia (this writer) and Kevin Gray of Honeoye Falls. They each won $70.
Other cashers were Paul Spiotta, Jim Pursel and Scott Shields, all of Batavia; Marty Weaver of Castile; John Lowe of Le Roy, and Bob Hodgson of Medina. They won $55 apiece.
DiSalvo was the high qualifier with 758, followed by Spiotta (724), Pursel (723) and Hyde, and also had the high score in the two-game semifinals with 472, followed by Pettinella (463) and Hyde (463).
Hyde, Fonte and Neubert advanced to the finals with games of 221, 215 and 210, respectively.
The field was cut to 12 after the qualifying round and to six after the two-game second round. The one-game semifinal round determined the stepladder finalists.
This year's champion said he used his "old (Roto Grip) Uproar" to conquer the synthetic lanes, concentrating on keeping the ball from getting too far right.
"If I swung it out, I didn't carry any 10-pins," he said. "I stayed in the middle of the lane and that seemed to be, for me, the only shot that carried consistently."
He thanked Spiotta for running the tournament and credited proprietor Bob Santini for putting up a fair lane condition.
Photo at top: Mickey Hyde, left, and Tim Fonte, Genesee Region USBC Senior Masters finalists.
FLUKER CAPTURES 1st HANDICAP BRACKET CHALLENGE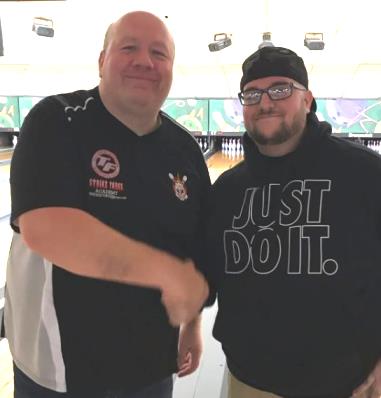 Batavia's Tom Fluker won the tournament while Albion's Bailee Snook won the hearts of bowlers and spectators, alike, on Oct. 26 at the 1st Genesee Region Handicap Bracket Challenge tournament at Mancuso Bowling Center in Batavia.
Fluker defeated Sam Oddo of Batavia, 224-202, in the title match to claim the $275 first prize in the event, which attracted 32 bowlers.
The entrants were divided into four eight-player brackets with the top four averages as the No. 1 seeds in each bracket and the remaining players drawing for their seedings. The first round consisted of two-game matches and the ensuing rounds were one-game matches.
Fluker opened by defeating Bailee's sister, Paige, and then went on to win three more matches to face Oddo. In the semifinals, he just got past 13-year-old Bailee by five pins.
He rolled a 211 game scratch – 241 with handicap – while Snook rolled 149 and received 87 pins handicap based on her 133 average.
For the tournament, Snook averaged 159, much better than her average, in posting a 3-1 match play record. One of her games was 200, her first 200 ever.
Oddo reached the finals with a 248-216 win over Shayne Herold of Batavia (200-176 scratch), and earned $150 for his second-place finish.
Snook and Herold won $95 each (with Snook's prize money going into her SMART scholarship account). Other cashers were Batavians Geoff Harloff, Tom McJury and Scott Shields and Attica's Mark Brown.
Matt Balduf of South Byron had the tournament's high game of 299, leaving a solid 10-pin on the final ball.
Photo: Tom Fluker, left, and Sam Oddo, finalists in the GRUSBC Handicap Bracket Challenge.
GENESEE REGION USBC WELCOMES NEW SPONSORS
Four businesses from the Mount Morris area, including three of them affiliated with Director Sharon Willett, have signed on as Genesee Region USBC sponsors for the 2019-20 season.
Loretta's Beauty Shop, Willett's Rentals and Willett's Farm, owned by Dan and Sharon Willett, and Mount Morris Lanes, owned by Bob Santini, each have contributed $250 to the GRUSBC to help support the local association's scholarship fund, youth bowling and tournament bowling.
As Silver Sponsors, each will receive a free ticket to the GRUSBC Annual Banquet in May and space in the Sponsors section of the GRUSBC website – www.bowlgr.com.
GLADYS FORD WINNERS INCLUDE TWO ALBION WOMEN
Albion residents Laurie Cole and Susan Boring captured age group titles over the weekend at the Gladys Ford Senior Women's handicap singles tournament conducted by the Genesee Region USBC at Perry Bowling Center.
Cole won Class C (60-64) with a 633 series with handicap while Boring took Class D (55-59) with a 590 series.
Projected "cashers" pending verification of averages are as follows:
Class AA (75-and-Over) – Margaret Shepard, Castile, 667; Caroline Appleby, Warsaw, 643; Fran Matthews, Silver Lake, 638; Joanne Reed, Livonia, 624.
Class A (70-74) – Gail Riley, Dansville, 649; Barbara Sales, Geneseo, 606; Georgene Della Penna, Batavia, 589.
Class B (65-69) – Barbara Heim, Perry, 632; Pat Gilbertson, Gainesville, 594.
Class C (60-64) – Cole, 633; Judy Bzduch, Perry, 631; Chris Bovee, Dansville, 624.
Class D (55-59) – Boring, 590.
Class E (50-54) – Dawn Johnston, Livonia, 660 (618 scratch).
ALBION TEAM MOVES INTO YOUTH TRAVEL LEAD
The Oak Orchard Bowl I team moved into first place in the Genesee Region Youth Travel League with a 20-8 victory over Batavia Strike Force in recent action at Mancuso Bowling Center.
Paige Snook led the way with a 543 series for the Albion squad, which vaulted past Rose Garden Bowl I of Bergen by two points. Tony Sprague posted 566 for Strike Force.
Individual honors for the week went to Jillian Menzie with a sparkling 647 series on games of 222-237-188.
Dennis Van Duser of Perry Bowling Center led the boys with a 248 game and 608 series.
The league bowls again at 1 p.m. this Sunday at Oak Orchard Bowl.
LOCAL TOURNAMENTS IN MONTH OF NOVEMBER
-- Thursday, Nov. 7-Sunday, Nov. 10  -- Livingston Lanes 2019 Open, scratch singles, Geneseo.
First place is guaranteed at $5,000. Squads are tonight and Friday night, day and night on Saturday, with finals at noon on Sunday. Call 585-243-1760 to enter or for more information.
-- Sunday, Nov. 10 – Rochester/GRUSBC BVL, Pleasure Lanes, Hilton. Genesee Region USBC members are eligible to bowl in the fundraiser.  Entry forms can be downloaded from www.bowlgr.com.
-- Saturday, Nov. 16 -- Brian Morasco Memorial 3 –person handicap, Mancuso Bowling Center.
-- Sunday, Nov. 17 -- Triple O Mechanical Handicap Singles, Rose Garden Bowl, Bergen.
-- Sunday, Nov. 24 – Tommy Kress 60-and-Over Tour stop, Mancuso Bowling Center, Batavia, noon (tribute to Joe Trigilio).