April 17, 2019 - 11:32pm
Milestone for Mortellaro: Corfu resident to bowl in 50th USBC Open tournament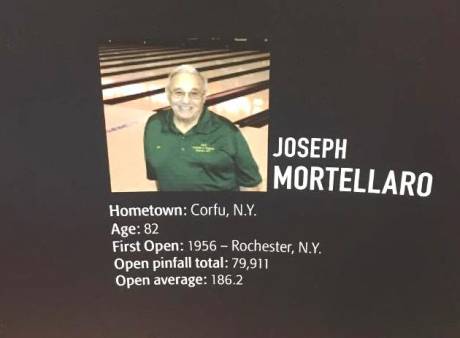 The display at the USBC Open Championships in Las Vegas recognizing Joe Mortellaro as a 50-year tournament participant. Mortellaro will be honored when he competes next week.
The year was 1956 and Joe Mortellaro, a 19-year-old Batavian with loads of bowling potential, competed in his first American Bowling Congress Tournament, a national showcase of keglers from throughout the United States.
That tournament was held in Rochester and, since then, "Joe Mort" has traveled all over the country to be a part of the tournament, which usually runs from early March through early July.
The tournament is now called the United States Bowling Congress Open Championships due to the merger of the ABC, Women's International Bowling Congress, Young American Bowling Alliance and USA Bowling in 2005.
Fast forward to 2019 and Mortellaro, a Corfu resident for several decades, is about to reach a milestone he never really thought too much about until recent years – participating in his 50th USBC Open Championships.
 "I never had that in mind (making it to 50 years)," said Mortellaro, now 82 and battling through some serious health issues. "I have to give credit to the guys (his teammates) who keep pushing me."
Mortellaro, nine other Batavia-area bowlers and several of his family members will converge upon South Point Bowling Plaza in Las Vegas next week to celebrate the achievement.
Joe, owner of Joe's Pro Shop for many years prior to his retirement, is the leadoff man on a squad with nephew Mark McVay, nephew Todd Mortellaro, Gregg Wolff and Paul Spiotta, team captain. The companion team consists of Jim Pursel, Geoff Harloff, Brian Green, nephew Rich Mortellaro and Nathan Cordes.
The group bowls its Team event at 7 p.m. Friday, April 26, and its Doubles & Singles events at 2 p.m. Saturday, April 27. In between the two events, Mortellaro will spend three hours at a Henderson, Nev., dialysis center as part of his three-times-per-week therapy.
"I haven't bowled much in league lately (due to fatigue), but I bowled a couple games on Sunday and Tuesday of this week at Mancuso's, and it felt pretty good," he said.
Family members that will be there cheering him on include his sister, Millie McVay, and her daughter, Jeannie; nephew, Fred McVay, and his wife, Donna; and sister-in-law, Charlene Tiede.
Additionally, Joe Trigilio, Mortellaro's teammate for many years, is planning to travel to Vegas with his wife, Kathy, to witness the accomplishment. Trigilio is unable to bowl this year due to his fight against brain cancer.
Everyone is rooting for Joe to complete the nine games, and add to his 49-year pinfall of 79,911 for 429 games, which is good for a 186.2 average on extremely difficult lane conditions. He said his best performance was 1,800-plus for All-Events (nine games) but he wasn't sure of the year.
According to Spiotta, who has 26 USBC Open Championships under his belt, Mortellaro only has to bowl the Team event to qualify for the 50th year award.
Spiotta said being able to hang with Mortellaro for the past 25 years is one of his greatest thrills as a bowler.
"I have the utmost respect for Joe Mortellaro, not only as one of the greatest bowlers I've ever seen but also one of the finest people I have ever known," Spiotta said.
Spiotta recalled that he "accepted without hesitation" an invitation from Mortellaro to join his USBC Open Championships' traveling team in 1995, and is excited to be a part of the 50th year festivities.
"If Joe hadn't been ill or injured on two occasions over the past 25 years, he would have already reached this milestone," Spiotta said. "However, I am extremely proud that I will be there to witness this honored moment for him on April 26th in Las Vegas."
FOUR TO ENTER GENESEE REGION USBC HALL OF FAME
Genesee Region USBC directors are meeting this Saturday to review the annual Association Tournament and finalize plans for the Annual Banquet on May 11 at Batavia Downs Gaming.
Prize checks from the Association Tournament that took place the last two weeks in March at Oak Orchard Bowl and Medina Lanes are expected to go out the beginning of next week.
To see the complete unofficial results, go to the Genesee Region USBC website – www.bowlgr.com.
The Annual Banquet will include the induction of four people into the GRUSBC Hall of Fame -- James Foss of Medina in the Achievement Regular category, Robert Hodgson of Medina and Al Vlietstra of Geneseo in the Achievement Veteran category, and Eunice Englert of Nunda in the Meritorious Service category.
Foss, 56, has been a standout bowler for the past 20 years, compiling more than 15 300 games and six 800 series and averaging over 200 for most of those year – with a high of 235.
In 2007-08, he earned national recognition for have the high trio series of 2,295 (two men and one woman).
The head mechanic at Medina Lanes and league officer for several leagues, he has cashed in numerous local tournaments in the Medina, Lockport and Genesee Region associations.
He finished second to Rich Wagner in the GRUSBC Masters in 2017, averaging 206 while winning six of eight matches in the final en route to a $325 prize. He also has been a finalist on multiple occasions in the GRUSBC Senior Masters.
Hodgson, 71, a retired school teacher, has 13 perfect game and seven 800 series while averaging in the 215-plus range for the past several years.
His tournament success includes victories in the GRUSBC Doubles event with his son and the Tommy Kress 60-and-Over scratch singles tour.
A certified bowling coach, he assists with the Saturday morning youth program at Medina and consistently competes in GRUSBC tournaments.
Vlietstra, 70, has done well in tournaments at the local and state level.
He is a two-time Singles champion, with 762 in the Perry Association in 1997 and 860 (752 scratch) in the GRUSBC in 2017. He placed first in the 2009 GRUSBC Senior Masters at Letchworth Pines and rolled his high game of 299 in an Amateur Bowlers Tour event.
Vlietstra, who owns a masonry business, is a four-time NYS USBC tournament champion:
-- As a member of the Turnbull Heating team in the 2010 NYS Open Championships in Niagara Falls (he rolled 661);
-- Handicap Singles (843) in the 2014 NYS Open Championships in Rochester;
-- Six-Game Combine (1,483) in the 2014 NYS Open Senior Championships in Cortland;
-- Handicap Doubles (801 with handicap) in the 2015 NYS Open Championships in Buffalo.
His personal best series of 788 came in the New York State Firemen's Tournament in Newburgh in the mid-2000's.  A league bowler since 1987, he posted his high league average of 203 in 2004-05 at Perry Bowling Center.
Englert has been bowling for more than 50 years and has served the sport as a league secretary, Genesee Valley Women's Bowling Association director and tournament coordinator for almost as long.
Her induction comes on the heels of her husband's (Dennis) enshrinement last year. The couple was a fixture at Letchworth Pines, running the bowling center and taking care of the leagues for 30 years.
SPARE SHOTS FROM AROUND THE GENESEE REGION
-- Albion's Paige Snook (photo at right) continued her fine season last weekend when she captured the Youth Bowlers Tour handicap division crown at AMF Empire Lanes.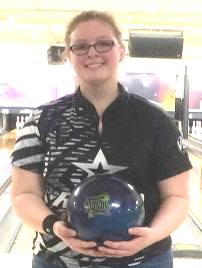 Paige, who will be competing in the Junior Gold Championships in July in Detroit, qualified in 11th place before winning all four of her matches for her first title.
Previously, Paige rolled her first USBC-certified 700 series in the youth bowling program at Oak Orchard Bowl. Her games were 255-212-233 for 700 right on the mark.
-- The GRUSBC West team defeated the GRUSBC East squad, 69.5-18.5 at Scopano's Lanes last Saturday to even their annual series at two wins apiece.
The West won all but two Doubles and Singles matches – posting a 13-2 record – and then went on two win both Baker-style team matches.
Scott Gibson led the way with a 3-0 record and 224 average while Bruce Kraus, Paul Spiotta, Bob Hodgson, Jackie Jurinich, Mike Johnson and Gregg Wolff also won all three of their matches.
Rounding out the West team were Roger Stone, Jerry Currier and Scott Shields.
For the East team, Jerry Davis and Al Vlietstra combined for a Doubles victory and Dana Freeman posted a Singles win.
Other members of the East team were Kevin Gray Sr., Augie Dale, Tim Fonte, Eric Galton, John LaGeorge, Dan Santini and John Wood.
-- Batavia's Rich Wagner, who set a GRUSBC record with a 246 league average this season, put his stamp on the USBC Open Championships in Las Vegas earlier this week with a sparkling 1,859 All-Events score.
The national tournament is bowled on a Sport condition, which makes Wagner's total even more impressive. The left-hander had 587 in the Team event, 608 in Doubles and 664 in Singles. He should get back a decent prize check for the 664.
He bowled for the Toyota of Batavia team along with Josh Elliott, Jeremy Vallance, Leon Hurd and Jason Gallo.