October 18, 2018 - 7:57am
New City of Batavia manager says he welcomes community input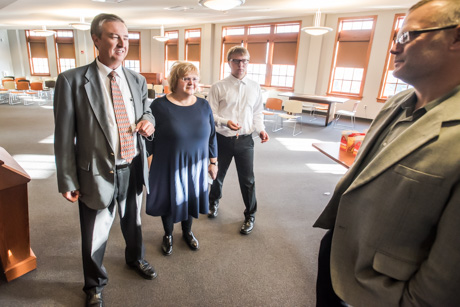 Martin D. Moore, Ph.D., the new manager of the City of Batavia, was the center of attention on Wednesday afternoon, but he was quick to mention that it's the residents who come first.
Moore, speaking at a meet-and-greet session at City Hall Council Chambers, said he advocates an open-door policy that gives citizens an avenue to let their voices be heard.
"I'm here for the people themselves … that's who I work for," said Moore, who was joined at the event by his wife, Joanne, and 17-year-old son, Martin Jr. "If they need something, have an issue or a suggestion, I am willing to listen. There are no bad ideas."
The former city manager of Eunice, N.M. (he served in that capacity for about seven years), Moore said he has a "relaxed style but is very driven toward results at the same time."
As he prepares for his first City Council meeting next Monday, Moore said his immediate priorities include talking to the management team about how to communicate effectively, building a working relationship with the business community, and meeting with Batavia Development Corporation officials about the Downtown Revitalization Initiative.
"I really want to see the shovels starting to hit the ground," he said, referring to the Ellicott Station project.
His hiring as the one to replace Jason Molino, who resigned the position about nine months ago, is homecoming, of sorts, for his family. His wife has two sisters in Le Roy, a brother in Warsaw and another sister in Castile. She also has a brother who resides in Tonawanda.
Moore said he was in the running for similar positions in Arizona, New Mexico and Colorado, but believes that the Batavia job was meant to be.
"When I came here (during the interview process), everything seemed to click," he said. "City Council was great; I really enjoyed talking to them and when I went around town, the people were very friendly.
"And if any hurdle came up, it was worked out. Everything just lined up."
City Council agreed to an initial contract of $110,000 plus benefits for Moore.
His previous executive management experience includes a four-year stint as a consultant, census 2010 crew leader and general manager in Timberon, N.M.; county manager for Otero County, N.M.; executive director of Eastern Arizona Counties, and director of development and community services for Apache County, Ariz.
An Eagle Scout, he was a member of several professional associations and president of the Eunice Rotary Club.
His wife said she was excited when she heard about the Batavia position being open and got "really excited" as her husband made the final cut.
"I haven't lived in New York since I was 16," she said, noting that she moved to Hawaii in the mid-1970s and then to the southwestern part of the United States after marrying Moore in 1985.
"He was an Arizona boy, so we settled in New Mexico," she said.
Joanne, who served as the Chamber of Commerce director in Eunice from 2011-2018, said her husband will be active in the community – appearing at festivals and other events. (They have found a home on Lincoln Avenue, just a short walk from Centennial Park).
"(Martin) likes to be somewhere where he can make a difference," she said. "He wants to do things to help the community and wants to know what the people think. Sometimes you don't know unless somebody lets you know."
Martin Jr. is one of seven children – the others live in New Mexico, Utah, Idaho and Michigan – and is in his senior year at Batavia High School.
He said he's interested in cosmology, the science of the origin and development of universe, and hopes to go to college in Hawaii and earn an internship at the Mauna Kea Observatories.
At least one Batavia resident, James Owen of Redfield Parkway, said he came away with a positive first impression of Moore and his family.
"I think he's going to be great for Batavia," Owen said. "He came across as very willing to help the citizens of Batavia. We're hoping for the best."