February 22, 2021 - 12:55pm
New York State association honors Pembroke Central transportation supervisor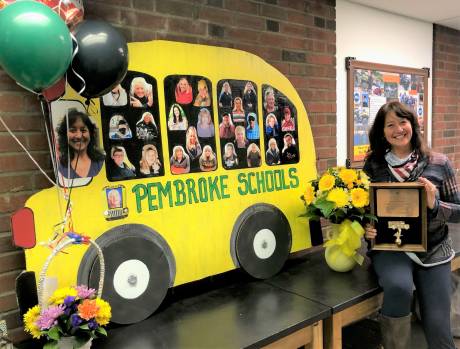 The 2020 Art Schock Award presented by the New York Association for Pupil Transportation to a transportation supervisor for effective communication and leadership skills has the name of Donna Hackett on it but in the recipient's eyes, it belongs to the entire Pembroke Central School District family.
Contacted today by The Batavian, Hackett's first word was just that – Pembroke.
"Pembroke is an amazing place to let all of this happen," she said. "They certainly support me in ways that are outstanding for a little district like we are. To me, this is a team award; one person can't make anything happen."
She then thanked administration for being receptive to bus garage needs.
"Our little Pembroke bus garage is such a team. The principals support us, the athletic director supports us. Everybody works together. And our drivers are amazing, caring hearts. It's a districtwide award, I truly believe that," she said.
NYAPT representatives Peter Lawrence, of Fairport, and David Dwyer, of Geneseo, traveled to Pembroke Superintendent Matthew Calderon's office on Jan. 29 for the virtual presentation, which can be seen on YouTube. The award was formally announced last Friday.
All of the bus transportation employees lined the superintendent's office – wearing face coverings and social distancing -- to witness the presentation.
Lawrence shared information about Hackett, who has served as transportation supervisor for the past 17 of her 30 years at the school, as well as comments submitted by Pembroke staff members who supported her.
He credited her for participating in the school bus rodeo and organizing a poster contest, for leadership positions with the Pembroke Volunteer Fire Department and at her church, plus her involvement with the American Red Cross. She also served on the New York State Bus Customer Advisory Panel for years in an effort to improve bus safety.
One of Hackett's colleagues emphasized the numerous qualities that she brings to work every day -- sincere enthusiasm, integrity, communication skills, loyalty, decisiveness, managerial skills, empowerment and encouragement.
Others spoke of her ability as a mentor and desire to make things as efficient as possible.
In an emotional tribute, Calderon's remarks focused on Hackett's leadership and her role in keeping Pembroke students in the classroom.
"The governing authorities would tell us that it's not essential for our kids to be in school every day. And by extension, they would say that school bus drivers are not essential," he said. "This year, Pembroke is proving how essential it is for kids to be in school every day – and the day starts with the bus drivers and they're led by you."
"I want to thank you for your leadership and I am super optimistic that we will go through the 2020-21 school year without ever having to close. I believe that, and it all has to do with you and your fleet. You are super, super deserving of this award."
Hackett said she is proud that Pembroke has been open full time through COVID-19, adding that she has "learned and shared a lot of information through NYAPT to make this happen."
"We want Pembroke to stay open and we're doing all that we need to do," she said. "Honestly, I have had no illness of my drivers this whole time, since September. Everyone has been here every day, just doing it." 
She said the staff consists of two mechanics, four bus monitors and 27 drivers with a fleet of 29 vehicles. Things have been busier lately since interscholastic sports and field trips are back on the schedule.
"It's kind of extra because we're running jayvees separately from varsity," she said. "We're not putting too many people together at once, so it makes for a little extra work but the kids are going back to their sports and that's exciting."
Hackett recalled starting as a substitute bus driver in 1990.
"I just fell in love with school bus transportation. As a bus driver, that wasn't something I had planned on doing, but my landlady at the time was a bus driver and suggested it to me. It was perfect for our family," she said.
"I had a newborn daughter. I thought that I could be the working mom and just couldn't do it, so I became a bus driver, and that was phenomenal. Falling in love with all of these kids here. And when the supervisor position came open, I took that."
She said her bachelor's degree in Accounting Management has helped her in her job.
"It worked really well as we were able to revamp our district and then to learn the industry. NYAPT was absolutely instrumental in Pembroke being up on all their rules and regulations, and best practices. They gave me the tools to make Pembroke as amazing as it is."
Calderon mentioned that Hackett has served as a NYAPT officer, providing important input into developing numerous state-level goals and objectives.
"She keeps us informed about important changes to the law, needed advocacy and best practices. Her efforts have resulted in our having the safest (and best looking) fleet of buses in our region!," he said. "Her cost-effective systems have saved us time and money in maintenance costs. She advocates for students, for drivers and mechanics alike."
A Pembroke High graduate, she and her husband, Bruce, live in East Pembroke. They have two daughters -- Jes Montroy, a STEAM (Science, Technology, Engineering, Arts and Mathematics) teacher at Pembroke High, and Kate Miller, an engineer at Moog Inc. in East Aurora -- and a grandson, Oakley, a first-grader at Pembroke Primary School.
Established in 1983, the award is named after Art Schock, a longtime transportation supervisor at Sweet Home Central School who served as the organization's fourth president in 1980. He passed away in December of that year.
Dwyer said recipients of this award demonstrate traits such as dedication, compassion, leadership, innovation and the ability to communicate – characteristics embodied by Schock that helped build and advance the mission of NYAPT.
Photo: Donna Hackett displays her award from the NYS Association for Pupil Transportation in front of the adoring eyes of her Pembroke Central School District bus garage employees. Submitted photo.