December 13, 2018 - 8:09am
North's big victory puts Karl Marth Cup event at a 'crossroads'; Scratch Memorial set for Jan. 5-6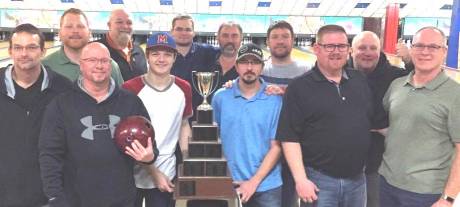 North Stars -- Members of the North team, which continues to domilnate the Karl Marth Cup challenge match, are from left, Mike Allis, Jake Rosenbeck, Rob Sease, captain Tom Allis, Alex Allis, Hayden Allis, Scott Gibson, Jason Mahnke, Rich Culver, Aaron Verheyn, Mike Lavender and Roger Allis. Scott Shields also is on the squad.
The North's blowout of the South on Saturday, Dec. 1 at Medina Lanes has brought the Karl Marth Cup series to a crossroads.
With its seventh win in the past eight years, Captain Tom Allis' squad held onto its grip of the annual competition between bowlers from the Medina-Albion and bowlers from the Batavia area and points south and east of the city.
Sparked by 22-year-old Hayden Allis -- who averaged 240 and won all four of his matches -- the North rolled to a 76.5-46.5 victory. For his efforts, Allis was named the Scott Wright Memorial Outstanding Bowler.
The North's dominance (it won five of six doubles matches and eight of 12 singles matches) left Paul Spiotta of the South team, the only bowler to participate in all 25 tournaments, wondering where to go from here.
The North leads the series, 15-10.
"I was watching some of their rev rates, especially the younger kids, and they we're throwing pins all over the place," said Spiotta, the only bowler to participate in all 25 tournaments. "Some of our guys just don't have the rev rate and were leaving weak 10-pin after weak 10-pin."
Tom Allis concurred with Spiotta's assessment, adding that ball speed is a major factor in today's game.
"Speed, even more than rev rate, is the key factor when bowling on lanes with a lot of backend," said Allis, a bowling ball driller for many years.
Spiotta also noted that the North has infused its lineup with younger, stronger players, such as Hayden Allis, 19-year-old Alex Allis, and "thirty-somethings" Jake Rosenbeck and Mike Allis (who subbed for Scott Allis).
In fact, the average age of the North squad this year was 41, compared to the South's average age of 51 ½.  The only South bowler under the age of 40 was Matt Slocum.
"We're at a point where we have to decide whether this is a serious thing for bowlers who want to represent Batavia and points south or a casual thing where the losers buy dinner (for the winners)," Spiotta said. "The initial concept was that it was a competitive thing, and personally, I would like to keep it that way."
For the latter to happen, the South may have to look to some of the up-and-coming younger bowlers in Batavia, Bergen, Le Roy and even to the Wyoming and/or Livingston county bowlers (as in the case of recent additions Slocum and Brett Van Duser, both of Perry).
With the competition set for Mancuso Bowling Center in Batavia, which has become a left-hander's paradise in recent years, the South would be wise to recruit Rich Wagner (245 average) and some of his southpaw mates such as Jason Gallo (233) and Tom Baker (224).
Mike Johnson, another lefty who is averaging 215 at Mancuso's, was on the South team this year.
Other Mancuso bowlers deserving of consideration include Mike Sputore (214), Nate Cordes (213), Matt Balduf (213), Steve Krna (213), Rob Stefani (211) and Alex Morris (211) and lefty Brian Green (208).
Chris Bardol has been tearing it up in Bergen for the past few years – and has fared well in tournament play at Mancuso's – while Frank Jarkiewicz, Jerry Menzie Jr., Jason Heimlich and Rob Husted are among others who could be considered.
Just how to weave in some fresh faces into the mix is something that Ed Doody, the current South captain, and Spiotta will have to figure out.
Summarizing this year's event, Alex, Roger and Hayden Allis won all four of their matches (two doubles and two singles), averaging 221, 216 and 240, respectively, for the North. Rob Sease, Mike Lavender and Mike Allis each went 3-1, with Sease averaging 231 and Lavender 223.
Other members of the winning team were Rich Culver, Scott Gibson, Aaron Verheyn, Scott Shields and Jason Mahnke.
Johnson led the South with a 227 average while Spiotta averaged 220, Slocum 218 and Gregg Wolff 216. Slocum had the high game of the day – 289.
Other members of the South team were Todd Mortellaro, Rick Saunders, Geoff Harloff, Steve O'Dell, Joe Trigilio and Jim Pursel.
On a sad note, Pursel, a self-employed contractor, suffered broken ribs, neck fractures and bruises last Friday when he fell from a ladder while working.  The 51-year-old Batavian returned home yesterday after several days at Strong Memorial Hospital in Rochester.
Speaking (writing) for the bowling community, we all wish "Jimbo" a speedy and full recovery and hope to see him back on the lanes before the end of the season.
YOUTH ROUNDUP: YBT AT MANCUSO'S, GR TRAVEL LEAGUE
Some of the best young bowlers from upstate New York converged upon Mancuso Bowling Center on Sunday, Dec. 2 for a Youth Bowlers Tour event and five of them traveled home knowing they had qualified for Junior Gold competition.
Earning spots for the national Junior Gold tournament in Detroit next July were Anella Tillman of Keuka Park (U12 Girls), Kenny Haslip of Hilton (U15 Boys), Nicholas Santacroce of Utica (U17 Boys), Kaylee Hodson of Auburn (U20 Girls) and Zack Day of Victor (U20 Boys).
YBT champions for the day were Kenny Muhleisen of Arkport, handicap division; Edward Pietrasz of Dryden, scratch division, and Connor Brink of Penfield, classic division.
In Genesee Region Youth Travel League action on Dec. 2 at Oak Orchard Bowl in Albion, Oak Orchard I moved into first place with a 20-4 win over Rose Garden Bowl I as Dallas Ecker notched a 507 series – well above his 136 average.
Perry Bowling Center went into second place with a 16-8 win over Rose Garden Bowl II behind Dennis Van Duser's 227 game and 565 series.
High series: Trent Willis, Mount Morris, 621; Ben Lennox, Oak Orchard II, 619.
The league bowls again on Dec. 16 at Livingston Lanes in Geneseo.
GRUSBC LISTS TWO TOURNAMENTS IN JANUARY
The 65th Genesee Region USBC Scratch Memorial Tournament is scheduled for Jan. 5-6 at Perry Bowling Center.
The singles tournament features qualifying squads (four games) at noon, 3 and 6 p.m. on Jan. 5 and 10 a.m. on Jan. 6. Semifinals and finals will follow.
First prize, based on 80 entries, is $1,000, and one in five bowlers will cash. Re-entry is allowed. The entry fee is $55.
Two oil patterns will be used – a 40-foot pattern during qualifying and a 45-foot pattern during the semifinals and finals.
Scott Culp of Lima won the tournament in 2017 and 2018.
To enter, send an email to [email protected].
The fifth annual GRUSBC Adult-Junior Doubles Tournament is set for Jan. 11-13 at Rose Garden Bowl in Bergen.
Squad times (three games) are 7 p.m. Jan. 11, noon and 3 p.m. Jan. 12 and noon and 3 p.m. Jan. 13. The entry fee is $45 per team and at least one in five teams will cash.
Competition will take place in two divisions – 12 & under and 13 & over.
To enter, send an email to [email protected].
Entry forms for both tournaments can be downloaded from www.bowlgr.com.
TONAWANDA BOWLERS CAPTURE LE ROY SCRATCH EVENT
Pete Maduri of North Tonawanda and Kevin Volker of Tonawanda posted a wire-to-wire victory Saturday in the Le Roy Scratch Doubles tournament at Legion Lanes.
Maduri and Volker shot 980 in the two-game qualifying round to lead the field of 30 entries, and went on to win three single-game matches for the $800 first prize.
Rob Sease of Brockport and Ryan Kretchmer of Rochester placed second, good for $400, while Rochester's Sarah Germano and Dan Vick, and Sam Capizzi and Shannon Chapelsky took the third-fourth spots for $200 each.
In the Brian Morasco Memorial tournament last month at Mancuso Bowling Center, the trio of James Townsend, Matt Temple and John Wolff took the $640 top prize with a 2,351 no-tap score.
They won by a single pin over Dennis Maid, Tim Maid and Chase Cone ($320), and 16-pins over third-place Leon Hurd, Recco Jewell and Tony Gallo ($210).
The event drew 43 entries and raised more than $2,000 for Genesee Cancer Assistance.
MORE THAN THEIR 'FAIR' SHARE OF GREAT BOWLING
To say that bowlers in the Fairview Juniors and Fairport High varsity bowling programs have a bright future wouldn't do them justice because for these talented individuals, the future is now.
A quartet of teen bowlers from the Rochester suburb had been nothing short of amazing thus far this season.
-- Alex Linnenbrink, 16, has games of 298, 299 and 300 with high series of 834 and 829 since the start of the high school campaign just a few weeks ago.
-- Bentley Hilbert, 15, and Stefano Cittadino, 17, notched their first perfect games during high school competition.
-- And Michael Eichner, 16, rolled a 300 last Friday in the junior league.
The success of these boys – and of boys and girls in our area as well – gives me hope that there truly is a "future for our sport."