December 11, 2017 - 8:48pm
'Operation Keep Our Homes' sets sights on reducing zombie properties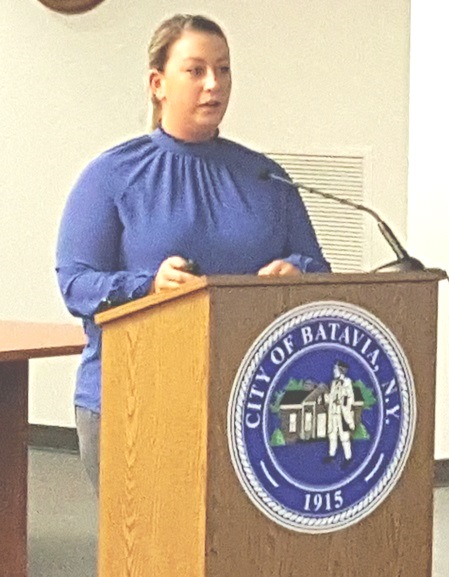 Operation Keep Our Homes, a program designed to identify and reduce the number of vacant and abandoned homes in the City of Batavia, is making some positive strides, according to the administrative intern who has been working on the program for several months.
Speaking at tonight's City Council meeting at City Hall, Lindsey Luft, a graduate assistant at Brockport State College who has been serving the City since May, said the initiative has just about reached its goal of connecting with 10 families facing foreclosure.
"We have been working with nine families – one kept their home, one the case was closed and seven others are still open," said Luft, who is on track to earn her master's degree in Public Administration in the spring.
Luft said there are about 89 zombie properties in the city – "and we're really focused on getting them up and rehabilitated."
"It (vacant homes) affects the City at all levels and at every census tract, and it's not targeted at any kind of income level," she said.
Operation Keep Our Homes utilizes a database called Opportunity Space, Luft said.
"We load all kinds of information (gathered from county, town, city, police and fire data) to narrow down our search for zombie properties," she said. "And from there, with the targeted list, we go out to site visits and we confirm vacancy."
Luft gave City Council members a demonstration of the software, starting with 5,453 parcels in the City, and using various filters -- such as floodplain property, whether there is a structure on the site, water usage and residential homes – to reduce the list of targeted properties to a manageable number.
Filtering allows officials to come to the conclusion that "there is reasonable cause to think they can be vacant properties and to go to them, instead of aimlessly wandering around," she said.
Luft said currently the database is updated quarterly, but the plan is to be able to access the information in a "real-time situation."
During her presentation, she outlined the Zombie Property Remediation Act's four components – requiring lenders to maintain mortgage-delinquent properties, requiring mortgagees to register vacant properties with the NYS Department of Financial Services registry, allowing mortgagees to complete expedited mortgage foreclosure for abandoned property, and enhancement of consumer protections.
When the DFS determines that a property is vacant, municipalities working with the Local Initiatives Support Corporation can act to remediate the property with the goal of getting it back on the tax rolls. Luft said that Batavia is one of 77 municipalities that have received grants from the LISC to achieve their goals. The City reportedly received a $66,500 grant. 
She said that Batavia's strategy includes educating individual property owners, using the Internet and local media to reach at-risk persons privately and reaching out to entities such as the Housing Council at PathStone, Genesee County Bar Association, banks, realtors, local pastors and Habitat for Humanity.
City Manager Jason Molino said that Habitat for Humanity has rehabilitated one single family home per year in the City over the past eight years, "producing a 38-percent average increase in assessed value after rehabilitation."
Batavia also has a property tax exemption in place for residential redeveloped property, and is in the process of partnering with a local bank to develop a mortgage package aimed at redeveloping a zombie home by utilizing the exemption.
The Operation Keep Our Homes program also seeks to revise the City code in the areas of grass, weeds and debris; solid waste (cars) and graffiti.
Toward the end of her talk, Luft was met with a question from Councilwoman Rose Mary Christian, who wondered why some properties with paid-up mortgages were vacant.
"What's the reason for that?" Christian asked.
To which Luft replied, "That's something that we can work on together."
Photo -- Administrative intern Lindsey Luft speaking at tonight's City Council meeting.
December 12, 2017 - 6:10am
#1
Good plan, good program and good use of a college intern.