September 20, 2018 - 8:44am
Perry teen opens season with a bang; Match Play tournament is Sept. 29-30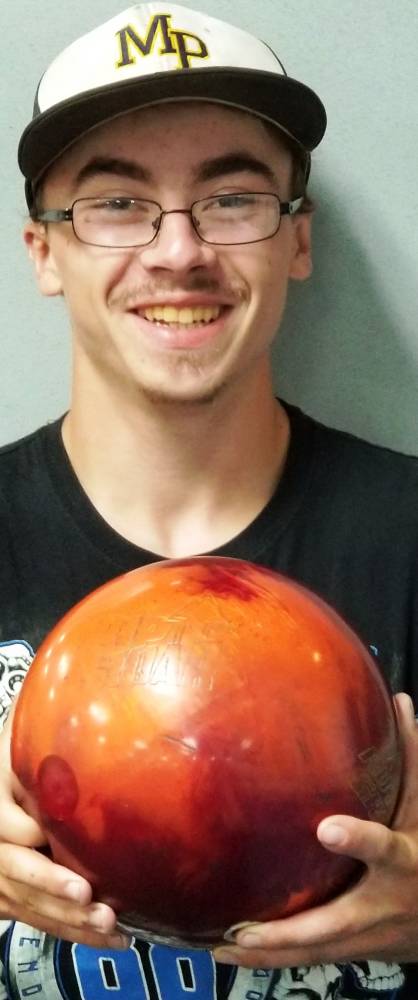 It didn't take Matthew Hurlburt of Perry very long to feel comfortable bowling in an adult league for the first time.
On Sept. 5, Hurlburt, a 17-year-old left-hander, recorded his first United States Bowling Congress-certified 300 game on the opening night of the Wednesday JCI League at Livingston Lanes in Geneseo.
Hurlburt made his mark in the youth bowling program at Perry Bowling Center and as a member of the Genesee Region Youth Travel League, where he averaged 198 last season.
"I really wasn't nervous until after I let go of the ball in the 12th frame," said Hurlburt, who noted that everyone else in the league stopped to watch him roll the final shot on lane 6 – a ball firmly in the 1-2 pocket, touching off cheers, applause and hugs.
The perfect game eclipses his previous high game of 279 and his 755 series (his games were 247-300-208) is his best ever.
An employee of Hendrickson's Hooftrimming in Perry, Hurlburt said he is filling in for his mother, Diane, on Wednesday nights. He also bowls with her and dad, Jason, in the Monday Nite 5 League at Perry Bowling Center, and with some of his friends in the Thursday Night League in Perry.
He said he patterns his game which features a high backswing after his "idol," Scott Culp of Lima, one of the best bowlers in the area.
Culp, who averages in the 240's, isn't bowling in the Wednesday JCI League this season, but is competing in the Monday Ontario-Livingston League, where he converted the 7-10 split earlier this week.
GENESEE REGION OFFERS HANDICAP MATCH PLAY TOURNAMENT
Genesee Region USBC members – men and women – are invited to compete in the 2nd Invitational Match Play tournament on Sept. 29-30 at Mancuso Bowling Center in Batavia.
The handicap singles event is open to the first 64 association members who sign up by contacting Tom Fluker, tournament director, at [email protected] or at 585-284-2637.  An entry form can be found at www.bowlgr.com.
First prize (based on a full field of 64) is $750. The entry fee is $50.
The top 16 will cash. The GRUSBC is adding $250 to the prize fund.
The tournament format is as follows:
-- Best-of-three matches throughout with the first round set for noon and the Round of 32 at 2:30 p.m. on Saturday.  On Sunday, the Round of 16 is at noon, Round of 8 at 2 p.m., Semifinals at 3:30 p.m. and Championship Match at 5 p.m.
-- Handicap is 80 percent of the top average in the tournament.
-- Bowlers will use their highest USBC league average for the past three seasons (at least 21 games).
-- The bowlers with the top eight averages will be seeded 1-2 across the four brackets while the remaining bowlers will draw for their seeding.
-- It is open to current GRUSBC members (men and women), including youth bowlers with SMART accounts.
Other local tournaments in the near future:
-- Oct. 13 – Camp Rainbow 3-person no-tap, Medina Lanes.
-- Nov. 3-4 – Gladys Ford Senior Women, Letchworth Pines, Portageville.
-- Nov. 10 – GRUSBC Senior Masters, Livingston Lanes, Geneseo.
-- Nov. 11 – Triple O Mechanical Handicap Singles, Rose Garden Bowl, Bergen.
-- Nov. 17 – Brian Morasco 3-person no-tap, Mancuso Bowling Center, Batavia.
BENNINGTON LANES JOINS GREATER BUFFALO USBC
The GRUSBC has been informed that Bennington Lanes will be joining the Greater Buffalo USBC for the 2018-19 season.
Last season, the GRUSBC serviced two leagues at Bennington Lanes -- a women's league on Wednesday night and a men's league on Thursday night.
That leaves the GRUSBC with 11 bowling centers, including Raider Lanes in Caledonia (formerly Cal Bowl).
Raider Lanes has not hosted any USBC-certified leagues for the past few years but is attempting to revive league bowling this season.
Last night I spoke with 28-year-old Devin Doolittle of Fairport, who has several years of experience as a pinsetter mechanic under his belt, having worked at a few centers in Rochester.
He said that he is running Raider Lanes for owner John Kabrovsky of Rochester and that the synthetic (overlay) lanes and the pinsetters are in "great shape."
"We're getting leagues started and we're open for birthday parties," said Doolittle, who also is working two or three nights a week at Scopano's Lanes in Oakfield.
Scopano's continues to be owned by the Scopano family but everything points to it being sold to a couple from New Jersey over the next several weeks.
Currently, Scopano's hosts a women's league on Monday, a men's league on Wednesday, a no-tap league on Friday and a Saturday morning youth program.
In other bowling center news, Mike Kime of Honeoye Falls is the new general manager at Livingston Lanes in Geneseo.
Ironically, Kime started off as a pin-chaser in 1985 at Livingston Lanes, and now has returned, in his words, "to repair the pinsetters and hopefully bring back some of the bowlers who were there a few years ago."
In between, Kime managed Cal Bowl in Caledonia for 18 years and Brongo Bowl (now Miller Lanes) in Honeoye Falls for 15 years.
TOMMY KRESS' 60-AND-OVER TOUR TO START NEXT SUNDAY
The 60-and-Over Tour coordinated by NYS Hall of Famer Tommy Kress of Hilton kicks off its season next Sunday (Sept. 30) at Brockport Bowl.
Check-in for the noon event starts at 11 a.m. The entry fee is $45.
Entrants roll three games (scratch). After that, the top nine bowlers plus three bowlers with the highest scores from each age group will advance to the match play finals. If there are 48 or more entries, the top 10 overall scores -- plus the top two from each of the three age groups -- will advance.
The tournament schedule confirmed thus far is as follows:
-- Sept. 30, Brockport Bowl.
-- Oct. 28, Doug Kent's Rose Bowl Lanes, Newark.
-- Nov. 25, Brad Angelo Lanes, Lockport.
-- Dec. 23, Bowl-A-Roll Lanes, Rochester.
-- Jan. 27, Parkview Bowl, Rochester.
-- Feb. 24, Gates Bowl, Rochester.
-- March 31, Domm's Bowling Center, Rochester.
-- April 28, Pleasure Lanes, Hilton.
'WELCOME BACK' TO THE BUSINESSES THAT SUPPORT PIN POINTS
Pin Points, which runs 17 times over the course of the bowling season, on The Batavian, would not be possible without the continued support of our sponsors.
Your support of the following businesses is deeply appreciated:
-- Turnbull Heating & Cooling.
-- Rose Garden Bowl, Bergen.
-- Oak Orchard Bowl, Albion.
-- Mount Morris Lanes.
-- Letchworth Pines, Portageville.
-- Genesee Region USBC.
-- Al Vlietstra Masonry.
-- Perry Bowling Center.
-- Sheelar's Automotive Repair, Batavia.
-- Medina Lanes.
The Batavian offers special pricing for businesses that sponsor the bowling column. Contact me at [email protected] for more information.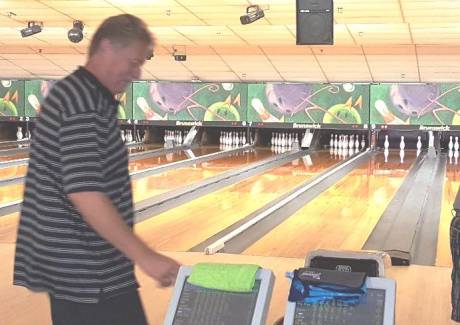 UNUSUAL LEAVE: Scott Shields of Batavia rolled the first six strikes in the T.F. Brown's League last Thursday night at Mancuso Bowling Center before being stopped by a rare split -- the 5-7-10 on lane 9. The right-hander took out the 5-pin on his spare shot, and finished with a 221 game.