November 15, 2018 - 8:11am
Rochester, Warsaw bowlers capture tournament victories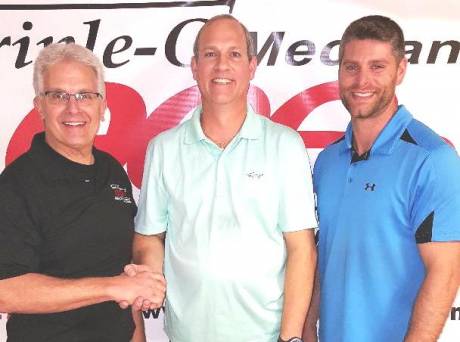 Rose Garden Bowl proprietor Tom Sardou, left, congratulates Jeff Dewar and Kevin Donaghue following Sunday's 11th annual Triple O Mechanical Singles Handicap Tournament. Dewey, center, defeated Donaghue in a title match decided in the 10th frame.
Rochester's Jeff Dewar has been knocking on the door for the past two years, but in this year's Triple O Mechanical Singles Handicap Tournament at Rose Garden Bowl in Bergen he decided to kick it in.
The hard-throwing right-hander, who turned 49 earlier this month, had reason to celebrate again on Sunday when he fired two strikes in the 10th frame to defeat Kevin Donaghue of Depew, 245-238, in the title match.
The victory was worth $500 for Dewar, a sales rep for Wright Beverage, while Donaghue pocketed $250 for placing second. Donaghue struck out in the 10th frame to force Dewar to get two strikes in his 10th frame to win.
Donaghue, a wealth management advisor for TIAA-Cref in Buffalo, is the son of former Batavian Pat Donaghue, who also cashed in the tournament.
"I finally broke through," said Dewar, who qualified with 730 in 2016 and 736 in 2017, losing in first round and second round of the eliminator finals, respectively.
This year, he tied Frank Fitzmaurice of Rochester as the high qualifier with a three-game score of 769, all scratch since he averages higher than 220. From there, he posted 229, 279 and 248 to reach the final match.
A once-a-week league bowler, he said this is his first tournament win, and he did it using a Storm Intense on the Rose Garden Bowl house shot.
Kevin Donaghue qualified in the fourth position – 16 bowlers advanced – with 748 and proceeded to roll games of 259, 248 and 278 in the eliminator rounds. 
Fitzmaurice of Rochester and Bob Wiley of Fairport were ousted in the third round and took home $125 apiece. Fitzmaurice's day was highlighted by his first 300 game, coming in the middle of a 769 series, which included 12 pins handicap.
Other cashers:
Rochester residents Steve Meyer, who also had a 300 game during qualifying; Scott Dingman, 83-year-old Charlie Gfeller, and defending champion John Martorella Sr., $90 apiece;
Kevin Gray Sr. of Honeoye Falls, A.J. Allenbrandt of Le Roy, Pat Donaghue of Honeoye Falls, Gary Kinyon of Lockport, James McCormick of Churchville, Frank Jarkiewicz of Byron, Geoff Harloff of Batavia and Kara Mangiola of Rochester, $65 each.
Two-hander Mark Scuderi of Rochester picked the 7-10 split.
The tournament drew 70 entrants, two short of a full field. It took a score of 725 to make the top 14, with Mangiola taking the women's spot with 713 and Kinyon earning the Super Senior spot with 709.
WARSAW'S RON BACON CAPTURES GR SENIOR MASTERS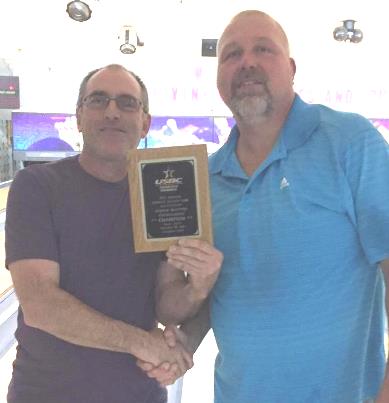 Ron Bacon, left, Genesee Region USBC Senior Masters champion and Jim Pursel, runner-up.
Ron Bacon of Warsaw defeated Batavian Jim Pursel in the title match to claim the Genesee Region USBC Senior Masters crown on Saturday at Livingston Lanes in Geneseo.
The victory – Bacon's first singles tournament win -- was worth $230 plus a free entry into the GRUSBC Masters and a plaque from Joe's Awards & Trophies.
Bacon, a 54-year-old right-hander, defeated Pursel 204-132, to cap a day that saw him post 673 in the three-game qualifying round, 455 in the two-game second round and 214 in the one-game third round prior to the three-person step-ladder finals.
"I had a really good look from the start," said Bacon, noting that his seven games ranged from 204 to 244. "Normally I play up the boards, but here I moved left a bit to the 12th board and had a great line to the pocket."
He said he used a Track Alias to conquer the Livingston Lanes house shot.
A mill operator at Markin Tubing in Pearl Creek, Bacon bowls in a Monday night league at Perry Bowling Center and in a Friday night league with his sons, Kyle and Jeff, at Letchworth Pines in Portageville (where he averaged 216 last season).
Pursel made it to the title match by rolling two strikes in the 10th frame to edge Roger Allis of Medina, 189-185.
Scott Kern of Basom was the high qualifier with 717, followed by Batavians Scott Shields and Paul Spiotta, who posted 710 and 701, respectively.
Other qualifiers were Allis, 697; Al Vlietstra of Geneseo, 683; Bacon, 673; Mike Kime of Honeoye Falls, 671; Matt Balduf of South Byron, 668; Don Parrott of Warsaw, 666; Pursel, 649; Doug Johnston of Livonia, 636, and Joe Trigilio of Attica, 627.
Six of the 12 bowlers advanced from the second round – Balduf, 491; Kern, 469; Pursel, 458; Bacon, 455; Allis, 414, and Shields, 404. In the one-game third round, advancing were Pursel, 222; Bacon, 214, and Allis, 183.
Pursel earned $150 for his runner-up finish, while Allis won $100. Kern, Balduf and Shields made $60 apiece, while the other qualifiers pocketed $45 each.
The tournament drew 38 entries.
GLADYS FORD SENIOR WOMEN TOURNAMENT RESULTS
Bowlers from Mount Morris Lanes, Letchworth Pines and Perry Bowling Center claimed age group titles Saturday at the Gladys Ford Senior Women's Tournament conducted by the Genesee Region USBC.
Winners of the various age classifications and their three-game scores with handicap are as follows:
Class AA -- Bonnie Wass, Perry 674.
Class A -- Jeanne Rosa, Perry 674.
Class B -- Nancy Freelove, Mt Morris 616.
Class C -- Diana Bucknam, Mt Morris 658.
Class D -- Cathi Fournier, Mt Morris 651.
Class E -- Christy Hume, Letchworth 607.
BRIAN MORASCO MEMORIAL TOURNEY IS SATURDAY
Mancuso Bowling Center in Batavia is hosting the 3rd annual Brian Morasco three-person handicap no-tap tournament this Saturday, with proceeds from the event and basket raffles going to Genesee Cancer Assistance and the Arthritis Foundation.
Squad times are 1 and 3 p.m. To sign up, call Mark Brown at 716-474-7900 or Mancuso Bowling Center at 585-343-1319.
First place, based on 48 teams, is $750. The entry fee is $75 per team.
VAN DUSER, SNOOK MAKE YOUTH BOWLING HEADLINES
Dennis Van Duser of Perry and Paige Snook of Albion, a pair of 16-year-olds, fared well in youth bowling action recently.
Van Duser, a two-hander, rolled his first USBC-certified 700 series – 706 – in the Genesee Region Youth Travel League at Legion Lanes in Le Roy.
His big series helped his Perry Bowling Center team defeat Mount Morris, 19-5, and move into third place in the seven-team league.
Rose Garden Bowl II continues to lead with a 52-20 record, while Oak Orchard Bowl I is in second at 45-24.
The league bowls again on Dec. 2 at Oak Orchard Bowl.
Snook competed in the Youth Bowlers Tour at Bowl-A-Roll Lanes in Rochester and finished in the 3rd-4th spot in the handicap division.
She bowled games of 200 and 202 in match play.