December 19, 2019 - 7:10am
South opts for 'Sport' oil pattern, blitzes North to recapture Marth Cup; Scratch Memorial set for Jan. 4-5
posted by
Mike Pettinella
in
Bowling
.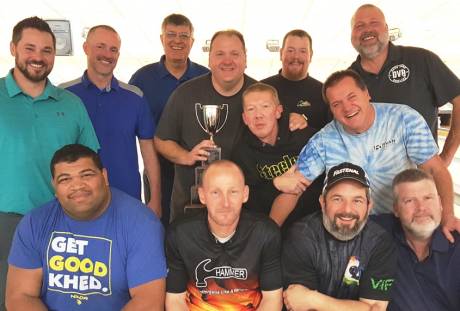 Sometimes in sports, defense is the best offense.
That was the strategy employed by South team captain Ed Doody on Nov. 7 at the 26th annual Karl Marth Cup challenge match at Mancuso Bowling Center.
Doody, as the home team captain, had the responsibility of selecting the oil pattern for the tournament against the North team, and he chose a 39-foot Sport condition.
Since the pattern was much "flatter" than the normal house shot, it took away bowlers' ability to swing the ball to the right (or left for the left-handers) and watch the ball roar back to the pocket.
Simply put, the advantage moved to those who could play straighter on the lane and not to those used to covering a lot of boards.
As a result, scores were much lower than in past years, with many matches won with games in the 170s and 180s.
For Doody, it was a bold move for sure and caused a bit of a stir as it took the North team by surprise.
The maneuver worked, however, and the South (primarily Batavia-area bowlers) took control early and rolled to an 89-34 victory, based on points awarded in Doubles, Singles and Team events.
Previously, the North (primarily Medina-area bowlers) claimed the Cup in 2017 and 2018 – and had won seven of the last eight matches.
Individually, Batavian Jim Pursel received the Scott Wright Memorial Award by averaging 203 and dominating his doubles and singles matches while Doody garnered the Joe Trigilio Memorial Award for becoming the first participant ever to capture all of his points.
The North team still leads the series, 15-11, and I'm sure will be fired up for the 2020 competition at its home center -- Medina Lanes.
Photo at top: Members of the winning South team are, front from left, Nathan Cordes, Geoff Harloff, Steve O'Dell, Mike Johnson; back, Josh Elliott, Dean Cadieux Jr., Paul Spiotta, Ed Doody, Scott Culp, Kevin Gray Jr., Matt Balduf, Jim Pursel.
SEASE, KRETCHMER TEAM UP FOR LE ROY DOUBLES VICTORY
Rob Sease of Brockport and Ryan Kretchmer of Rochester defeated Rochester residents Brandon Iamele and Emily Notebaert to claim the $800 first prize at the Striking Effects Pro Shop scratch doubles tournament on Saturday (Dec. 14) at Legion Lanes in Le Roy.
Sease and Kretchmer qualified off the first squad with a 920 two-game score and went on to top LeRoyans John Lowe and Tom Rohl, and Buffalo-area bowlers Bobby Vitagliano and Matt Burt to reach the finals.
Iamele and Notebaert tied for the final qualifying spot on the second squad and advanced due to having the higher game.  They went on to beat Rochester's Rick Zinone and Josh Curtiss, and Dan Keenan and Kyle Keegan to reach the final round. They earned $400.
The tournament attracted 29 teams.
GENESEE REGION USBC LISTS TWO EVENTS IN JANUARY
The Genesee Region USBC is gearing up to host a pair of tournaments on the first two weekends of January.
The 66th Scratch Memorial is scheduled for Jan. 4-5 at Oak Orchard Bowl in Albion.
The scratch singles event offers a $1,000 top prize (based on 80 entries) and features competition on two different oil patterns -- a 40-foot "Challenge" pattern during the qualifying rounds and a 45-foot "Challenge" pattern during the semifinals and finals.
Qualifying squads are scheduled for 1 p.m. on Saturday, Jan. 4 and 10 a.m. on Jan. 5, with the semifinals and finals to follow.
The entry fee is $55.
For more information, contact Mike Pettinella, association manager, at [email protected].
The 6th annual Adult-Junior Doubles handicap tournament will take place on Jan. 10-12 at Raider Lanes in Caledonia.
Squad times are 7 p.m. on Jan. 10, noon and 3 p.m. on Jan. 11 and noon and 3 p.m. on Jan. 12.
The entry fee is $45 per team, and competition will be held in two divisions -- 12 & under and 13 & over.
For more information, contact Tom Fluker, association director, at [email protected].
Tournament entry forms are available at Genesee Region USBC bowling centers or can be downloaded by going to the association website – www.bowlgr.com.
LEGION LANES, ROSE GARDEN BOWL TIED FOR FIRST PLACE
The Le Roy Legion Lanes defeated Rose Garden Bowl I, 20-8, to move into a tie for first place with the Bergen team in the Genesee Region Youth Travel League.
In recent action, at Legion Lanes, the hometown squad triumphed behind Aaron Leone's 546 series. For Rose Garden Bowl I, Jillian Menzie posted a 593 series.
Oak Orchard Bowl I of Albion moved into third place, one point behind, with a 24-4 victory over Mount Morris Lanes. Ben Lennox led the way with a 231 game and 645 series.
Other high scores: Dennis Van Duser (Perry), 258 game, 605 series; Corinne Saluste (Mancuso's), 226 game and 555 series.
The league is on a holiday break until Jan. 19 when it competes at Oak Orchard Bowl.
BELMONTE SELECTED AS PBA POY FOR FIFTH TIME
One for the thumb.
Australian two-hander Jason Belmonte captured his fifth Chris Schenkel PBA Player of the Year award last week and now is third in that category behind legends Walter Ray Williams Jr. (seven) and Earl Anthony (six).
In voting for other awards:
-- Mykel Holliman of Collierville, Tennessee, was recognized as 2019 Harry Golden PBA Rookie of the Year;
-- Bowl 4 Life founder Chuck Gardner of Charlotte, North Carolina, was named recipient of the 2019 Tony Reyes PBA Community Service Award;
-- Sweden's Martin Larsen became the first international player selected by his peers as winner of the Steve Nagy Sportsmanship Award twice.
The 36-year-old Belmonte dominated in 2019, winning the PBA Tournament of Champions for a record-tying third time and then winning the PBA World Championship to set the PBA record with 11 career major titles.
He also became the first player to reach the championship finals in four majors in a single season for the second time, finishing second in the PBA Players Championship and fourth in the U.S. Open to equal a feat he first accomplished in 2013.
Belmonte led the PBA Tour in earnings with $288,290 and points, and finished in the top five in 12 of the 18 tournaments he entered.
The four award winners will be honored on Jan. 18 during PBA Hall of Fame induction ceremonies in Arlington, Texas.
SPARE SHOTS: PBA LEGEND ROTH SUFFERS SETBACK
-- PBA publicist Bill Vint reports that Mark Roth, PBA and New York State Hall of Famer, suffered another stroke recently and has been placed in a long-term care facility in New York. Fans are invited to send best wishes through Mark's Facebook page – https://www.facebook/com/mark.roth374? or send a card to Mark Roth, 821 Forest Ave., Fulton, NY 13069.
-- I have been waiting to report on a change of ownership at Medina Lanes (something that had been in the works since the beginning of this season), but word out of the Orleans County village is that any potential deal has fallen through. Earlier this week, Jerry Allen said that the ownership group that has been in place for the past several years is still intact.
-- In case you didn't know, the PBA has a YouTube channel and currently is running a segment called "Friday Five – the worst breaks of 2019. To re-live an emotionally painful collection of five of the most heart-breaking tough luck shots of the 2019 Go Bowling! PBA Tour season, click on this link: https://www.youtube.com/watch?v=DEnpOd9CHaI.
-- The Tommy Kress 60-and-Over Tour lists two tournament stops in January: Jan. 5 at Doug Kent's Rose Bowl Lanes in Newark and Jan. 26 at Parkview Bowl in Rochester. In action earlier this month at Bowl-A-Roll Lanes in Rochester, Bob Hodgson of Medina and Bill Neubert of Batavia were among the cashers.
-- Mancuso Bowling Center is promoting a new doubles league for 6:45 p.m. on Tuesdays beginning Jan. 7 and already has a sponsor for the league – longtime bowling supporter Turnbull Heating & Air. The handicap league is set up to bowl 14 weeks (ending April 7), will be USBC- certified and will offer prize money to all participants. For those wishing to pick up another league or those looking for a way to prevent "cabin fever," this could be the perfect opportunity. To sign up, contact Mike Sputore at 585-343-1319.
-- This is the final column for this year -- and for the decade for that matter. We'll be back with another edition of Pin Points on Jan. 2, 2020. Until then, to all my readers, have a Merry and Blessed Christmas and Happy New Year. Peace on Earth and good will to all men, women and children.