November 29, 2018 - 8:09am
Stefani to appear on Beat the Champ for second straight year; Marth Cup match is Saturday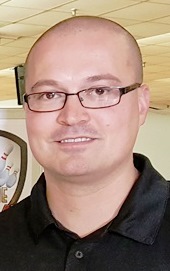 Batavia's Rob Stefani has made it back to the Beat the Champ TV show, and will be on the small screen almost a year to the day after appearing on the WBBZ-TV (MeTV) broadcast that emanated from Mancuso Bowling Center.
This year, the scene of the action is Brad Angelo Lanes in Lockport and that's where Stefani, a 34-year-old right-hander, edged fellow Batavian Brian Green on Sunday for the ninth and final berth, which qualifies him to be on the last of three shows in December. Taping is set for Dec. 3 at the Lockport bowling center.
"I was able to grind it out," said Stefani, who rolled the last five strikes in his third game to post a 683 score – one pin more than lefty Green's 682.
Stefani started with a 269 in the 24-bowler finals but fell to 199 in the second game.
"It didn't look good but fortunately I was able to finish strong," Stefani said, as his 215 third game barely held off Green, who posted 224-211-247.
Stefani, who earned $150, is the only bowler outside of the Buffalo area to reach this month's show – where he will have an opportunity for more prize winnings.
He will appear in the third show -- which airs on Dec. 23 -- and will go up against Tyler Molina of Buffalo, Pat Brick of Buffalo and whoever the "champ" is.  Currently, Chuck Jagodzinski of Lancaster rules the roost.
Tim Frenz of Depew, Tony Dolan of West Seneca and Ryan Kress of Cheektowaga will battle against Jagodzinski on the first show (Dec. 9), and Tom Sorce of Blasdell, Tim Finken of Depew and Gary Kinyon of Lockport, who rolled a 300 game in the finals, will compete on the Dec. 16 telecast.
Mancuso Bowling Center opted not to participate in the program this year due to a decrease in the number of entries.
KARL MARTH CUP RIVALRY RENEWS ON SATURDAY
The North squad, led by non-playing captain Tom Allis, has the "home court" advantage as it looks to extend its dominance in the Karl Marth Cup series at 1:30 p.m. this Saturday at Medina Lanes.
In 2017, the North defeated the South, 64.5-58.5, at Scopano's Lanes in Oakfield for its sixth victory in the past seven years. Overall, the North holds a 14-10 edge.
The teams compete in Doubles, Singles, Baker-style Doubles and Baker-style Team.
Rosters are as follows:
North – Alex Allis, Hayden Allis, Roger Allis, Scott Allis, Richard Culver, Scott Gibson, Mike Lavender, Jason Mahnke, Jake Rosenbeck, Rob Sease, Scott Shields and Aaron Verheyn.
South – Ed Doody (captain), Geoff Harloff, Mike Johnson, Todd Mortellaro, Steve O'Dell, Jim Pursel, Rick Saunders, Matt Slocum, Paul Spiotta, Joe Trigilio, Brett Van Duser and Gregg Wolff.
SPIOTTA, LOGAN CASH AT 60-AND-OVER TOURNEY
Make it six out of eight "cashes" for Batavian Paul Spiotta in Tommy Kress 60-and-Over Tour competition.
The 61-year-old right-hander led the qualifying round with 727 before bowing out in the second round of the finals Sunday at Brad Angelo Lanes in Lockport. He took home $95 for his efforts.
Bill Logan of Albion also cashed, posting a 584 to qualifying in the 65-69 age group, before being eliminated in the first round.
Ed Mousseau of East Amherst made a successful debut on the Tour by defeating Fred Back of Clarence Center, 196-182, in the title match. Mousseau, former director of the Amateur Bowlers Tour, earned $300.
The tournament attracted 47 entrants.
The next event is set for 12:30 p.m. (check-in starts at 11L30 a.m.) on Dec. 23 at Bowl A Roll Lanes in Rochester.
ANDERSON CAPTURES PBA PLAYER OF THE YEAR
The Professional Bowlers Association last week announced that second-year member Andrew Anderson of Holly, Mich., has been selected as the 2018 Chris Schenkel PBA Player of the Year, while 20-year-old Kamron Doyle of Brentwood, Tenn., has been selected as the 2018 Harry Golden PBA Rookie of the Year.
Other honorees were Tom Smallwood of Saginaw, Mich., who captured the 2018 Steve Nagy Sportsmanship Award, and 2018 PBA Hall of Fame inductee Chris Barnes of Double Oak, Texas, who earned the PBA Tony Reyes Memorial Community Service Award.
Anderson, 23, and Doyle will be recognized on national television during the PBA Clash telecast that on FOX on Sunday, Dec. 23. Smallwood and Barnes will receive their awards during the PBA Hall of Fame induction ceremonies on Saturday, Jan. 5, from the International Bowling Museum and Hall of Fame in Arlington, Texas.
Anderson won two titles in 2018 -- the United States Bowling Congress Masters (his first major) and the Xtra Frame Greater Jonesboro Open on his way to winning the 2018 Harry Smith PBA Points Leader award. He cashed in 16 of the 19 events he entered and had five top-five finishes, including a third-place finish in the PBA Tournament of Champions.
ALBION'S SNOOK QUALIFIES FOR JUNIOR GOLD
Sixteen-year-old Paige Snook of Albion will be heading to Detroit this summer to compete against some of the best youth bowlers in the nation.
Paige, daughter of Paul and Kelly Snook, placed second at a Youth Bowling Tour event on Nov. 18 at Doug Kent's Rose Bowl Lanes in Newark to earn a spot in the Girls U17 Division at Junior Gold.
The national tournament, sponsored by the Brands of Ebonite International, is scheduled for July 13-20, 2019 at several bowling centers in the Detroit area. Competition is in eight divisions -- U12 Boys, U12 Girls, U15 Boys, U15 Girls, U17 Boys, U17 Girls, U20 Boys and U20 Girls.
Snook, a 160-plus average bowler, rolled games of 167, 178, 169 and 155 in the four-game qualifier on a Sport (difficult) oil pattern to advance to match play. She won her first match with 183 before losing in the final match with a 133.
She is a member of the youth bowling program at Oak Orchard Lanes in Albion and the Genesee Region Youth Travel League.
HATS OFF TO CHRIS HUNTZ FOR 247 TRIPLICATE
We previously reported – in the weekly league high scores roundup – that Perry's Chris Huntz spun a 247-247-247 triplicate in the Monday Nite 5 League at Perry Bowling Center on Nov. 12.
It wasn't until last week that I found out what the 35-year-old right-hander needed in the 10th frame of the third game to roll another 247.
Huntz said he had to have a strike on the first ball and nine more pins on the final two rolls to do it. He got the strike then left the 6-7-10 split. He then knocked down the 6 and the 10 for the 247.