January 28, 2022 - 7:07pm
United climbs to fourth on power seeding ladder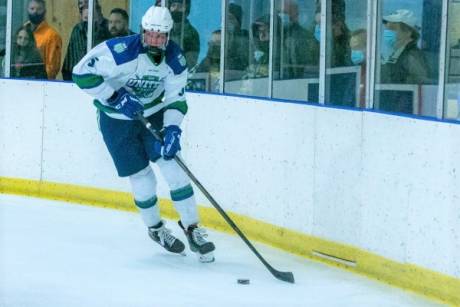 Thursday night's 4-2 home win over Victor has moved Batavia Notre Dame's varsity hockey team into the No. 4 seed in the Section V Power Seeding Standings.
BND defeated the previously once-beaten Blue Devils to raise its record to 10-4-3, which is good for 88 points in the standings. The team's per game average of 5.1765 puts it fourth on the list of the section's 12 Class A clubs.
Penfield (12-1-1) is No. 1 with a 6.5714 per game average, followed by Victor (12-2-2) at 6.5625 and Pittsford (7-5-1) at 5.6154.
Other teams in Class A, currently ranked fifth through 12th, are Brighton/HFL/ER, McQuaid Jesuit, Portside Royals, Greece Storm, Fairport, Hilton, Gates/Wayne/EI/Wheatland and WFL Panthers.
Should United finish in the top four at the close of the regular season, it would get a first-round bye into the Section V Tournament.
BND Head Coach Marc Staley said the power seeds are determined by strength of schedule, with more points awarded to clubs taking on teams with winning records.
"Teams that are better and have a winning record give us more points whether we win or lose," he said today. "So, it rewards you for playing against top teams. For instance, we can beat Geneva (WFL Panthers, currently 1-8-0) and we will only get four points. Or we could lose to Aquinas (11-3-0 in Class B) and we still get four points."
Last night's victory gave United 10 power seeding points – moving them up from seventh to fourth.
Section V hockey officials say they are using the power seeding system "to provide the best opportunity for the best teams (in) Section V ice hockey to potentially represent us onto (New York) State competition."
Staley took a deeper dive into his team's won-loss-tie record, which has been boosted by five wins and a tie in its last six matches.
"Our record may not look incredible at 10-4-3, but in 17 games, we've only lost three games in regulation time. That's impressive; 14 games we've either won or went into OT," he said.
United is back in action at 6 p.m. Tuesday against visiting McQuaid, and then has a rematch with Victor at 5 p.m. Feb. 3, this time at the Rochester Ice Center in Fairport. The regular season finale is scheduled for 6 p.m. Feb. 8 at home against Geneseo/Avon/Livonia.
The Class A sectionals begin with pre-quarterfinals on Feb. 15-16. The top four teams would start with quarterfinal contests on Feb. 17-18.
Semifinals are scheduled for Feb. 25 at the higher seed's rink and the finals are set for 4 p.m. Feb. 27 at Tuttle Ice Arena on the Brockport State College campus.
Regional competition in Division I will take place at 1 p.m. March 5 at Tuttle Ice Arena.
File photo: Batavia Notre Dame's Gavin Schrader scored three goals and added an assist on Thursday night to raise his Section V-leading totals to 29 and 28, respectively. The senior forward's 57 points are five more than compiled by Max McKay of Churchville-Chili (24 goals, 28 assists). Photo by Howard Owens.